Season to Taste: The New Persian Year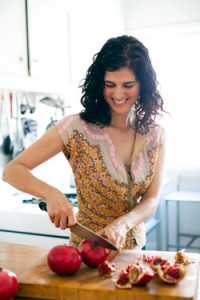 When I met up with Brooklyn-based author and chef Louisa Shafia, she was on her way to an East Village restaurant to prepare for a dinner she was cooking in support of her latest book, The New Persian Kitchen
 (Ten Speed Press). Tall, slender and elegant, Shafia's long fingers were tipped by a true kitchen habitué's unvarnished nails. "I'll be rolling pastries all day if you need to find me," she said with an easy smile.
A celebrated practitioner of vegetable-based cuisine, Shafia—whose first book, Lucid Food
 (Ten Speed Press), explored the seasonality of nature's bounty—uses her sophomore effort to reconnect with a powerful yet partially unexplored part of her heritage. The daughter of a Persian Muslim physician father and Ashkenazic Jewish librarian mother, the Philadelphia-born Shafia grew up in a house of mixed traditions, though she identifies as Jewish.
In addition to an Ashkenazic repertoire that included standards like latkes and chicken soup, Shafia's mother learned to cook colorful, flavorful Persian dishes, occasionally serving them for holiday meals and special occasions. Distinguished by heady flourishes like tart-sweet pomegranate, fragrant rose petals, musky saffron and pucker-inducing dried limes, Persian cuisine is often considered the most sophisticated in the Middle East, reflected in a near-obsession with fresh ingredients and the copious use of herbs and produce.

In her newest book, Shafia sheds light on the Persian Jewish community's 2,500-year history in Iran, making it the oldest outside Israel. In 539 B.C.E., Cyrus the Great emancipated Persia's enslaved Jewish population, facilitated their return to Israel and funded the rebuilding of the Holy Temple.
Similar to many Jewish cuisines with roots in North African and Arab countries, Persian Jewish specialties often hew close to the originals, adopting a Jewish patina with a small change, such as the omission of yogurt or the occasion on which they are served; the fact that Muslims eschew pork makes the food even more practical for kosher cooks.
Shafia's recipe for Sweet Rice with Carrots and Nuts would be a welcome addition to your Rosh Hashana table, as would Fesenjan, the classic Persian sweet-and-tart stew made with pomegranates, walnuts and chicken.
Sweet Rice with Carrots and Nuts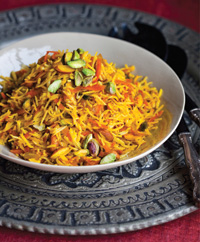 Serves 6 to 8.
2 cups white basmati rice, soaked in cold water for 1 hour
3 cups water
Sea salt
2 TBs butter or unrefined coconut oil, at room temperature
3 TBs unrefined coconut oil
1 yellow onion, finely diced
2 scant cups grated carrots (about 3 large carrots)
1/2 cup slivered or coarsely chopped almonds, toasted
1 tsp ground cinnamon
1 tsp ground cardamom
1/4 tsp ground turmeric
1/2 cup pistachios, coarsely chopped, plus 1 TB for garnish
Grated zest of 1 large orange
1/4 cup honey
1/2 tsp saffron, ground and steeped in 1 TB hot water
1. Drain the rice and rinse under cold water until the water runs clear.
2. In a stockpot, combine the 3 cups of water and a pinch of salt and bring to a boil. Add the rice, return to a boil, then turn down the heat to its lowest setting. Cover and cook for 20 minutes. Turn off the heat and let the rice rest for 5 minutes, then dot with the butter or coconut oil and fluff with a fork. The rice should be dry and fluffy.
3. While the rice cooks, heat a small skillet over medium heat and sauté the onion in the coconut oil for about 15 minutes, until lightly browned. Add the carrots, almonds, cinnamon, cardamom and turmeric, and cook, stirring often, for about 10 minutes, until the carrots are tender. Add 1/2 cup pistachios, the orange zest and the honey and cook for about 2 minutes, until heated through. Season to taste with salt.
4. Scoop the rice into a large bowl. Add the carrot mixture and drizzle in the saffron. Mix gently and season with salt. Garnish with the remaining 1 TB pistachios.
Fesenjan
Serves 4.

1 TB grapeseed or vegetable oil
Salt
2 lbs bone-in chicken legs or breasts, skinned
2 onions, finely diced
1 cup walnuts, finely chopped
1/2 cup pomegranate molasses (widely available online)
2 tsps salt
2 cups hot chicken or vegetable stock
1 cup peeled and grated raw red beets
Pomegranate seeds for garnish
1. Heat a large, deep skillet over medium-high heat and add oil. Sear chicken until well browned, 6-7 minutes per side. Transfer to a plate.
2. Add onions to skillet and cook on medium heat until lightly browned, 15 minutes. Stir in walnuts, pomegranate molasses and salt, to taste.
3. Add stock, bring to a boil and return chicken to skillet. Reduce heat to low, cover and simmer until chicken is cooked, 25 minutes. Uncover, stir in beets and cook until thickened an additional 15-20 minutes. Season to taste with salt.
4. Remove chicken with tongs and cut into halves or thirds. Place on a platter and cover with sauce. Garnish with pomegranate seeds.