Monday Morning Cooking Club: Pure and Cozy Joy

Thanks to the universal reach of the Internet, the evolution of satellite television and most people's love of global travel, the world indeed seems to be getting smaller. This is true in the kitchen as well, with the reach of foreign cookbook titles into the American market just one example. I have previously reviewed multiple recipe collections from South Africa, Israel and England. Now, there is the gorgeously, mouthwateringly photographed Monday Morning Cooking Club
 (HarperCollins) from the Jewish community of Sydney, Australia.
The Monday Morning Cooking Club is exactly what it sounds like: a club that meets on Monday mornings to dish about favorite recipes, stellar meals and memories of their mothers' cooking. The club's members, all Jewish women, started coming together in 2006 for "endless cups of tea and—often heatedly—discussed the merits of different recipes." Five years later, six members handpicked more than 100 favorite recipes from their families as well as from friends, compiling Monday Morning Cooking Club, with each contributor's story of Jewish wandering introducing treasured recipes handed down from past generations.
Many, but not all, recipes hew close to Jewish standards. But—and this is a biggie—Sydney's Jewry is not so monolithically descended from Ashkenazic Europeans as America's. So, you will happily discover Indonesian recipes such as Fish Sambal, The Elais Family Original Curry from Jews of Indian descent and Beef Chitarnee paired with Turmeric-Roasted Potatoes from the Baghdadi Indian community. (The book does feature Ashkenazic classics like Fanny's Chicken Soup, Cheese Blintzes, Hamantaschen and various borschts as well as Sefardic favorites like Majdara and North African Moroccan Fish).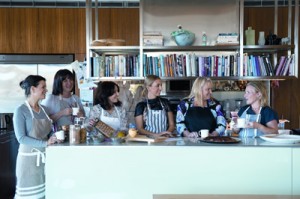 As seasons change this month and we shift away from green salads and grilled meats to heartier fare, here are some ideas from the cookbook. Salmon with a Sesame and Ginger Crust paired with Cabbage Salad, followed by the most lusciously photographed Carrot Cake I have ever seen. Or consider making the very-light-on-mayonnaise Roasted Baby Potato Salad with Capers to round out Couscous Roast Chicken (hint, you stuff the chicken with the couscous). However you say b'teyavon, or bon appétit, in whichever language these Sydney Jews once spoke in long-ago Jewish lands from Burma to Iraq to Morocco, enjoy!
And if you don't want to take my word on the worthiness of this recipe collection, know that British celebrity chef Nigella Lawson has endorsed it as "pure cozy joy," and Australian actor Nicole Kidman called it one of her "favorite things" on her blog.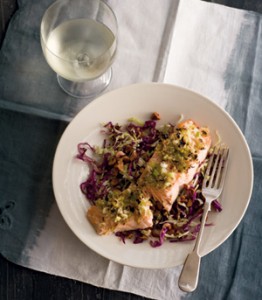 Salmon with a Sesame and Ginger Crust
Serves 4
The sesame and ginger salmon paired
with the cabbage salad.
1 heaped tablespoon grated fresh ginger
2 cloves garlic, crushed
1/4 cup sherry
2 teaspoons sesame oil
2 tablespoons sesame seeds
1 bunch spring onions (12 stems), finely sliced
1/2 teaspoon sea salt, or to taste
4 salmon fillets, skinned and boned
Preheat the oven's top grill to its maximum temperature. Cover a flat oven tray with foil.
Mix the ginger and garlic in a bowl, then add the sherry, sesame oil, sesame seeds, spring onions and sea salt and stir to combine. Place the salmon fillets on the tray and spoon a thick layer of the sesame mixture on top. You may cook this immediately or cover and set aside (refrigerate if need be) until you wish to cook it – up to 24 hours.
Place the tray under the hot grill (on the second to top shelf) for 7–10 minutes, or until the salmon is still rare in the middle and the spring onions have blackened. Remove from the oven and set aside. Serve at room temperature.
Cabbage Salad
Serves 4, generously
1/4 cup sugar
1/2 cup white vinegar
1/4 cup vegetable oil
2 tablespoons soy sauce
1/2 small savoy or 1/2 red cabbage (or a mixture), finely shredded
1/2 cup whole roasted almonds, roughly chopped
1 heaped tablespoon toasted sesame seeds
To make the dressing, put the sugar and vinegar in a saucepan and place on a low heat. Add a drop of water and stir to dissolve the sugar. Allow to cool, then place in a large jar with the oil and soy sauce and shake to combine.
Place the cabbage in a serving bowl and add the almonds and sesame seeds. Pour over the dressing and toss to combine.
DRY INGREDIENTS
2 1/2 cups plain flour
2 teaspoons baking powder
1 1/2 teaspoons baking soda
2 teaspoons ground cinnamon
1/2 teaspoon ground nutmeg
1/2 teaspoon allspice
2 teaspoons salt
WET INGREDIENTS
1 1/2 cups caster sugar (superfine sugar)
1 1/2 cups vegetable oil
4 eggs
FRUIT
3 cups grated carrot
1/2 cup drained canned crushed pineapple
1 2/3 cups chopped pecans
GLAZE
2 tablespoons vegetable oil
1/2 cup brown sugar
2 tablespoons milk
1/3 cup chopped pecans (optional)
ICING
10 ounces cream cheese, at room temperature
3/4 cup unsalted butter, at room temperature
2 1/2 cups icing sugar
1 teaspoon vanilla extract
Preheat the oven to 350°F. Grease a large angel food cake tin.
Sift the dry ingredients together into a bowl. In a separate bowl, beat the wet ingredients together until frothy. Mix together the dry, wet and fruit ingredients. Pour the mixture into the prepared tin and bake for 35 minutes.
While the cake is baking, mix together the glaze ingredients in a saucepan and heat until just combined.
Remove the cake from the oven and pour the glaze over the cake while it is hot. Return the cake to the oven for 15 minutes, or until a skewer inserted into the cake comes out clean.
To make the icing, beat together the cream cheese, butter, icing sugar and vanilla. When the cake is completely cool, turn it out of the tin and set on a serving plate, glazed side up. Spread the icing generously over the cake.
Roasted Baby Potato Salad with Capers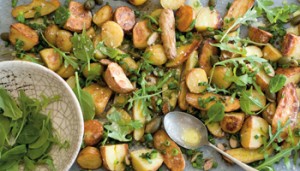 Serves 12
4 1/2 pounds mixed baby potatoes (with a variety of shapes and colours)
1/3 cup olive oil
2 tablespoons salt
1 bunch spring onions, finely chopped (reserving some to garnish)
1/2 cup caperberries, sliced
3 tablespoons mini capers
3 handfuls wild baby rocket
3 handfuls baby spinach leaves
DRESSING
1/3 cup white balsamic vinegar
1/3 cup extra-virgin olive oil
2 tablespoons homemade or best-quality whole egg mayonnaise
2 tablespoons fresh lemon juice
Preheat the oven to 350°C. Line a large baking tray.
Cut the potatoes into halves or quarters, leaving the skin on. Place in a plastic bag with the olive oil and salt and shake to coat. Tip the potatoes out onto the prepared tray and roast for 1 hour, or until the potatoes are golden and crisp. Allow to cool to room temperature.
In a small bowl, whisk together the dressing ingredients and season to taste with sea salt and freshly ground black pepper. In a large bowl, toss together the potatoes, spring onions, caperberries, capers and dressing.
Just before serving, spread the rocket and spinach leaves on a large platter. Place the potato mixture on top of the leaves and only slightly mix. Garnish with the reserved spring onions.
Couscous Roast Chicken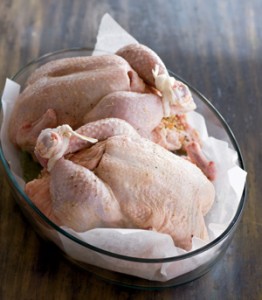 Serves 8
COUSCOUS STUFFING
2/3 cup couscous
6 saffron threads
finely grated zest of 1 lemon or orange
large pinch of ground cinnamon
3/4 cup boiling chicken stock
1/2 cup dry-roasted almonds or pistachios, coarsely chopped
12 dried apricots or dates, sliced
2 tablespoons chopped parsley
2 tablespoons chopped mint
2 large chickens
1/2 cup olive oil
Preheat the oven to 400°F. Grease a large roasting tin or baking dish.
To make the couscous stuffing, put the couscous, saffron, zest and cinnamon in a heatproof bowl and pour over the boiling chicken stock. Cover and leave to soak. After a few minutes, fluff with a fork, then add all the other stuffing ingredients.
Wash the chickens inside and out and pat dry with paper towel. Stuff each chicken lightly (don't press the filling into the chicken too firmly) with the couscous mixture and place in the prepared tin, breast side up. Tie the drumsticks together with kitchen string or baking paper.
Brush the chickens with the olive oil and season generously with salt and pepper. Roast for 20 minutes, then turn the oven down to 350°F and cook for a further 60–70 minutes, or until the chickens are golden brown and cooked through (the juices will run clear when the thigh is pierced with a skewer). To serve, cut each chicken into four and place on a serving dish. Sprinkle the couscous stuffing around the chicken pieces.