Season to Taste: Life of Spice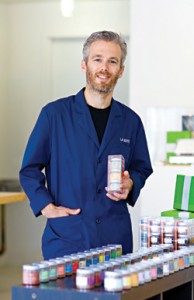 Growing up on Kibbutz Dan in the Upper Galilee, Lior Lev Sercarz was initiated early into the power of spices. From tangy amba (mango pickle) drizzled on falafel to fiery Yemenite schug, a condiment laced with hot peppers, to the bitter undertones of tahini, the foods he and his family enjoyed sparked a passion for distilling the essence of flavor into foods. Though this passion has taken him all over the globe, Sercarz credits his Jewish-Israeli kibbutz upbringing as part of his inspiration.
"Judaism is a culture, not just a religion," said Sercarz, dressed in a blue lab coat and rubber clogs for a day of work at La Bôite Biscuit & Spices, the gleaming white storefront and factory on the far west side of New York where he is spreading the gospel of good spice to an increasing number of followers. Spices also figure prominently in Jewish texts, from those employed by Esther to beautify herself before an audience with King Ahasuerus, to the ketoret (incense) burned inside the Holy Temple, which contained a heady blend including cinnamon and saffron.
"There is no event, whether joyful or sad, religious or otherwise, that doesn't involve food," he added. "And all good food has spice."
After army service (naturally, he served as a cook), Sercarz traveled to France, where he worked at Les Maisons de Bricourt, a Michelin-starred restaurant with a traditional yet cerebral bent. Chef Olivier Roellinger used a prodigious selection of spices and, over time, Sercarz became intrigued with how little most chefs know about the vials and glass jars that lend much of the defining character to a restaurant's dishes. Sercarz began spending his free time researching the history of individual spices as they made their way into the culinary canon, also developing an interest in the ancient Spice Route and how it presaged the blending of cultures throughout the world.
Eventually, Sercarz made his way to New York, working for top chefs like Eric Ripert and Daniel Boulud before launching his business on a shoestring budget. Rather than the dusty, innocuous powders most consumers and chefs were used to, Sercarz's spices—both pure and blended—are bombs of aroma and flavor. Like the finest perfumes, a little goes a long way (reassuring, since the cost of his products reflects his attention to detail and quality).
Sercarz's business dovetailed with the general culinary zeitgeist for ingredients with a pedigree, and the response was immediate. Soon, he was making blends for discriminating restaurateurs, including Michael Solomonov, who uses a Baharat-style mix on many of his grilled meats at Zahav in Philadelphia, and Ana Sortun, whose namesake Ana blend contains rose petals, sumac and sesame seeds.
Spending time in his store, you would expect to see cinnamon stick shavings on the floor or a coriander seed affixed to Sercarz's shoe. But by the time he welcomes visitors (generally by appointment only), most of his spice grinding is done for the day. "I like to work in solitude and quiet, early in the morning, when I can really think," he said. But it's not enough for spices to come together fortuitously in the jar. "There has to be a tale to tell behind the spices. Otherwise it's just not that interesting to me."
This recipe is typical Sercarz: The leeks and poppy evoke his Middle East upbringing, while the potato latke base is a hallmark of his Ashkenazic heritage. Since Hanukka and Thanksgiving overlap this year, consider serving them (minus the salmon and cream) as a side dish for your roasted turkey.
Leek Latkes, Smoked Salmon and Lemon-Yogurt Cream
Makes 20 latkes and 1 cup cream.
For the cream:
1 cup labane (or Greek yogurt)
Juice and zest of 1 lemon
1 TB olive oil
2 tsps whole mustard seeds
2 tsps poppy seeds
1/2 tsp salt
1/4 tsp freshly ground black pepper
For the latkes:
4 large or 6 medium leeks, white and light green parts only, trimmed and diced into 1/4-inch pieces
1 large potato, peeled and finely grated
1 large onion, finely chopped
8 chives, thinly sliced
2 eggs, lightly beaten
1 tsp baking powder
1 TB cornstarch
1 tsp salt
1/2 tsp freshly ground black pepper
Vegetable oil for frying
1/2 lb smoked salmon or lox, chopped
Make the Cream:
In a medium bowl whisk together the labane, lemon juice, lemon zest, olive oil, mustard seeds, poppy seeds and 1/2 tsp each of salt and pepper. Cover and refrigerate until ready to use.
Make the Latkes:
1. Put leeks in large bowl, cover with cold water and rinse thoroughly.
2. Bring a pot of salted water to a boil and blanch the leeks for 3 minutes. Drain, removing as much water as possible.
3. In a mixing bowl combine the cooked leeks, potatoes, onions, chives, eggs, baking powder, cornstarch, salt and pepper.
4. In a heavy skillet heat a few TBs of vegetable oil over medium heat. Form patties using 1/3-cup batter and fry a few at a time until golden brown, 2-3 minutes per side. Drain on paper towels.
5. To serve: Top latkes with smoked salmon and a dollop of the Lemon-Yogurt Cream