The No-Potato Latke Hanukka

The way I see it, holidays are either an opportunity to whip up old-school classics that have become mainstays of traditional observance—in the case of Hanukka, the standard and perfectly lovely potato latke—or an excuse to experiment with something fresh, inventive and unexpected. I suspect you can't go wrong no matter what you decide, but this year, I'm going new school.
Culling through standout kosher cookbooks from the last year with the no-potato latke in mind, I came up with more possibilities than could possibly fit into one post—apparently I'm not the only cook looking for inspiration beyond potatoes. It was a tough selection process, but the alternative latkes (sounds like a Jewish alt-rock band!) I'm sharing with you are delicious newbies that just may become classics in your kitchens as the years progress.
The four recipe collections I chose from are drool-worthy beyond their latkes, and should be considered for holiday gifts and personal gifting, if you're like me and can't turn down a new, sumptuously photographed, mouthwatering cookbook. The titles: The Artisan Jewish Deli at Home
 by Nick Zubin and Michael C. Zusman (Andrews McMeel); The Prime Grill Cookbook: Redefining the Kosher Experience
 by David Kolotkin and Joey Allaham (Pelican); The Holiday Kosher Baker: Traditional & Contemporary Holiday Desserts
 by Paula Shoyer (Sterling); and The Mile End Cookbook: Redefining Jewish Comfort Food from Hash to Hamantaschen
 by Noah and Rae Bernamoff (Clarkson Potter).
Go forth and fry away!
Zucchini Latkes with Tomato Relish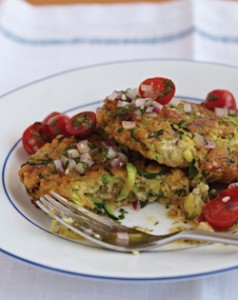 Makes 8 latkes. From The Artisan Jewish Deli at Home.
1 medium white or yellow onion, coarsely chopped
1 clove garlic, peeled
1 1/2 pounds zucchini
1 tablespoon kosher salt
1/2 teaspoon dried marjoram
1/2 teaspoon dried thyme
2 large eggs
1 1/2 cups matza meal
Vegetable oil, for frying
Sour cream, for serving (optional)
Tomato Relish, for serving (optional)
Process the onion and garlic in a food processor until they are finely pureed. Place the puree in a fine-mesh strainer set over a bowl; set aside to allow the liquid to drain away.
Coarsely grate the zucchini using a box grater, mandoline or food processor. Place in a wide-mesh strainer or the insert of a salad spinner. Add 2 teaspoons of the salt and toss to combine. Set aside for 30 minutes to drain. If you used a salad spinner, spin it as you would salad greens to strain away any liquid from the zucchini. Otherwise, use your hands or a flexible spatula to press as much of the liquid as possible out of the zucchini in the strainer.
Place the zucchini in a large bowl and add the marjoram, thyme, onion-garlic puree, and the remaining 1 teaspoon salt. Mix well. Thoroughly mix in the eggs.
Finally, stir in the matzo meal.
Preheat the oven to 200°F. Place a large heavy skillet over medium-high heat. Add 3/8 inch of oil and heat until it shimmers; do not allow the oil to reach the smoking point.
Using your hands, press 1/2 cup of the zucchini batter into a 1/2-inch-thick patty and carefully slip it into the pan, letting the patty fall away from you to avoid being splattered with the hot oil. Add 2 more latkes to the skillet and fry for 3 minutes per side, rotating the latkes 180° after 2 minutes on each side to evenly brown them.
Transfer the latkes to a baking sheet lined with paper towels to absorb excess oil. Keep warm in the oven while frying the rest of the latkes. Serve warm, topped with sour cream or tomato relish, if desired.
Tomato Relish
12 ounces cherry tomatoes, halved
6 tablespoons extra-virgin olive oil
1/3 cup finely chopped red onion or shallot
2 tablespoons chopped fresh flat-leaf parsley
2 tablespoons freshly squeezed lemon juice or red wine vinegar
1/2 teaspoon minced garlic
Kosher salt
In a medium bowl, combine the tomatoes, oil, onion, parsley, lemon juice, and garlic. Stir until the tomatoes are evenly coated. Add salt to taste.
Transfer to a serving bowl and set aside until ready to serve. The tomato relish can be made up to 2 days in advance. Cover and refrigerate. Remove from the refrigerator 1 hour before serving.
Recipes from The Artisan Jewish Deli at Home by Nick Zukin and Michael Zusman, Andrews McMeel 2013.
Apple Latkes
Makes 20. From The Holiday Kosher Baker: Traditional & Contemporary Holiday Desserts.
1/2 cup all-purpose flour, plus one tablespoon, if batter is very wet
2 tablespoons sugar
1/4 teaspoon cinnamon
1/4 teaspoon ground nutmeg
1 teaspoon baking powder
3 apples (Fuji, Gala or Granny Smith)
1 tablespoon fresh lemon juice
2 large eggs
2 tablespoons confectioners' sugar for dusting
Place a paper bag over a cookie sheet to use for draining the latkes after frying them. Heat 1/4 inch of oil in a large frying pan over medium-high heat.
Place the flour, sugar, cinnamon, nutmeg, and baking powder into a large bowl and stir. Beat the eggs in a small bowl. Set aside. Peel and core the apples and grate them on the large holes of a box grater or the large holes of a food processor blade. Add the shredded apples to the bowl with the dry ingredients. Sprinkle with the lemon juice, add the beaten eggs and mix.
The oil is ready for frying when it feels very hot when you place your hand two inches above the pan. Scoop up a heaping tablespoon of the apple mixture and gently drop it into the pan, using the back of the tablespoon to flatten it. Fry the latkes for 1 1/2 to 2 minutes per side, until golden. Drain them on the paper bag and let them cool for about 15 minutes.
If the batter gets very watery halfway through the frying, add a tablespoon of flour to the mixture and mix it in.
Use a sieve to dust the latkes with confectioners' sugar. These are best eaten fresh but can be reheated in the oven. Store them in the fridge for up to three days or freeze them for up to three months. To reheat, place frozen latkes onto a cookie sheet and bake them in a 400°F oven until crisp.
Quinoa Cakes "Latkes"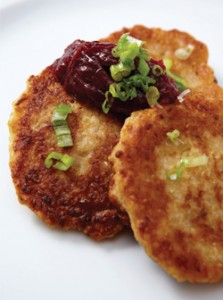 Serves 10-12. From The Prime Grill Cookbook by David Kolotkin and Joey Allaham, © Joey Allaham, used by permission of the publisher, Pelican Publishing Company, Inc.
2 tablespoons extra-light olive oil plus more for frying
1⁄4 cup onion, small dice
2⁄3 cup quinoa
11⁄3 cup water
1 tablespoon kosher salt plus 1 pinch
3⁄4 cup flour
11⁄2 teaspoons baking powder
1 egg
1⁄2 cup plus 2 tablespoons soy milk
Salt to taste
In a heavy gauge saucepan, preferably stainless steel, warm two tablespoons of oil and sweat the onions until soft and translucent. Add the quinoa and stir for a few seconds to coat all the grains with the oil. Add the water and a pinch of salt and bring to a boil. Lower the heat and simmer until all of the liquid is absorbed. Remove from heat and let cool.
In a dry mixing bowl combine the flour, baking powder, and one tablespoon of kosher salt and mix well. Add the egg and the soy milk and mix until all ingredients are fully combined. Add two cups of the cooked quinoa and mix.
Heat two to three tablespoons of oil in a frying pan. When the oil is hot, spoon batter into mini pancakes (fist size) and fry for 30-60 seconds on each side, or until golden brown.
Variations
Fragrant Quinoa Cakes: Add 1 tablespoon of curry powder, 1⁄4 teaspoon cinnamon, 1⁄2 teaspoon cumin and 1⁄4 teaspoon of cardamom powder to the batter mixture.
Sweet Quinoa Cakes: Add your favorite dried fruits, such as toasted sliced almonds, toasted pine nuts or dried cranberries, to the batter mixture.
Butternut Squash Latkes
Makes 25-30 small latkes. From The Mile End Cookbook: Redefining Jewish Comfort Food from Hash to Hamantaschen.
1, 3- to 4-pound butternut squash, peeled, seeds and pith removed
1 medium onion, grated
1 cup matza meal
1/3 cup chopped fresh sage
5 large eggs
1 teaspoon kosher salt
1/2 teaspoon freshly ground black pepper
Cut the squash into chunks and pass them through the grating disk of a food processor.
Combine the squash with the grated onion in a large bowl and mix them together with your hands. Add the matza meal and mix together, then add the sage. Finally, add the eggs and massage them into the squash mixture until thoroughly incorporated. Add the salt and pepper and mix them in with your hands.
Heat 2–3 tablespoons of oil in a large skillet over medium-low heat. Working in batches so that the latkes are not crowded in the skillet, take a golf ball-size portion of the squash mixture, flatten it between the palms of your hands, and add it to the skillet. Repeat. Cook the latkes until they're crisp and brown around the edges, about 4 minutes; then flip and cook for another 3 minutes on the second side, until crisp and deep golden brown all over and still tender inside. Transfer to a paper towel-lined plate or baking sheet. Repeat with the remaining squash mixture, adding a tablespoon or so of oil between batches.
You can reheat the latkes in a 450° oven in 3 to 4 minutes.