The Joy of Jamie Geller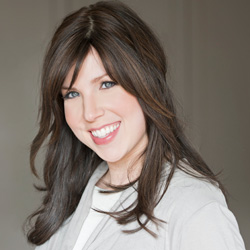 Cutesy monikers have followed home-chef-turned-author Jamie Geller since her first, best-selling cookbook, Quick & Kosher
 (Feldheim), was published in 2007. That collection was subtitled Recipes from The Bride Who Knew Nothing; moniker No. 1. Now, after two more cookbooks, including Quick & Kosher: Meals in Minutes
 (Feldheim) and her latest, Joy of Kosher: Fast, Fresh Family Recipes
 (William Morrow), she is "The Jewish Rachael Ray," according to The New York Times.
 In her spare time from authoring cookbooks (and raising five children with her "hubby," as she refers to him, all now living in Israel after recently making aliya), she launched the Kosher Media Network, publisher of the magazine 
Joy of Kosher with Jamie Geller
 and the top-rated Kosher website, 
JoyofKosher.com
. In the pages of 
Joy of Kosher: Fast, Fresh Family Recipes
, you will meet the hubby and kids—whom Geller herself provides cutesy monikers for, from Little Momma to Bruiser—in the many, admittedly charming, photos of her family at home.
Geller is a no-fuss foodie who wants her family and friends to delight in her dishes but doesn't want to dirty up a thousand pans in the process and spend more time than necessary in the kitchen. In Joy of Kosher, her recipes are simple yet surprisingly elegant. And while some rely on iconic Jewish foundations—like brisket or kugel—she surprises with tasty twists that motivate us to try yet another brisket or kugel recipe (e.g., her Argentinean Brisket with Chimichurri and Spiced Apple Challah Kugel, bread pudding and kugel in one!). Other recipes straight out inspire for their newness, not sounding like typical kosher fare: Coq au Vin with Veal Sausage, Thyme and Merlot; Sour Mash Whiskey-Glazed Whole Roasted Turkey; and Blackened Tilapia Tacos with Cumin Avocado Sauce.
Another interest for Geller—a chef who weekly hosts both elaborate Shabbat dinners and kindergarten play dates—is flexibility. She offers suggestions on how to dress up or dress down every recipe. Start with Creamy Tomato Penne, then dress it up into Creamy Tomato Basil Nests. Dress down Mediterranean Lamb Skewers into Mediterranean Lamb Meatloaf.
With healthful cooking always in mind, I selected a short menu from Joy of Kosher, soup to dessert, which will warm our cold souls through a particularly harsh winter. I share with you Geller's Country Spinach, Tomato, and White Bean Soup; Salt and Pepper Chicken with Caramelized Fennel and Shallots; and Sweet Potato Cake. Stay warm!
Country Spinach, Tomato, and White Bean Soup
Kosher Status: Pareve. Serves 4
2 tablespoons olive oil
1 large onion, coarsely chopped
2 medium carrots, coarsely chopped
1 celery stalk, coarsely chopped
2 garlic cloves, chopped
One 14-ounce can diced tomatoes
One 15-ounce can cannellini beans, rinsed and drained
1 quart vegetable broth
1 tablespoon fresh thyme or 1 teaspoon dried
1 bay leaf
One 5-ounce container whole fresh baby spinach leaves
or 2 cups frozen chopped spinach
1 teaspoon kosher salt
1/2 to 1 teaspoon red pepper flakes (optional)
Freshly ground black pepper
Heat the olive oil over medium-high heat in a large pot. Add the onion and cook until it begins to soften, about 5 minutes. Add the carrots, celery, and garlic, and cook 5 minutes more, stirring often. Add the tomatoes and their juice, beans, broth, thyme, and bay leaf and bring to a boil. Reduce the heat to a simmer and cook, stirring occasionally, until the vegetables are tender, about 15 minutes. Stir in the spinach, salt, red pepper flakes (if using), and black pepper to taste. Cook just until the spinach is wilted, 2 minutes more. Remove and discard the bay leaf. Ladle the soup into bowls and serve warm.
Crispy Salt and Pepper Chicken with Caramelized Fennel and Shallot
Kosher Status: Poultry. Serves 4.
Cooking doesn't have to be difficult or complicated, and it doesn't need to use lots of ingredients to be perfect. The better cook you are, the quicker you learn that. Here's one recipe that proves it.
Cooking spray
One 3 1/2-pound chicken, cut into 8 pieces
1/4 cup all-purpose flour
2 large fennel bulbs, trimmed and cut into 11/2-inch slices
4 shallots, halved if large
4 garlic cloves, smashed
3 tablespoons olive oil
2 teaspoons kosher salt
3/4 teaspoon freshly ground black pepper
3/4 teaspoon ground white pepper
2 tablespoons chopped fresh parsley
1. Preheat the oven to 400°F. Spray a baking sheet with cooking spray.
2. Place the chicken pieces and flour in a large resealable plastic bag and toss to coat evenly. Shake off any excess flour. Place the chicken, fennel, shallots, and garlic in a single layer on the prepared baking sheet. Drizzle with the olive oil and sprinkle with the salt and black and white peppers. Bake until the chicken is cooked through and the skin is crispy, 40 to 45 minutes. Sprinkle with the parsley before serving.
Variation
For especially crispy chicken, after tossing it with the flour, pan-sear it in hot oil until golden, about 5 minutes per side, then roast with the vegetables.
Sweet Potato Cake
Kosher Status: Pareve. Serves 6 to 8.

My grandmother's cakes were the kind of perfection that can be achieved only by a Hungarian-born baker. Folks from those parts are known for their confectionery skills. I don't have any of her recipes, but I know for a fact that at least one of her famous desserts called for schmaltz (rendered chicken fat). Inspired by her moist, spongy concoctions, I came up with this.
And it's darn good. So soft and moist—yes, I am proud. I don't always trust my brood for opinions—they're slightly biased. So I tested this on my friend Hadassah and her four grown boys, and it's been universally declared a winner. Hubby went looking for the last bite, but I got there first. Ha!
1 pound sweet potatoes, peeled and diced
Cooking spray
1 1/2 cups all-purpose flour
1 teaspoon ground cinnamon
1 teaspoon ground ginger
1 teaspoon baking soda
1 teaspoon baking powder
1/2 teaspoon ground nutmeg
1/2 teaspoon kosher salt
1 cup granulated sugar
1/2 cup canola oil
2 large eggs
1. Steam the sweet potatoes until tender, about 15 minutes. Mash them into a smooth texture and set aside 1 cup; reserve any remaining sweet potatoes for another use.
2. Preheat the oven to 325°F. Spray a 9 x 5-inch loaf pan with cooking spray.
3. Combine the flour, cinnamon, ginger, baking soda, baking powder, nutmeg, and salt in a large bowl and whisk well. Combine the 1 cup sweet potatoes, sugar, and canola oil in the bowl of an electric mixer and beat with the paddle until smooth. Add the eggs, one at a time, beating well to incorporate after each addition. Add the flour mixture in two additions, mixing by hand just until combined. Transfer the batter to the prepared pan. Bake until a toothpick inserted in the center comes out clean, 40 to 45 minutes. Cool in the pan 15 minutes and then let cool completely on a wire rack.
Dress It Up: Peaches and Jam Sweet Potato Cake
Cut the loaf horizontally in thirds. Spread the top of the bottom layer with raspberry jam, top with peach slices and then the middle layer of the cake. Repeat with more jam and peaches, and place the top layer of the loaf on top. Can be served immediately or prepared a few days in advance. (Store wrapped tightly in plastic wrap, on a cake platter with a top, or in a container with a tight-fitting lid.)
Try whipped cream in place of the jam and use different fruits like kiwis, strawberries, or bananas (sliced lengthwise) in place of the peach slices.
From the book JOY OF KOSHER: Fast, Fresh Family Recipes by Jamie Geller. Copyright (c) 2013 by Jamie Geller. William Morrow Cookbooks, an imprint of HarperCollins Publishers. Reprinted by permission.