Multifaith Silver Lining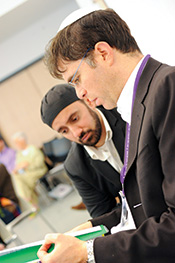 When tension between Muslim and Jewish students at New York University began to mount following 9/11, Rabbi Yehuda Sarna asked Hillel members to examine the "us vs. them" thinking that characterized much of the conflict.
Meanwhile, Imam Khalid Latif was doing the same at the Muslim Students Association. Working apart, both men shared the same goal: to enlist interfaith dialogue as a tool to transform their respective religious communities.
In 2006, they joined forces to cosponsor Bridges, a student-run organization bringing Muslims and Jews together in acts of service (rebuilding houses in New Orleans) and prayer (joint Friday night services, held weekly). Universities around the country spotlighted NYU as a model of interfaith dialogue; NYU students clamored to expand their reach. In response, Vice Chancellor Linda Mills, consultant Chelsea Clinton, Rabbi Sarna and Imam Latif cofounded the Of Many Institute (www.nyuofmany.org) in 2012 to train a new generation of spiritual leaders in multifaith engagement—the silver lining behind the dark deed of 9/11.