Honey, I Followed the Rules

As the standard bearer of Rosh Hashana desserts, honey cake gets lots of play during the High Holidays. So why, then, do so many fall short? Leaden and dense, airy and dry or cloyingly sweet; these seem to be the choices we are faced with. Since a honey cake may be the first dessert you eat in the New Year, wouldn't you want yours to be amazing? Enter Rose Levy Beranbaum, baker extraordinaire.
Picking up where her first book, The Cake Bible
, left off, The Baking Bible

(both from Houghton Mifflin Harcourt) offers over 100 recipes for foolproof desserts, with one caveat: sticking to Beranbaum's methods.
The recipes look longer than they are, mainly because each ingredient is parsed thrice: in volume, grams and ounces. In this baker's universe a scale is not an option but a prerequisite—you can even buy a "Rose Scale" at her popular baking blog (www.realbakingwithrose.com).
Ingredient swaps are also discouraged. "Whenever someone says 'can you' the next word is always 'substitute,'" Beranbaum said with a laugh. "Those words raise alarm bells." That means no switching in agave for honey, whole-wheat flour for plain or baking a bundt cake in a brownie pan.
Beranbaum's specifics really do matter here. Take eggs, for example. By law a dozen American eggs must weigh 24 ounces, but there is no rule saying one can't weigh an ounce, and another one four. That is why she calls for weighing the eggs or measuring them by volume.
The same goes for using the right type of flour. In this exceedingly moist, golden-brown honey cake recipe (from her new book, to be released in November), Beranbaum calls for bleached flour, whose individual grains are rougher, hence creating a stiffer structure that prevents the cake from caving in during baking. A cup of strong coffee cuts the sweetness; dark brown sugar adds moisture and depth of flavor; and whisky's high alcohol content clarifies the cake's other flavors. For the honey, opt for one with distinctive flavor, like blue borage from New Zealand, orange blossom or lavender, but stay away from varieties with extremely dominant flavors, like buckwheat.
The reward for this exactitude? A gorgeous, deeply burnished and perfectly domed honey cake that will make a rule-follower out of even the most rebellious baker.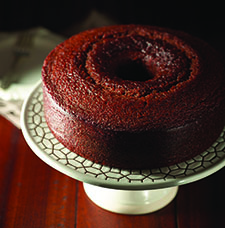 Honey Cake for a Sweet New Year
4 large eggs (3/4 cup plus 2 tsps), room temperature ( 7 ounces in weight)
1 cup canola or safflower oil (7.6 ounces in weight)
1 cup strong black coffee (8.4 ounces in weight)
1/2 cup orange juice (4.3 ounces in weight)
1/4 cup whisky or rye (1.9 ounces in weight)
4 tsps pure vanilla extract
1 1/4 cups superfine sugar (8.8 ounces in weight)
1/2 cup dark brown sugar (3.8 ounces in weight)
3 1/2 cups bleached all-purpose flour (14.1 ounces in weight)
1 TB baking powder
3/4 tsp baking soda
1/2 tsp fine sea salt
1 TB unsweetened cocoa powder
4 tsps ground cinnamon
1/2 tsp ground ginger
1/8 tsp ground cloves
1 cup honey (11.8 ounces in weight)
1. Coat the bottom of a 9- or 10-inch nonstick metal tube pan with shortening, then cover sides and bottom of pan with parchment paper. Set a rack in the lower part of the oven and preheat the oven to 350° 20 minutes before using. Stack two baking sheets on top of one another and reserve.
2. In a large bowl whisk all liquid ingredients until combined. Add the sugars and whisk until combined.
3. In the bowl of a stand mixer fitted with the whisk attachment, whisk all dry ingredients on low speed until incorporated, 30 seconds.
Remove the bowl and whisk attachment, add the liquid mixture and whisk by hand until just moistened. Add the honey, reattach the bowl to the stand mixer and whisk and beat, starting on low and increasing speed to medium, for a total of 1 1/2 minutes; the batter will have the consistency of thick soup. Using a silicone spatula, scrape the batter into the prepared pan and set the pan on top of the baking sheets.
4. Bake for 45 minutes, then rotate the pan halfway around. Lower temperature to 325° and bake until a wooden skewer inserted into center comes out clean and cake springs back lightly when pressed, 25-30 minutes.
5. Cool in pan on a wire rack for 20 minutes. Using a sharp knife or offset spatula, scrape firmly between the cake and the pan to loosen cake, angling knife toward cake and pushing cake inward to ensure loosening. Loosen the cake from the center tube with a wooden skewer. Spray rack with cooking spray, then invert cake onto rack. Peel off parchment. Reinvert cake onto a serving plate or cake carrier.
Rose's Golden Rules of Baking
Weigh and measure ingredients carefully, especially eggs and flour
When measuring flour, sift flour directly into measuring cup
Use eggs at room temperature
Use fresh baking powder; check the expiration date
Use fine, uniodized sea salt
Use correctly sized pans, and never fill a pan more than two-thirds full unless specified in recipe
Transfer batter to pan immediately after mixing, and bake immediately
Bake cake toward center of oven
Cool cake completely on wire rack before serving