Supporting Women, from A to DD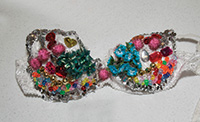 When it comes to Hadassah's newest initiative, The Uplift Project, the campaign's tagline says it all: Hadassah supporting breast cancer research & awareness from A to DD.
The idea is simple: Decorate a bra—using any material or medium—photograph it and upload a photo of your creation to an online gallery. Bra designers are also encouraged to show off their inspired work on social media sites using the tag #THE UPLIFTPROJECT.
The project was officially kicked off in October in recognition of Breast Cancer Awareness Month.
"It is a fun, whimsical way of taking on a serious issue," says Mindy Bloom, a Hadassah national vice president and national chair of The Uplift Project. "Hadassah has always been synonymous with medical research. We have done tremendous work in cancer research, and breast cancer in particular. Each bra represents thousands of lives saved through cancer research and cancer awareness."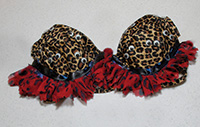 Over 295,000 new cases of breast cancer will be identified this year in the United States, and the disease will claim 40,000 victims. Through The Uplift Project, Hadassah aims to shine a spotlight on the disease and empower women to take charge of their health. "This is not a women's issue or a Jewish issue, it affects everyone," says Bloom.
Because the main component of The Uplift Project is online, it is a great opportunity to bring people together, regardless of where they are located geographically.
"We hope this initiative will speak to all our Hadassah members and Associates, regardless of chapter affiliation," says Carol Rosenthal, Hadassah national vice president and National Membership Department chair. "Even people without a local chapter—or those who are not yet members—can decorate their bra at home or invite some friends to 'wine and design.'"
Bloom and Rosenthal hope to see bra creations uploaded to the gallery from all 50 states, from women, men—even teenagers. "We are challenging colleges and Hillels, and even doing a high school event," says Bloom.
Celebrities are getting onboard with The Uplift Project as well. Fashion designer Rebecca Minkoff has agreed to make one, among others. Bloom and Rosenthal hope to auction off the celebrity creations as a fundraiser.
"The Uplift Project is a way to connect people to what Hadassah is doing in terms of research and advocacy, says Rosenthal. "Most women got fitted for a bra at some point, and they wear one, but they don't think about it. Now they will. And we want to tell people Hadassah has been there all along."
The Hadassah Medical Organization in Israel is a leading research, diagnostic and treatment center for breast cancer. HMO joined with the National Institutes of Health to publish groundbreaking genetic research demonstrating that specific BRCA1 and BRCA2 gene mutations are more prevalent in the Ashkenazic Jewish community. (Read one woman's story after testing positive for the mutations here). Then, last year, Hadassah researchers developed a blood test—faster and less costly than the standard one—that reveals BRCA1 and BRCA2 mutations in otherwise healthy women.
Furthermore, the Marlene Greenebaum Multidisciplinary Breast Center in Jerusalem operates innovative community outreach programs, in addition to offering state-of-the-art diagnostic procedures and critical psychological and emotional support to women.
In the United States, over the past several decades Hadassah has spearheaded a number of programs aimed at empowering women and young adults to take charge of their health.
For more information about The Uplift Project, visit the online gallery or email theupliftproject@hadassah.org.