The Recipes: Hanukka by the Book
Excerpted from Gluten Free Around the World
 (Brio) by Aviva Kanoff
Bocaditos de Papa (Potato-Cheese Fritters)
Make 12 Fritters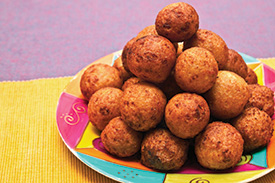 1 pound russet potatoes, peeled and quartered
1 cup shredded pepper jack or cheddar cheese
2 tablespoons shredded Parmesan cheese
3 large eggs, lightly beaten
1 tablespoon chopped fresh cilantro
1/2 teaspoon salt
1/2 teaspoon ground cumin
1/4 teaspoon cayenne pepper
Canola oil for frying
Salsa (optional)
1. In a large saucepan, place potatoes in enough salted water to cover. Bring to a boil, then reduce heat. Simmer, covered, for 15-20 minutes or until potatoes are tender, then drain.
2. In a large bowl, mash potatoes with a potato masher until smooth. Fold in cheeses, eggs, cilantro, salt, cumin and cayenne pepper. Shape mixture into 12, 3-inch diameter patties. If desired, cover and chill for up to 24 hours before cooking.
3. In a large skillet, heat 1-inch of oil to 375˚. Add potato patties, three or four at a time, and fry, about 2 minutes or until golden brown, turning once halfway through cooking time. Drain on paper towels. Serve hot and top with salsa if desired.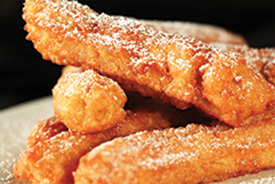 1/4 cup granulated sugar
3/4 teaspoon ground cinnamon
1 cup water
1/3 cup unsalted butter
2 tablespoons brown sugar
1/2 teaspoon salt
1 cup gluten free all-purpose flour
1 large egg
1/2 teaspoon pure vanilla extract
Canola oil for frying
Confectioners' sugar
1. In a medium bowl, combine granulated sugar and cinnamon. Set aside for topping.
2. In a medium saucepan, combine water, butter, brown sugar and salt. Bring to a boil over medium heat. Add flour all at once, stirring vigorously with a wooden spoon. Cook and stir until the mixture forms a ball and pulls away from the sides of the pan. Remove from heat and let cool.
3. Line a baking sheet with greased parchment paper. After the dough has cooled for 10 minutes, add egg and vanilla to the saucepan and beat ingredients well with a wooden spoon to blend them completely. Transfer the mixture to a decorating bag fitted with a large star tip. Pipe 4-inch lengths onto the prepared baking sheet.
4. Heat 3 inches of oil in a deep saucepan over medium-high heat. Fry a few strips at a time in hot oil (at least 375°), turning once, until golden brown on all sides, about 5 minutes. Drain on paper towels. Roll warm churros in the cinnamon-sugar mixture to coat. Serve warm

Excerpted from The Modern Kosher Kitchen
by Ronnie Fein
Roasted Potato Skins
Makes approximately 40 pieces
Yogurt Dip, optional (see recipe below)
4 large baking potatoes (Idaho or russet)
2 tablespoons olive oil
2 tablespoons chopped fresh rosemary
Sea salt and freshly ground black pepper, to taste
1 cup finely shredded Monterey Jack cheese
1. Preheat the oven to 400°F. Scrub the potatoes, pierce them with the tines of a fork and roast them for about 1 hour or until tender. Remove the potatoes from the oven. Raise the oven heat to 450°F.
2. When the potatoes are cool enough to handle, cut them in half lengthwise and scoop out most of the flesh, leaving a thin layer attached to the skin. Cut the skins crosswise (into about 40 pieces). Brush both sides of each piece with the olive oil. Place the skins on a cookie sheet, inside up. Sprinkle with rosemary, a few grindings of sea salt and pepper.
3. Roast for 5 minutes. Turn the skins over; roast for 5 minutes. Turn the skins inside up again and roast for 5 minutes. Sprinkle the pieces with the cheese. Roast for 3 or 4 minutes or until the cheese has melted and is bubbly. Serve plain or with the yogurt dip.
Yogurt Dip (makes 1 1/2 cups)
1 1/2 cups plain yogurt
3 scallions, chopped
Lemon juice, about 1 teaspoon
Mix the yogurt, scallions, and lemon juice. Serve with the Potato Skins, if desired.

Vidalia Onion Fritters with Sambal-Yogurt Dip
Makes about 24 fritters
For the Fritters:
1 cup all-purpose flour
1 teaspoon baking powder
1/2 teaspoon salt, or to taste
3/4 cup milk
1 large egg
1/2 teaspoon sambal
2 medium Vidalia onions, chopped
Vegetable oil, for deep-frying
For the Yogurt Dip:
1/2 cup plain Greek style yogurt
1 garlic clove, finely chopped
1 tablespoon lemon juice
1/2 to 1 teaspoon sambal or sriracha
1/2 teaspoon freshly grated lemon peel
Salt, to taste
Make the Fritters:
1.Preheat the oven to 200°F . Place the flour, baking powder and salt in a large bowl and mix to combine.
2. Beat the milk, egg, and sambal together in a second bowl. Add the egg mixture and onions to the flour mixture and mix to blend ingredients.
3. Heat 1/2 inch vegetable oil in a deep sauté pan. When the oil is hot enough for a crumb of bread to sizzle, drop heaping tablespoons of the onion mixture into the pan and cook for 1 to 2 minutes or until golden brown. Turn the fritters over and cook on the other side for about 1 to 2 minutes or until cooked through. Drain on paper towels and keep warm on a cookie sheet in the preheated onion.
4. Repeat with remaining batter. Make a few fritters at a time; do not crowd the pan. Serve with the Sambal-Yogurt Dip.
Make the Yogurt Dip: Place the yogurt, garlic, lemon juice, sambal, lemon peel, and salt in a bowl and mix to blend ingredients thoroughly. Makes 1/2 cup.
Excerpted from Jewish Soul Food: From Minsk to Marrakesh
by Janna Gur
Ijeh B'Lahmeh (Herb and Meat Latkes)
Makes 15 to 20 pancakes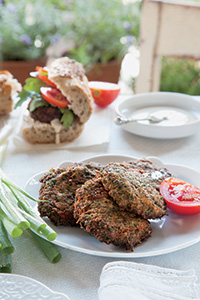 4 eggs
1 large onion, roughly chopped
About 2 tablespoons matza meal or bread crumbs
1 bunch fresh parsley
1 bunch fresh cilantro
1/2 bunch fresh mint
3 to 4 scallions (white and green parts)
10 ounces ground beef, or a lamb and beef mixture
Salt and freshly ground black pepper
2 to 3 tablespoons pine nuts (optional)
Vegetable oil for frying 
1. Put the eggs, onion, matza meal or breadcrumbs, parsley, cilantro, mint and scallions in a food processor. Pulse until the herbs are chopped. Transfer to a large bowl.
2. Add the ground beef, salt, pepper and pine nuts (if using) to the herbs and mix thoroughly.
3. Heat a little bit of vegetable oil in a large nonstick frying pan. With a large spoon, ladle in pancakes 3-inches wide and fry over medium heat for 3 to 4 minutes on each side, until deep golden. Be careful not to crowd the pan (work in batches). Remove to paper towels to drain.
To serve If desired, brush pita with olive oil and toast in a hot pan or oven. Arrange the pancakes on the bread (it will absorb the flavorful juices) and top with red onion, herbs, tomato, and tahini spread. If not serving at once, store the pancakes in the refrigerator—they are delicious cold or at room temperature in a sandwich or as a light snack.
For a vegetarian version: Skip the meat. Increase the amount of matza meal or breadcrumbs to 5 tablespoons. You might also want to add 1 to 2 chopped and slowly sautéed onions for extra flavor.

Bimuelos (Honeyed Hanukkah Puffs)
Makes 40 puffs

For the dough:
1 tablespoon instant yeast
1/4 cup sugar
2 1/2 cups lukewarm water
3 1/2 cups unbleached all-purpose flour
2 eggs
1 teaspoon salt
Vegetable oil for deep-frying
For the syrup:
3/4 cup water
1 cup sugar
1/2 cup honey
1 large cinnamon stick, broken into 3 pieces
1. Combine the yeast, sugar and lukewarm water in a large mixing bowl and let stand for 10 minutes, until foamy.
2. Add the flour, eggs and salt and whisk to a smooth, sticky dough. Cover with plastic wrap or a wet towel and let stand for about 1 hour, until doubled in volume.
3. Meanwhile, prepare the syrup: Combine the water, sugar, honey and cin­namon in a small saucepan and bring to a boil. Reduce the heat and simmer for 5 minutes, stirring frequently. Let cool.
4. Heat the vegetable oil for deep-frying in a large wide saucepan.
5. Pour some additional oil into a small bowl. Dip a tablespoon into the oil, take a spoonful of the dough, and slide the dough into the hot oil. Fry in batches, 6 to 7 puffs at a time, so as not to bring down the oil temperature, 2 to 3 minutes on each side. Using a slotted spoon, transfer to a paper towel-lined plate to absorb excess oil.
6. Arrange the warm puffs on a serving plate, drizzle with the syrup and sprinkle with coarsely chopped walnuts. Serve at once.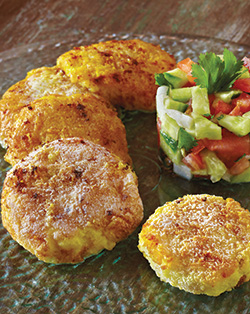 Excerpted from Sharing Morocco: Exotic Flavors from My Kitchen to Yours
 by Ruth Barnes
Stuffed Potatoes with Meat (Batata Ma'amren bil L'hem)
Serves 4 to 6
8 medium Yukon Gold potatoes, peeled
3 tablespoons olive oil
1/2 cup vegetable oil
1 large onion, chopped
1/2 pound ground beef
1 teaspoon turmeric
1 teaspoon sweet paprika
1 teaspoon ground cumin
1/2 teaspoon baharat (or allspice)
1/2 bunch parsley, chopped
1/2 teaspoon salt
1/2 teaspoon pepper
1. Boil the potatoes in a large saucepan until fork tender. Drain and then mash while the potatoes are still warm.
2. In a large sauté pan, heat the olive oil on medium and sauté the onion for 5 minutes or until translucent.
3. Add the meat, turmeric, paprika, cumin, baharat and parsley, and cook until the meat is browned, stirring so that it does not clump. Add the salt and pepper and mix well.
4. Form the mashed potatoes into patties and place 1 tablespoon of the meat mixture on the center of each patty.
5. Close the patty around the meat mixture and form into a ball. Thenflatten slightly with the palm of your hand into a thick hamburger shape.
6. Heat the vegetable oil in a frying pan and fry each patty on both sides until golden.