Passover Cooking from Kugels to Cakes
Paula Shoyer has made a name for herself as one of America's preeminent kosher bakers, first with her widely praised The Kosher Baker
(Brandeis University Press) and, later, with The Holiday Kosher Baker
 (Sterling Epicure). But there is more to this French-trained pastry chef than flour-dusted aprons, rolling pins and pie crusts; she also has a passion for sharing all types of inventive, globe-trotting kosher cuisine with home cooks. Shoyer is particularly motivated to make holiday cooking easier, which she thankfully does in her recently released The New Passover Menu
(Sterling Epicure).
In this recipe collection, the Maryland-based cooking instructor and author focuses on different menu arrangements: from Updated Ashkenazic Seder and International Seder to French Dairy, Italian Vegetarian and BBQ Dinner. Along the way, Shoyer includes breakfast options for the protein-crazed (Frittata with Broccoli and Leeks) and those who eschew gluten (a recipe for waffles or pancakes) as well as a menu entirely inspired by chicken (from Greek salad to a quinoa side dish to Chicken Scaloppini with Mushrooms).
Looking for a vegetable-rich kugel? Try Shoyer's Asparagus, Zucchini, and Leek Kugel, reimagined for her Updated Ashkenazic Seder. And from her Yom Tov menu, I'm sharing Coconut Schnitzel with Almond Butter Sauce as a tantalizing example of the author's infusion of global tastes into the kosher kitchen.
But, any title Shoyer releases will ultimately be judged—fairly or unfairly—by its ending: the dessert chapter. Luckily for us, The New Passover Menu offers more than enough original mouthwatering sweets to satisfy cookbook collectors who already own Shoyer's previous works. Here, we are awarded with homey, oh-so-yummy Fully Loaded Cookie Bars (think Blondies for Passover, with raisins and coconuts and the kitchen sink thrown in—recipe below); a gluten-free rendition of Opera Cake, a famous French chocolate- and coffee-infused cake; and the ground-nut crusted, gluten-free Linzer Tart, which Shoyer specifies can be made with any jam (she specifically recommends raspberry or apricot, however).
Wishing you a delicious eight days, hag sameach.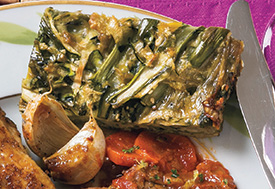 Asparagus, Zucchini, and Leek Kugel
Serves 12-15.
3 tablespoons vegetable oil
1 leek, white and light green parts only, halved and cut into 1/4-inch-thick slices
1 medium onion, cut in half and thinly sliced
3 cloves garlic, crushed
1 bunch (1 pound) asparagus (choose thicker stalks), trimmed, halved the long way, and cut into thirds
1 medium zucchini, not peeled, shredded on the large holes of a box grater (about 2 cups)
1 cup spinach leaves, stacked and sliced into 1/3-inch-thick ribbons
2 scallions, cut into 1/4-inch-thick slices
1 tablespoon slivered fresh basil leaves
3 large eggs, lightly beaten
1/4 cup matza meal
1/4 teaspoon salt
Black pepper
1. Preheat oven to 375°F. Heat 2 tablespoons of the oil in a large frying pan over medium heat. Add the leek and onion and cook for 3 minutes. Add the garlic and asparagus and cook for another 4 minutes. Turn off the heat. Add the shredded zucchini, spinach, and scallions and stir to combine. Scoop into a large bowl and let cool for 15 minutes.
2. Add the basil, eggs, matza meal, salt, and pepper to taste to the vegetable mixture and stir to combine. Grease a 9 x 13-inch baking pan with the remaining tablespoon oil. Scoop the batter into the pan and spread evenly. Bake the kugel for 45 minutes, or until browned on top.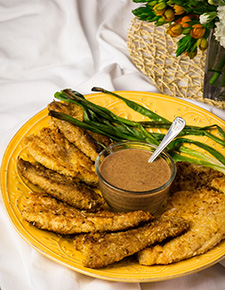 Coconut Schnitzel with Almond Butter Sauce
Serves 8.
Sauce
1/2 cup almond butter
3/4 cup boiling water
1 clove garlic, crushed
1 tablespoon cider vinegar
1 tablespoon finely chopped red onion
1 tablespoon sugar
Salt and black pepper
Chicken
1 1/2–2 pounds chicken scaloppini (flattened chicken breasts)
1/2 cup matza cake meal or potato starch
3 large eggs, beaten
3/4 cup matza meal, Passover crumbs, or Passover panko
1 cup dried coconut flakes (not shredded coconut), not toasted
2 teaspoons garlic powder
1/4 teaspoon salt
1/2 teaspoon black pepper
3 tablespoons vegetable oil, or more as needed
1. To make the sauce: In a medium bowl or 2-cup liquid measuring cup, whisk the almond butter and boiling water until smooth. Add the garlic, vinegar, red onion, sugar, and salt and pepper to taste, and whisk well. May be made 3 days in advance; cover and store in the fridge. Serve at room temperature.
2. To make the chicken: Preheat oven to 300°F. Place the cake meal in one shallow bowl and the eggs in a second shallow bowl. In a third shallow bowl, mix the matza meal, coconut flakes, garlic powder, salt and pepper until well combined.
3. Heat 2 tablespoons of the oil in a large frying pan over medium-high heat. Dip both sides of each piece of chicken into the cake meal, then dip each piece into the beaten eggs and, finally, into the coconut breading.
4. Working in batches, cook each piece of chicken for 2 to 3 minutes per side, or until golden. The pieces do not need to be completely cooked through; just cook until golden. Do not crowd the pan. As each piece finishes browning, remove to a baking sheet. When the pan seems dry, add the remaining tablespoon oil, plus more if needed. When all the chicken has been cooked, place in the oven for 10 minutes. Serve the chicken with the almond butter sauce on the side.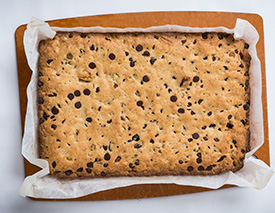 Fully Loaded Cookie Bars
Makes approximately 24 square bars. Feel free to omit any of the mix-in ingredients or replace with more of one. 
1 1/2 cups sugar
2 large eggs
1 cup vegetable oil, plus extra for greasing pan
2 tablespoons vanilla sugar*
3 1/4 cups ground almonds
1/4 cup potato starch
1 cup mini chocolate chips, or 1 bag (10 ounces) chocolate chips
1/3 cup pecans, chopped into 1/2-inch pieces
1/3 cup shelled pistachios, chopped into 1/2-inch pieces
1/3 cup walnuts, chopped into 1/2-inch pieces
1/3 cup dried shredded coconut
1/3 cup golden raisins
1/3 cup dried cranberries
1. Preheat oven to 375°F. Grease a 9 x 13-inch baking pan with oil and press in a piece of parchment paper to cover the bottom and sides. Grease the top and sides of the parchment.
2. In a large bowl, beat the sugar, eggs, oil, and vanilla sugar with an electric mixer on medium speed, or mix well with a wooden spoon until combined. Add the ground almonds and potato starch and mix well. Add the chocolate chips, pecans, pistachios, walnuts, coconut, raisins, and cranberries and mix to distribute.
3. Scoop the dough into the prepared pan and use a spatula to spread it evenly. Bake for 30 to 35 minutes, or until the edges are brown and when you insert a toothpick into the center, it has just a few crumbs on it. Let cool. Lift out the parchment and then cut into squares or bars.
*Vanilla Sugar: If you cannot find this ingredient in the stores, you can make your own by placing a whole vanilla bean inside a container or jar with 2 cups of sugar. You can also use regular sugar plus 1 teaspoon of vanilla. (There is no pure vanilla extract for Passover.)
Reprinted with permission from The New Passover Menu
© 2015 by Paula Shoyer, Sterling Publishing Co., Inc. Photography by Michael Bennett Kress.