Mimi Sheraton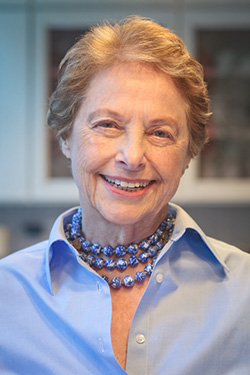 You don't want to be running late for a first meeting with Mimi Sheraton, but that's just the predicament I found myself in on a wintry Sunday morning. A New York snowstorm and unexpected subway trouble had conspired against me as I raced down an icy sidewalk to breakfast with the legendary food writer and restaurant critic. In my mind, I imagined the review she would draft of our initial encounter: Distasteful lack of punctuality. Tongue-tied, as if she had just eaten a mouthful of sticky peanut butter. Contrite, like a server apologizing for bad service.
I shouldn't have worried. i angled my way through a pack of weekend fressers at Russ & Daughters Café on Orchard Street—the sit-down offshoot of the legendary appetizing store on the Lower East Side—to find Sheraton chatting with Danny Bowien, one of New York's hottest young chefs. Even behind the convenient cover of his hipster glasses, Bowien was clearly as starstruck as I was. Joshua Russ Tepper, a third-generation owner, came over to make sure Sheraton was comfortable, shooting our waiters a silent visual cue: Take care of Mimi.
"We can try more things if we share," suggested Sheraton, surveying the menu. Soon fish chowder, sable on a toasted bagel, scrambled eggs with Nova and smoked salmon dip arrived at the table (there would be halvah ice cream, rugelach and coffee for dessert), and I realized that one of the world's most influential eaters was still one of its most enthusiastic.
It came as no surprise that Sheraton wished to survey as much of the menu as possible. We were, after all, meeting to discuss the release of her latest book, 1,000 Foods To Eat Before You Die: A Food Lover's Life List
(Workman), a meticulously researched, highly opinionated chronicle of nearly 60 years' worth of professional eating, with entries for ANZAC biscuits, zweibelwurst and everything in between.
Ten years in the making, the book—which Sheraton considers as autobiographical as her 2004 memoir, Eating My Words: An Appetite for Life
(Harper Perennial)—is an antidote to the current trend for surface-skimming top-10 lists. She veers in the other direction, providing social and cultural context for each listing—90 percent of which she estimates she has sampled herself.
The book features a substantial number of Jewish and Israeli foods, even including a chapter titled "Jewish." She covers must-try foods from expected items like honey cake and mushroom-barley soup to Jerusalem mixed grill (a combination of offal meat not for the faint of heart) and hilbeh, a Yemenite fenugreek condiment Sheraton first tasted on a trip to Israel in 1994, where she was impressed by simple ethnic fare from Mizrahic and North African countries.
"My problem was not arriving at a thousand entries but whittling down the final tally from twice that number," she writes in the introduction.
No wonder, seeing as a passion for food was imparted to her from an early age. Born Miriam Solomon in 1926, Sheraton grew up in a middle-class home where food took center stage. Her father, Joseph, worked as a wholesale fruit and vegetable merchant with vendors in the Lower East Side, and her maternal grandmother, Greta Breit, was a talented, strictly kosher cook who made every last morsel from scratch: As a child, Sheraton helped her grandmother crush walnuts for cookies using a mortar and pestle.
Sheraton's mother, Beatrice, retained the cooking gene but left ritual observance behind, meaning no ingredient was off limits: Cream stirred into Chicken à la King, lobster for Seafood Newburg, bacon and egg sandwiches. But there was an equally well-represented roster of kosher dishes: dill pickles, matza ball soup, kasha. "We were cultural Jews for sure," said Sheraton, whose paternal great-uncle was a well-known rabbi. In fact, many of her most evocative recollections—including those in From My Mother's Kitchen: Recipes and Reminiscences
 (Plume), a memoir/cookbook anchored by Beatrice's best dishes—draw heavily from her family's East European background. To this day, she throws an elaborate Passover Seder for friends and family, filled with food but absent the Haggada.
Precocious and eager to live on her own, Sheraton married her first husband, William Schlifman, at age 19; he then changed his name—and thus hers—to Sheraton. Intent on supporting herself and refusing her husband's idea that she become a suburban housewife, she eschewed loans from her parents and got a job as an advertising copywriter, eventually transitioning to editing jobs at Seventeen and Good Housekeeping magazines.
"My only regret is that I never changed my name back to Solomon," said Sheraton, who divorced before 30 and married the love of her life, Richard Falcone, in 1955. "That way, my high school friends could have seen what I had accomplished," she continued. "Most of them didn't amount to much, but I did."
Sheraton eventually launched a freelance career that allowed her to explore the intersection of food and travel, at a time when Americans were beginning to discover food beyond their country's borders.
Though Falcone accompanied her on many trips, Sheraton once traveled overseas alone for four months to write food guides for SAS airlines. "There was never any resentment from my husband," said Sheraton. "He was fully supportive of my career and, if anything, protested when he felt I wasn't getting enough recognition."
In 1976, she was appointed the first female restaurant critic in The New York Times's history, overcoming resistance to executives who believed a man was better suited to the job. She took to it with relish, and became known for celebrating (or castigating) humble restaurants as much as expensive ones, willing to dress down even the most celebrated restaurateur for treating average diners (or herself in costume) to anything less than the level of food and service she felt they deserved.
"As a longtime New York Times critic with sharp, unequivocal opinions, and then later in her other writing, I think Mimi helped shape what has become a sophisticated American palate," said Mitchell Davis, executive director of the James Beard Foundation.
When asked whether she realized how ahead of her time she was for a woman of her era, Sheraton downplayed the significance of her gender, instead favoring the theory that the quality of her work spoke for itself.
Today, a younger generation of food writers is discovering her through her writing.
"Unlike those before her or even after her, she never saw any reason not to take credit for her accomplishments," said Charlotte Druckman, a New York-based food writer and the author of Skirt Steak: Women Chefs on Standing the Heat and Staying in the Kitchen
(Chronicle Books). "Many were actively engaged in the conversation of, 'We're women trying to do this.' She was, and always has been, just Mimi."
As a child, Sheraton's son, Marc Falcone, a partner in a New York law firm, was well aware of his mother's vaunted position in New York's culinary hierarchy. "I once asked a very brainy professor for an extension so I could take a trip to Paris with my mother for work," he said. "When he found out who my mother was, he told me he needed to reorder his universe.
"I also had better meals than any of my friends, including a hot breakfast every morning," he continued. "To this day, my wife cannot understand my objection to throwing a bowl of cereal and milk together for our daughter."
Two days after our breakfast, on Sheraton's 89th birthday, she invited me to the West Village townhouse she shared with her husband for nearly 50 years until his death last year (her son, daughter-in-law and 12-year-old granddaughter live nearby). As we sat in the front room, filled with art, furniture and tapestries from her far-flung travels, my eyes wandered toward the the kitchen.
She led me past smiling photos of herself and her husband and a collection of brass Indian tiffin lunchboxes to the windowed, light-filled room overlooking a private garden where thyme, sage, basil and other herbs grow. On wainscoted walls hung kitchen knives in a variety of sizes with handles made of various materials; copper pots from France; and dry measuring cups arranged by size. In cabinets and on counters sat cut-glass bowls, three food processors, colored seltzer bottles and that treasured mortar and pestle from her grandmother.
"I don't cook as many meals as I used to," said Sheraton, who eats out four to five nights per week, partly as a regular way to see friends. "Besides, there are so many wonderful places to eat. I like to keep up and stay in the know."
Perhaps for another book? "I don't think so," said Sheraton. "The goal has always been to have fun," she added. "And I have had a lot of fun."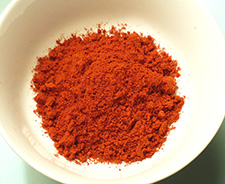 Chicken Fricassee with Meatballs
Recommended in "Jewish" chapter in 1,000 Foods To Eat Before You Die; recipe adapted from From My Mother's Kitchen. Serves 6-8.
For the schmaltz:
2 cups cut-up chicken skin and fat, 3/4 cup cold water
For the meatballs:
1 pound ground lean chuck
1 egg and 1 egg white
1 large clove garlic, minced
1 1/2 tsps salt
1/2 tsp black pepper
1 1/2 TBs grated onion
2 TBs dry bread crumbs or matza meal
4 TBs chicken schmaltz, vegetable oil or margarine
For the chicken:
1 small whole chicken cut into 8 pieces, giblets included (except liver)
5 TBs chicken schmaltz, vegetable oil or margarine, divided
2 medium onions, finely chopped
1 TB sweet paprika
Salt and pepper
2/3 cup tomato juice
1 1/2 cups water
2 cloves garlic
1. Make schmaltz: Place skin, fat and water in a heavy saucepan and simmer over very low heat. When water has completely evaporated and pure yellow fat collects, pour it off and reserve (this is the schmaltz). Continue to render until skin forms crisp brown cracklings. (These are gribenes; salt them and try to resist eating them.)
2. Make meatballs: In a bowl, combine meatball ingredients, tossing lightly with a fork to avoid compacting mixture. Form into tiny meatballs the size of hazelnuts.
3. Make fricassee: In a medium Dutch oven or heavy pot with a lid, heat 3 TBs schmaltz over medium heat. Add onions and cook, stirring, until translucent but not browned, 7-8 minutes. Remove onions and reserve.
4. Add remaining schmaltz. Working in batches, add chicken and brown on all sides, 8 minutes per batch. Transfer to a plate and sprinkle with salt and pepper to taste.
5. Return onions to pot, season with paprika, sauté another 1-2 minutes, then add tomato juice and 1 cup water. Stir in garlic, return chicken to pot (liquid should come up halfway to chicken). Cover and simmer for 20 minutes.
6. Remove cover and gently add meatballs, moving chicken to the side and shaking during first few minutes to prevent meatballs from sticking. Cover and simmer until chicken and meatballs are cooked through, 20-30 minutes. Uncover, remove chicken and meatballs, skim fat, return chicken and meatballs to pot, reheat and season to taste. Serve with rice, kasha or Passover noodles.