The Community Table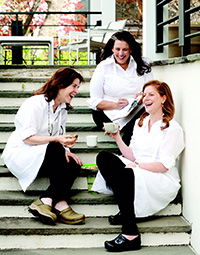 The JCC Manhattan is a thriving hub of Jewish learning, culture, the arts and, perhaps most importantly, community on the Upper West Side of New York. This is far more than a neighborhood gym and pool club. The 10-year-old center has also earned a reputation for its culinary arts department, which offers an impressive array of classes spanning global tastes from Chinese to Korean to Jewish—and by Jewish, I mean Syrian cuisine, challah baking, Light & Quick Summer Shabbat…you get the idea.
So it's no surprise that JCC Manhattan is out with a cookbook, The Community Table: Recipes & Stories from the Jewish Community Center in Manhattan & Beyond
, to honor its milestone anniversary by doing something it does really well—food. The book is authored by Judy Bernstein Bunzl, a foodie and gardening maven who dreamt up the project; Katja Goldman, a professional and published chef and master challah baker; and Lisa Rotmil, another foodie who has previously edited a community cookbook. The authors envisioned a collection of recipes that reflects how JCC members cook today, which means lots of exotic dishes (Vietnamese Rice-Noodle Soup, Spicy Lentil Dal); comforting Jewish classics (Chocolate Crumb Babka, Roasted Chicken Paprikash—a slight diversion from the stovetop original); and healthful, vegetable-focused cooking (Kale, Farro, and Carrot Salad, Israeli Couscous Risotto).
In fact, The Community Table, while offering plenty of chicken, beef and fish suggestions, includes several rich, satisfying vegetarian mains (Gemelli with Mushroom Bolognese, Lemon-Thyme Zucchini "Spaghettini," Grilled Cauliflower Steaks), making it a great resource for non-meat eaters.
Hard as it may be to encapsulate the ethos of The Community Table in three recipes, here is my attempt, keeping the lighter cooking of spring and summer months in mind: Summer Pappardelle with Corn and Tomatoes, Grilled Chicken Paillards over Spring Asparagus Salad and Light and Creamy Cheesecake with Nut Brittle and Blueberries. From a community table on the Upper West Side of Manhattan to your family's kitchen table, bon appetit.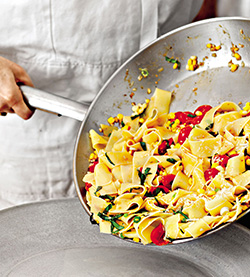 Summer Pappardelle with Corn and Tomatoes
Serves 4 to 6
2 large ears of corn
2 or 3 tablespoons unsalted organic butter
2 pints grape or cherry tomatoes
1 teaspoon kosher salt, plus more for seasoning
1/2 teaspoon freshly ground black pepper, plus more for seasoning2 garlic cloves, minced
1/2 cup dry white wine, such as chardonnay or sauvignon blanc
1/2 cup vegetable stock
1 pound fresh or dry pappardelle, fettuccine, or shells
1 small bunch scallions, white and green parts, sliced thin (about 1 cup)
1/2 cup grated Parmesan, plus more for serving
Basil leaves, cut into thin ribbons
1. Bring a large pot of salted water to a boil. Add the corn and cook until just tender, about 3 minutes. Remove the corn and reserve the cooking water in the pot. When the corn has cooled slightly, cut the kernels from the cobs. Set aside.
2. In a large skillet, melt 2 tablespoons butter over medium heat. Add the tomatoes, salt, and pepper. Cook, stirring occasionally, until the tomatoes begin to burst, about 5 minutes. Add the garlic and cook for 1 minute. Add the wine and cook until reduced by half, 4 to 6 minutes. Add the vegetable stock and corn, reduce the heat to low, and simmer about 3 minutes. Remove from the heat.
3. Meanwhile, return the corn cooking water to a boil. Add the pasta and cook until al dente, about 3 minutes if using fresh pasta, about 9 minutes if using dry pasta (or follow the package directions). Reserve 1 cup of the cooking water and drain the pasta.
4. Return the skillet to the burner and heat the sauce over medium heat. Transfer the pasta to the pan, add the scallions and Parmesan, and stir to coat. For a richer sauce, add an additional tablespoon butter. Remove the pasta from the heat and season with salt and pepper. Fold in the basil and serve with additional Parmesan.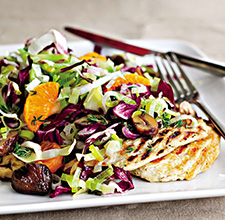 Grilled Chicken Paillards with Spring Asparagus Salad
Serves 4         
For the chicken
4 boneless, skinless chicken breasts
3 tablespoons extra-virgin olive oil
2 tablespoons lemon juice
4 garlic cloves, minced (about 4 teaspoons)
1/4 teaspoon kosher salt
1/4 teaspoon freshly ground black pepper
1. Place each breast between 2 pieces of parchment paper and pound until ¼ inch thick (about 6 x 8 inches).
2. In a medium bowl, combine the olive oil, lemon juice, garlic, salt, and pepper. Place the chicken in the bowl and coat evenly in the marinade.
3. Cover and marinate for at least 30 minutes or up to 1 hour. In hot weather, refrigerate while marinating. (note: The acidity of the juice will begin to "cook" the chicken and it may begin to turn it opaque.)
4. reheat an outdoor grill or grill pan over high heat. Add 1 or 2 paillards, depending on the grill's capacity, and grill until three-quarters cooked through, about 2 minutes. Using tongs, gently turn the chicken and grill about 2 minutes more, making sure that the paillards don't dry out.
5. Repeat with the remaining paillards, placing each on a platter when done.
6. Top with Spring Asparagus Salad and serve.
Spring Asparagus Salad
1/4 cup extra-virgin olive oil
2 tablespoons avocado oil or additional extra-virgin olive oil
2 tablespoons rice vinegar or white wine vinegar
2 tablespoons lemon juice
2 garlic cloves, pressed (about 2 teaspoons)
1/4 teaspoon sugar
Kosher salt and freshly ground black pepper
2 pounds large asparagus, tough ends removed
2 teaspoons extra-virgin olive oil
1 bunch radishes, tops and roots trimmed, thinly sliced
1/2 cup chopped fresh dill
1/4 cup snipped fresh chives
1/4 cup snipped fresh tarragon
1. To make the dressing, whisk together the olive oil, avocado oil, vinegar, lemon juice, garlic, and sugar in a small bowl. Season with salt and pepper.
2. Using a vegetable peeler, shave the asparagus to make long ribbons. In a large skillet, heat the olive oil over high heat. Add the asparagus and cook, tossing continuously, until warm and bright green, 1 to 2 minutes. Add the radishes and stir. Remove from the heat and stir in the dill, chives, and tarragon.
3. Drizzle with some of the dressing and toss.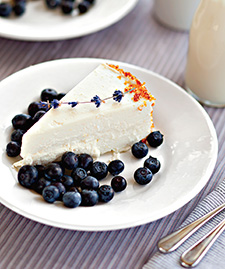 Light and Creamy Cheesecake with Nut Brittle and Blueberries
Serves 10
1 pound low-fat farmer cheese
3/4 cup (5 ounces) cream cheese, at room temperature
1 log (11 ounces) Montrachet goat cheese, at room temperature
Grated zest of 1 lemon
1/4 cup lemon juice
3/4 cup sugar
1 teaspoon pure vanilla extract
Pinch of kosher salt
6 extra-large egg whites (about 1 cup)
1/4 cup low-fat plain yogurt or mascarpone
Nut Brittle (see recipe below)
1/2 pint fresh blueberries, blackberries, or raspberries
1. Position a rack in the bottom third of the oven, and preheat the oven to 350°F. Grease an 8-inch springform pan and wrap the exterior with foil up the sides to make it watertight.
2. In a food processor, purée the farmer cheese, scraping down the sides of the bowl 2 or 3 times. Add the cream cheese and goat cheese and purée until smooth. Add the lemon zest, lemon juice, sugar, vanilla, and salt and combine. Add the egg whites and continue to process the mixture until smooth. Pour the cheese mixture into the pan and tap it a few times on the counter to knock out any bubbles.
3. Set the springform pan in a roasting pan or other ovenproof pan with 2-inch sides. Add 1 inch of boiling water to the roasting pan. Carefully transfer the roasting pan to the lower third of the oven and bake until the cake is set and its edges are beginning to color, about 1 hour. Remove the cake from the water bath and allow to cool in the springform pan to room temperature. Chill for at least 2 hours before serving. Run a thin knife around the sides of the pan then open the hinge and release the sides. Remove the pan ring, leaving the cake on the pan bottom.
4. Spread the yogurt or mascarpone over the top and sides of the cake. Gently pat the brittle up the sides and gingerly press to help crumbs adhere to the cake. Serve with the berries.
Nut Brittle
Makes about 1 cup
1/2 cup sugar
Pinch cream of tartar
2 tablespoons plus 2 teaspoons water
1/4 cup finely ground blanched hazelnuts
1/4 teaspoon ground ginger (optional)
1/8 teaspoon finely ground sea salt
1. Preheat the oven to 350°F. Line a baking sheet with parchment paper. If using organic sugar, pulse-chop the sugar in a food processor fitted with a metal blade for 8 to 10 seconds to get the finer texture you will need for this recipe.
2. In a small heavy saucepan, combine the sugar, cream of tartar, and water and bring to a rapid boil over high heat. Reduce the heat to medium and continue to cook (do not stir) until the caramel turns a golden brown color and smells like burnt sugar, 5 to 7 minutes. Pour the mixture onto the baking sheet and cool.
3. Break the brittle into pieces. Transfer to a food processor and pulse to grind to the consistency of sugar. Transfer to a medium mixing bowl, add the hazelnuts and ginger, if using, and mix to combine.
4. Re-line the baking sheet with parchment paper and spread the caramel-nut mixture over it in an even layer. Bake until the caramel has melted again and begins to bubble, about 5 minutes.
5. Remove from the oven and sprinkle with the salt. Allow to cool. Break into oat-size crumbs.
Excerpted from the book THE COMMUNITY TABLE by Katja Goldman, Judy Bernstein Bunzl, and Lisa Rotmil.  © 2015 by the Jewish Community Center in Manhattan.  Reprinted by permission of Grand Central Life and Style.  All rights reserved.