Harriet Tubman on the $20 Bill?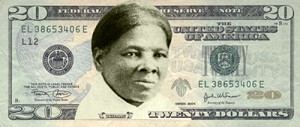 Women are no strangers on Israeli bank notes, with well-known personalities like Hadassah's founder Henrietta Szold and Prime Minister Golda Meir appearing on paper currency over the last 50 years. And Queen Elizabeth has graced every denomination of the pound printed by the Bank of England since 1960 as well as currency issued by commonwealth states like New Zealand.
What about in the United States? Well, you have to open your change purse to find a female face on American money. Susan B. Anthony appeared on the dollar coin from 1979 to 1981; since 1999, a gold dollar coin has featured Sacagawea. But, by 2020—the 100th anniversary of women receiving the right to vote—advocacy group Women On 20s hopes to change that by replacing Andrew Jackson's likeness on the $20 bill with Harriet Tubman. Tubman received the most votes out of four candidates, who also included Eleanor Roosevelt, Rosa Parks and Wilma Man-killer, in an online election held on Mother's Day this year.
"Symbols matter, and our money says a lot about what we value as a country," says Susan Ades Stone, executive director of Women On 20s. "We need to show the world and young people, especially girls, that we value women, are committed to gender equality and that anyone can aspire to greatness and be recognized for it." —Libby Barnea