Homemade and Global
"I'm the only chef I know who cooks at home," writes Einat Admony in the introduction to her cookbook, Balaboosta
 (Artisan), named after the five-year-old New York restaurant where she serves deeply soulful, Israeli-influenced cuisine with a twist.
To most pedestrians walking by the unassuming plate-glass windows, the name sounds like nothing more than an exotic-sounding cognate in a city of international eateries. But to those in the know, the word—the Yiddish translation for mistress of the house that has evolved to mean the perfect housewife—is a tongue-in-cheek choice for a half-Yemenite, half- Persian entrepreneur who manages a growing empire of successful businesses that also includes New York's best falafel joint, the 10-year-old eatery Taïm, and her latest venture, the well-reviewed Bar Bolonat, which opened last year in New York.
Though all of the restaurants are rooted in her Israeli heritage, none is confined by it: You will find Turkish, French, American and even Asian touches all over her menus.
"I'm global Israeli," says Admony. "I like to play with flavors, as long as it remains true to what I love and makes sense on the plate."
Raised outside of tel aviv and taught the basics early on by her mother, Admony always knew she would cook for a living. In the Israeli army, where she served as a cook, she found ways to embellish the meager rations with illegal ingredients she smuggled into the kitchen. She went on to graduate from Israel's prestigious Tadmor school for hotel management, broke up her  short-lived marriage in Israel and moved to the United States for good in 2001. She then began a series of stints in high-end New York kitchens where she was usually the only woman on the line among dozens of men.
Soon after arriving, she reconnected with Stefan Nafziger, whom she had met on a previous trip to New York. Today, he is her husband and business partner (they live in Brooklyn with their children—Liam, 8, and Mika, 5).
Widely credited with helping popularize modern Israeli cooking in America, Admony is a whirlwind of activity who is often seen tooling around New York on her pink Vespa, two neat black braids trailing behind her as she shuttles from media appearances and restaurant meetings to kitchen quality-control visits.
At Balaboosta, the walls are lined with family portraits and bric-a-brac, a decorative style very familiar in Israel that she exported to New York. Admony isn't surprised that Israeli food is finally getting its due. "It was a matter of timing," she said. "The flavors are so soulful and exotic, but somehow comforting and familiar at the same time."
On her days off, you might think she would simply order in—or let her many chef friends spoil her. But then you wouldn't know Admony. Instead she doubles down, cooking for crowds from 4 to 24, serving a repertoire that is as hard to pin down as the chef making them: an authentic Moroccan tagine; a platter of whole roasted fish with lemons and herbs; a Persian stew; and up to a dozen freshly made salads.
But on nights when it's just her, her husband and the kids, she might whip up these two quick dishes. The ketchup in the saucy chicken is the secret weapon, adding acidity, tang and sweetness with one ingredient. The crunchy root-vegetable sticks in the accompanying cabbage salad (top) are the crowning glory to a refreshing vegetarian side dish that tastes as good wilted the next day (if you leave out the crunchies until the last minute) as it does when freshly mixed. It's touches like these that elevate the ordinary into something special, turning anyone into—that's right—a proper balabuste.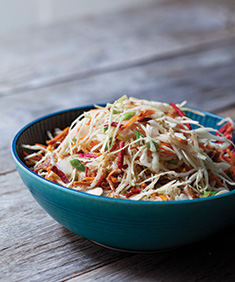 Dorit's Cabbage Salad
Serves 4-6.
1/3 cup white wine vinegar
3 TBs olive oil
3 TBs sugar
2 TBs soy sauce
8 cups thinly sliced cabbage
3 cups root-vegetable sticks, such as Terra Stix
1 cup shredded carrots
1/2 cup lightly toasted slivered almonds
1/4 cup finely chopped scallions
1/4 cup toasted sesame seeds
In a large salad bowl whisk together the vinegar, oil, sugar and soy sauce. Add the cabbage, root vegetable sticks, carrots, almonds, scallions and sesame seeds, toss to coat and serve immediately.
1 cup ketchup
1/2 cup apple juice
1 TB kosher salt
2 tsps ground cumin
1 tsp paprika
3 lbs assorted bone-in, skin-on chicken pieces
1 medium onion, cut into large chunks
2 tomatoes, cut into wedges
Preheat the oven to 350°F. In large Dutch oven or soup pot with a lid, combine the ketchup, apple juice, salt, cumin and paprika. Add the chicken, onions and tomatoes and toss to coat. Cover and cook until juices run clear when thigh is pierced  with a skewer, 45-50 minutes.
Excerpted from Balaboosta
 by Einat Admony (Artisan Book). © 2013. Photographs by Quentin Bacon.