Israeli Chefs Take on London Dining World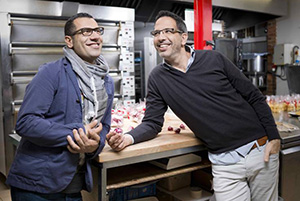 Bagel bakeries and salt-beef delis have long been part of London's ethnic food scene. But it's the comfort food of the Southeast Asian diaspora: Indian, Bangladeshi and Pakistani, that has turned out a national dish (Chicken Tikka Masala) and trained the British palate to appreciate flavors far more complex than meat pies and fish and chips. These days, however, it is the slow, steady influence of Israeli cuisine subtly transforming London's culinary landscape with food that's nothing like your grandmother's pastrami on rye.
Hungry Londoners are shifting their gaze away from complicated dishes and white tablecloths to the East, where casual, simple food with few ingredients dominates. Londoners are now smitten with flavors from the Promised Land. It began with Israeli chef Yotam Ottolenghi back in 2002; the glass cases of his gourmet delis stocked with colorful salads and unusual pairings helped make vegetables more than a side dish. Ottolenghi and his Palestinian business partner Sami Tamimi fuse flavors from Israel's melting pot of immigrants: East European, the Levantine, the Maghreb, Yemenis, Kurdistanis, the Druze and Palestinian populations to create dishes that mirror the country's diverse population. The result? Simple and successful combinations like roasted butternut squash with cardamom yogurt and pumpkin seeds.
Ottolenghi, 46, hosts TV specials, pens a weekly column for The Guardian and has written four cookbooks, most recently Plenty More: Vibrant Vegetable Cooking from London's Ottolenghi
(Ten Speed Press). Five years ago, he opened NOPI, a restaurant near London's busy Regent Street shopping area. With its clean, white marble walls and brass lamps, the atmosphere and menu transport diners to the Middle East. Its enormous popularity has made Ottolenghi a victim of the greatest form of flattery. Some of London's newest and most talked about restaurants are imitating his style of small dishes, lots of veg and light, healthy-ish concoctions. Think smoked eggplant with a dollop of thick yogurt topped with pomegranate seeds. Yogurt always makes an appearance.
"The popularity of my cookbooks and delis…would not have been possible without lots of other things," Ottolenghi notes. "Supermarkets taking the risk of stocking ingredients that weren't familiar to the customer, the customers changing their buying habits and trying herbs and spices and other ingredients that were unfamiliar to them, everyone becoming more informed about the benefits of a diet that prioritizes vegetables, rather than relegating them to the side. The quality and availability of vegetables increasing hugely over the last decade."
It's true. When I first moved to London more than 10 years ago I brought over suitcases full of black beans from the United States. Over the last six years or so, they've become available at local supermarkets. Ottolenghi has helped put ingredients like pomegranate seeds and date molasses on store shelves and in home kitchens.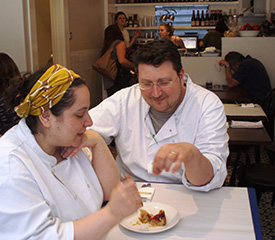 Making once obscure items more mainstream is just one aspect. The movement is about more than food. Just as important is the relaxed, informal restaurant environment and an emphasis on genuine, warm service (none of Ottolenghi's restaurants or delis is kosher).
Israeli couple Sarit Packer, 38, and Itamar Srulovich, 36, spent five years working with Ottolenghi before opening their own small restaurant in 2012. Honey & Co, which is not kosher, has caused such a stir, there was a bidding war for the rights to the couple's first cookbook Honey & Co.: The Cookbook
.
"We never expected this," says Srulovich. "We didn't go into this to get rich."
What makes Honey & Co. so beloved among its customers is the lack of pretension and it's homey feel.
"When we cook at home, this would be the food you would eat at our table," says Packer. "It's not fine dining; it's messy and comfortable."
Comfortable but refreshingly different, like their vegetarian shawarma. Typically either turkey or lamb slow-roasted on a stake, theirs features spice-roasted cauliflower with tahini, caramelized onion and crispy pita. Even more adventurous are their savory cheesecakes, made with eggplant; roasted zucchini and mint; or roasted peppers, Kalamata olives and oregano.
"In various parts of the Middle East, people get stuck in making things exactly the same way, with no variation," Sarit says. "But in Israel, because everyone's from someplace else, the cooking evolves more. People see cardamom, for example, used in one dish so they try it with another. "
Ottolenghi is like a proud papa describing his former employees' restaurant. "The food is stunning, yes, but the secret of Honey & Co.'s success," he says, "is feeling like you are in the front room of two people who are crazily passionate about making their guests happy with their home-cooked food."
With just 10 tables, it's definitely an intimate experience, and contrary to the buttoned-up, detached service style of the Brits.
"It's very different to the culture in the U.K.," Packer tells me. "If you've been here three times you'll get a hug. Not everyone likes it, but it's genuine."
Professional foodies love it. AA Gill, restaurant reviewer for the Times, is the city's toughest critic. Gill wrote about Honey & Co in 2013: "It's everything you want in a restaurant. The food is part of it, but it is the other part, the intangible part, that moves you to speechless gratitude." And the drooling doesn't stop there. The man known best for NOT gushing over restaurants wrote, "The ingredient that is in every mouthful, that isn't on the menu, is the huge dollop of home-made love…everything in it is infused with a warm hug of hospitality."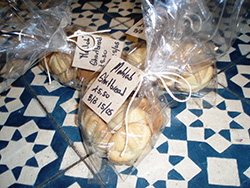 That intangible part runs through the bloodline of Israeli chefs—or at least the few who have set up shop in London. Whatever it is, Gill fell just as hard for another recently opened Israeli restaurant.
"It all comes with such gasps of hospitality it's impossible not to feel well-fed and wanted…" Gill wrote in 2014 of The Palomar, before giving the chef and his team the ultimate compliment: "If you were going to get stood up on a date, this is definitely the place you'd want to get stood up." Before he left, the critic gave chef Tomer Amedi a hug.
Gill's effusiveness could be why it's been hard to get a table since The Palomar opened in May 2014. Behind it are the partners of one of Jerusalem's most popular restaurants, Machneyuda, with Amedi, 31, as head chef.
"The common thread is authenticity; honesty is the way we make food and serve it," Amedi says. "Its every little thing, the music, the way you get served, and that's something a lot of restaurants miss."
Cooking is in Amedi's Kurdish-Moroccan DNA. His father is a passionate cook and, on a recent visit to London, joined Amedi in The Palomar's kitchen. The chef grew up with his mother's Moroccan dishes and his Kurdish grandmother's special Sabbath stew, which cooks over 24 hours. A typical Kurdish dish, it's long on labor and short on ingredients.
Amedi blends the simple flavors of Kurdish cooking with the richer ones of Moroccan cuisine.
One of the most popular plates at The Palomar is the pork belly, a dish created especially for the nonkosher British palate and one that represents Amedi's familial influence.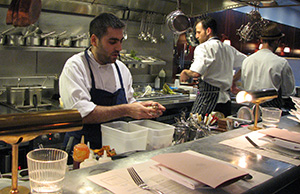 "It's a combination of old and new. We serve it with Israeli couscous cooked with tomato paste and water, but we innovate that by adding chicken stock and caramelized onions and then take the pork belly and do a tagine again and again, cooked overnight. It's a long process, but it combines my Kurdish side and my Moroccan side."
Amedi says Israeli-style meals with more vegetables and less protein is part of the appeal for Brits more accustomed to heavier food. What seems a revelation in the United Kingdom, he says, is fairly basic in Israel.
"In Israel, when you have breakfast, you have a huge salad and two eggs," Amedi explains. "That's it, and its really cheap and tasty and healthy. For us it's not a big thrill, but over here, you get a huge bowl of salad and two nice eggs, it's like, oh my God, it's healthy!"
The current craving for healthy, exciting new flavors is here to stay, Ottolenghi says.
"The market is ripe," the leading culinary light opines. "The walnuts are no longer bitter, the pomegranates are jewel-like, the tahini is getting better, the bunches of herbs are getting better and the customers' smiles are getting bigger. It's a good time to be soaking chickpeas."

Amy Guttman is a multimedia journalist based in London. She has written for CBS News, The Atlantic, NPR, BBC, Forbes and others.