Harvesting the Best Seasonal Holiday Recipes
Have you ever dreamed of going on a field trip to a farmers' market alongside a learned, respected Jewish chef? Because that is the trip you will be taking in reading Amelia Saltsman's new cookbook, The Seasonal Jewish Kitchen: A Fresh Take on Tradition
(Sterling Epicure).
Saltsman, who lives in the Los Angeles area, is well known for her frequent writing and radio commentary on vegetarian and farm-to-table cooking—long before "farm-to-table" was the buzzword it is today. So she is the perfect guide for Jewish cooks looking to plan their menus, particularly their holiday cooking, around what's in season. After all, as Saltsman notes in the book's introduction, "a year's worth of Jewish food bears a striking resemblance to any market-driven cook's seasonal road map."
In fact, Saltsman organizes her chapters in two-month chunks to better orient recipes around the seasons. So for Autumn—her September & October chapter—expect Rosh Hashana and Sukkot staples starring farmers' market standouts like apples, pears, sweet potatoes, squash, etc.
Another note about the chef: Saltman's culinary traditions come equally inherited from a Romanian mother and Iraqi father, so you will find delectable, exotic twists to Jewish cooking far beyond many of our Ashkenazic comfort zones. While there is a simple yet winning brisket recipe in the same September & October chapter as well as her mother's chicken soup, Saltsman gives the same weight to Hamut: Syrian Lemon Chicken Fricassee and Lamb, Butternut Squash, and Quince Tagine. In later sections, look for Kitchri: Red Lentils and Rice with Golden Garlic Puree, Carob Molasses Ice Cream, Blood Orange and Olive Oil Upside-Down Cake and other produce-inspired seasonal dishes. Because always, the focus is what's available locally—at a nearby farmers' market or souk.
Sukkot, with meals largely celebrated outdoors in the sukka, is the perfect opportunity to consult The Seasonal Jewish Kitchen. I suggest inviting guests into your sukka to sample Saltsman's Roasted Carrot and Sweet Potato Tzimmes (a ridiculously simple yet elegant update on the standard recipe), Meat-and-Rice-Stuffed Summer Squash and Roasted Autumn Fruit. Also worth trying as s second dessert is her Apple, Pear, and Concord Grape Galette in Rye Pastry with Ginger Cream. Yum. Happy holidays, and b'teyavon.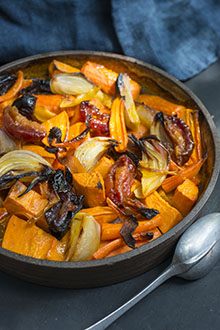 Roasted Carrot and Sweet Potato Tzimmes
Makes 8 to 10 servings.
Tzimmes is an East European stew of carrots and/or sweet potatoes and prunes traditionally cooked with beef flanken, often sweetened with brown or white sugar, and sometimes thickened with flour. In Yiddish, the word tzimmes means "a big fuss," probably because of all the work required to make the old-style dish. This version couldn't be easier: Skip the meat, sugar, and flour and instead roast carrots, sweet potatoes, and dried Santa Rosa–type plums (or common dried prunes) in fresh orange juice until they are tender, browned, glazed with citrus, and deliciously infused with orange. Tzimmes is a great companion to brisket or chicken and is also a good accompaniment to farro or quinoa for a pareve/vegan main course. It can easily be made a day ahead and reheated and is often served in the fall for Rosh Hashanah and in the spring for Passover. It is also a lovely addition to any festive meal during these times of the year (like a fall harvest Sukkot meal, outdoors in a sukka). Both seasons yield sweet carrots, especially in the spring. In the fall, use new-season white- or orange-fleshed sweet potatoes.
6 to 8 oranges
1 lemon
2 pounds carrots
3 pounds sweet potatoes
1 pound shallots (about 8 large)
1/2 to 3/4 pound dried plums or pitted prunes (vary the amount depending on how sweet and fruity you want the dish)
3 to 4 tablespoons extra-virgin olive oil
Kosher or sea salt and freshly ground white or black pepper
Preheat the oven to 400°F (200°C). Using a swivel-blade vegetable peeler, remove the zest in large strips from 2 of the oranges and the lemon. Be sure to press down only hard enough to capture the colored part of the skin, not the bitter white pith. Juice enough oranges to yield 2 1/2 cups juice. Reserve the lemon for another use.
Peel the carrots and cut them crosswise into 2-inch chunks or lengthwise into 2-inch chunks (if carrots are very fat, first halve them lengthwise). Peel and cut the sweet potatoes into large bite-size chunks. Peel and quarter the shallots lengthwise. Use kitchen scissors to snip the dried fruits in half.
Use a roasting pan large enough to hold all the vegetables in more or less a single layer. Place carrots, sweet potatoes, shallots, dried fruit, and lemon and orange zests in the pan. Toss with enough olive oil to coat evenly, season with salt and pepper, and pour the juice over all.
Roast the vegetables, turning them once or twice during cooking, until they are tender and are browned in places and most of the juice is absorbed, about 1 1/4 hours. If you want a saucier finished dish, add another 1/2 to 1 cup juice during the last 20 minutes of cooking. The juice should thicken slightly. Serve warm or at room temperature.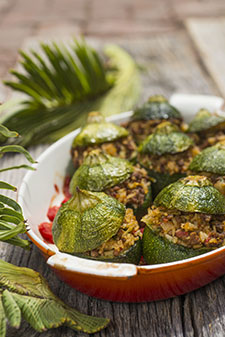 Meat-and-Rice-Stuffed Summer Squash
Makes 8 servings.
Stuffed foods are typical Sukkot fare to celebrate the abundance of a fall harvest, and stuffed vegetables are an art form in traditional eastern Mediterranean cooking. The tinier the vegetable and the more intricate the process, the better. There's even a vegetable drill that makes coring a snap. To bring this classic fully up-to-date, pre-roast unfilled squashes to develop their sugars and then roast the stuffed squashes, instead of stewing them. Plan on 1/4 to 1/2 cup filling per squash; you may have extra filling left over. Choose shiny, firm, small-to-medium squash for this dish. Skip overgrown woody ones that could feed an army. Small eggplants are also delicious prepared this way.
8 to 12 medium-size round summer squash, such as Ronde de Nice, 8-Ball, or Cannonball, 6 to 8 ounces each (about 3 1/2 pounds)
Extra-virgin olive oil
Kosher or sea salt and freshly ground black pepper
1 pound ground beef or lamb
1 small onion, chopped
1 clove garlic, minced
1 pound meaty sauce tomatoes, such as Roma, San Marzano, or Costoluto Genovese, peeled and chopped
2 cups cooked rice
2 tablespoons chopped fresh Italian basil or Italian parsley leaves
2 teaspoons ras el hanout (a North African spice mix available online and at gourmet markets)
To prepare the squashes: Preheat the oven to 425°F. Cut the stem end off each squash where the squash starts to widen. Reserve these "caps." Using a paring knife and a small pointed spoon (a grapefruit spoon works well), scoop out the flesh from each squash, leaving a shell 1/4-inch thick. Or, use a vegetable drill to hollow them out. Finely chop the scooped-out flesh and reserve. (This step can be done several hours ahead.)
Brush the squash cases and caps, inside and out, with olive oil and season with salt. Place cases and caps, cut side down, on a sheet pan without crowding. Roast until just tender and the cut edges are browned, 15 to 18 minutes. Lift the edge with a spatula or pancake turner to check doneness. Turn the squash cut side up to cool while you make the filling. (This step can be done a couple of hours ahead and the squash kept at room temperature.) Reduce the oven temperature to 375°F.
To make the filling: Place a large skillet over medium-high heat. Add the meat, season with a little salt and pepper, and cook, breaking it up with a large slotted spoon, until browned, 5 to 7 minutes. Using the slotted spoon, transfer the meat to a bowl.
Pour off all but 1 tablespoon of fat from the pan and return to medium heat. Add the onion and a little salt and cook, stirring occasionally, until the onion is soft and translucent, 5 to 7 minutes. Stir in the garlic and cook for 1 minute. Stir in the chopped squash and half the tomatoes and cook, stirring often, until the squash is tender and the vegetable juices have thickened, 5 to 10 minutes. Return the meat to the pan and add the rice, basil, and ras el hanout. Stir to mix well, then taste and add salt and pepper as needed. You should have 5 to 6 cups filling. (The filling can be made several hours ahead and refrigerated.)
To assemble the dish:Oil a heavy, shallow baking pan or enameled cast-iron skillet. Scatter the remaining chopped tomato over the bottom of the pan. Fill each squash with the filling, mounding it to extend above the case. Place filled squashes, cut side up and close together, in the pan and top each squash with its cap.
Bake the squash until they are very tender, the exposed filling is browned in places, and the tomatoes on the bottom of the pan have melted into a small amount of thick sauce, 25 to 30 minutes. Serve warm from the oven.
PAREVE/VEGAN VARIATION:Omit the meat and ras el hanout. Double the amount of rice and basil and add 1/2 pound mushrooms, chopped, to the pan after the onion is soft. Stir in a handful of pine nuts near the end of the cooking time.
DAIRY VARIATION:Stir 1/2 cup grated Parmigiano-Reggiano cheese or aged sheep's milk cheese, such as kashkaval, into the pareve variation and sprinkle the filled squash with additional cheese before baking.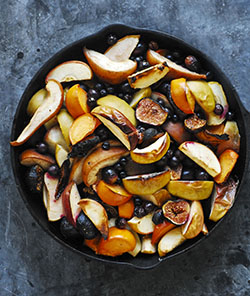 Roasted Autumn Fruit
Makes 10 to 12 servings.
This is my go-to autumn dessert, perfect for all the season's holidays, whether served on its own or as an accompaniment to cakes or ice cream. Roasting fall fruit brings out the spicy notes we associate with desserts this time of year. And it's very forgiving: just about any combination of seasonal fruit will do, and no special techniques, precise measuring, or timing is required. This impressive dish is naturally gluten- and dairy-free. Here's one of my favorite combinations to get you started.
4 pounds mixed apples and Bosc or Anjou pears (about 6 apples and 3 or 4 large pears), including some firm-fleshed, such as Pippin, and some melting-flesh apple varieties, such as Golden Delicious
2 Fuyu persimmons
1 to 2 pints figs (about 3/4 pound)
2 cups Concord, Autumn Royale, or wine grapes
2 ounces dried fruit, such as plums, apricots, or apples, snipped into small pieces
1/4 cup honey
1/3 cup off-dry red or white wine or a muscat dessert wine, such as Beaumes de Venise
A few thyme sprigs (optional)
Preheat the oven to 400°F. Peel the apples, pears, and persimmons, if desired. Halve and core them and cut into large wedges or chunks. Cut the figs in half lengthwise. Place all the fruit, including the grapes and the dried fruit, in a large ovenproof pan and use your hands to mix them gently. It's okay if you need to mound the fruit to fit. In a small saucepan, combine the honey and wine, warm over low heat, and then pour evenly over all the fruit. Toss in the thyme sprigs, if desired.
Roast the fruit until it is bubbly and well browned in places, about 45 minutes. Serve warm or at room temperature on its own or with cake, cookies or ice cream.
Reprinted with permission from The Seasonal Jewish Kitchen © 2015 by Amelia Saltsman, Sterling Epicure, an imprint of Sterling Publishing Co., Inc.