Zahav, a World of Israeli Flavor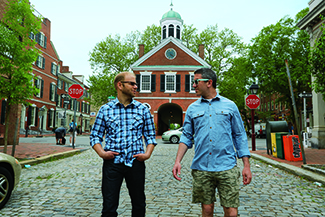 Flip to page 295 of chef Michael Solomonov's new cookbook, Zahav
, and check out the photograph of the family lunch mesiba (party) at his father's house in Israel. The outdoor setting, the long table laden with plates of food and plastic drink bottles, the Rubbermaid-like patio chairs pushed close together allowing for maximum seating and the casual attire. This scene is "me'od Israeli" (very Israeli) and one I have witnessed many times myself being married to a sabra. (In fact, Zahav: A World of Israeli Cooking
, cowritten with Steve Cook, is filled with images of vibrant meals because, as Solomonov poignantly notes, "we mark time sitting at the table. Year after year, on holidays and birthdays and even at funerals, we sit and eat and take note of what is the same and what has changed.")
But meals in Israel have a different focus and flavor than they do in America. Solomonov, the celebrated chef behind restaurants Zahav, Dizengoff, Abe Fisher, Percy Street and the small chain Federal Donuts in Philadelphia, opens with an entire chapter dedicated to tehina. What is a condiment to most of us is a kitchen lifeblood to this James Beard-award-winning chef, and this chapter features seven hummus recipes including one from Turkey that dazzles with melted butter (though the common denominator of Israeli hummus, according to Solomonov, is "an obscene amount of tehina").
So after "wiping up" some hummus, as Israelis would say, Solomonov segues into a salad course. Ever wondered how to make those Israeli Pickles that come with your shawarma and falafel? How about two takes on Israeli salad, one traditional, the other kicked up a notch with mango and sumac-flavored onions?
Then it's onto mezze—think a North African-Middle Eastern parade of shared appetizers. And this is where we start finding some major Hanukka inspiration: Zahav's best-selling mezze is Fried Cauliflower with Herbed Labneh, a crowd-sourced fried favorite for your holiday table this year.
Add to your menu more unhealthy yet delicious dishes from Solomonov: Fritas de Prasa (Fried Leek Patties), which he pairs with a Sefardic lemon-egg sauce called agristada; and Fried Potatoes with Harissa Tehina. (There is also Fried Potatoes and Okra with Kashkaval-Anchovy Dressing; Latke with Gravlax; Fried Artichokes—you get the idea, the guy who runs the immensely popular fried chicken and donut place Federal Donuts knows how to fry.)
Solomonov rounds off Zahav with chapters dedicated to barbecuing, rice (which he elevates to an art in the section "Ben-Gurion's Rice"), Israeli classics, party cooking and sweets. Every page is packed with the sabra perspective on eating and dining.
"My cooking comes from a deep well of Israeli hospitality," the chef and now author writes, "from the intimacy of sharing food." This Hanukka, try out Solomonov's Israeli hospitality when you share his cooking with your loved ones.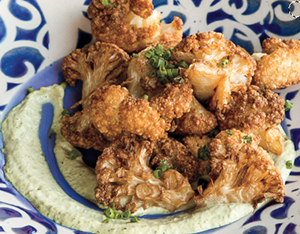 Fried Cauliflower with Herbed Labneh
Serves 4
Herbed Labneh
1/4 cup chopped fresh parsley
1/4 cup chopped fresh dill
1/4 cup chopped fresh chives
1/4 cup chopped fresh mint
1/2 garlic clove, grated on a Microplane
1 cup labneh (you could use Green yogurt or yogurt cheese)
Kosher salt
Combine the herbs, garlic, and labneh in a food processor and puree until bright green and smooth. Season well with salt.
Fried Cauliflower
Canola oil, for frying
1 head cauliflower, broken into florets
Kosher salt
Heat about 2 inches oil in a heavy-bottomed pot over medium-high heat. (You can tell when the oil is hot enough to fry by sticking the handle of a wooden spoon into the oil; if bubbles form around it, it's ready. Or heat until the oil reaches 375°F on a candy thermometer.) Fry the cauliflower until the exterior is dark golden brown and crisp, 5 to 8 minutes, then drain briefly on paper towels. Salt well and serve with the herbed labneh.
Fritas de Prasa (Fried Leek Patties)
Makes 10 patties
These patties are good with agristada sauce or on their own alongside meat dishes.
1 tablespoon olive oil
2 leeks, white and light green parts only, halved and sliced (about 3 cups)
2 garlic cloves, sliced
1 large egg, beaten
1/2 cup halla (or other) bread crumbs
1/2 cup mashed potato
Kosher salt
Canola oil, for frying
Agristada
1. Warm the olive oil in a large skillet over medium- high heat and add the leeks and garlic. Cook, stirring occasionally, until the leeks have softened but not begun to brown, about 5 minutes. Transfer to a large bowl and refrigerate until chilled.
2. When the leeks are cold, add the egg, bread crumbs, mashed potato, and a couple of big pinches of salt. Stir to blend well, and then form into small patties with damp hands.
3. Film the bottom of a large skillet with canola oil and heat until the oil is shimmering but not smoking. Arrange the leek patties in a single layer and cook until golden brown, about 2 minutes per side. Serve hot, with the agristada.
Agristada (like a lemon mayonnaise/savory lemon curd)
2 large eggs
2 tablespoons all-purpose flour
1 tablespoon finely grated lemon zest
2 tablespoons lemon juice
1/4 cup olive oil
2 tablespoons chopped fresh parsley
Kosher salt and black pepper
1. Bring a couple inches of water to a simmer in a medium saucepan over medium-low heat.
2. Combine the eggs, flour, lemon zest, and lemon juice in a heat-resistant bowl that will fit on top of the saucepan and whisk well until smooth. Set the bowl over the simmering water and add 1 cup water in a slow, steady stream, whisking constantly. Cook, whisking constantly, until the sauce thickens enough to coat the back of a spoon, 10 to 15 minutes. Off the heat, whisk in the oil, parsley, several big pinches of salt, and a pinch of black pepper. Serve immediately.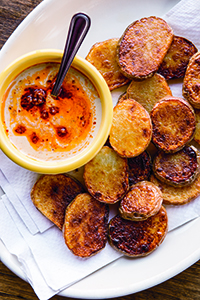 Fried Potatoes with Harissa Tehina
Serves 4
3 Yukon Gold potatoes, peeled and cut into ¼-inch rounds
2 cups plus 2 tablespoons pickle brine
Canola oil, for frying
1 cup Basic Tehina Sauce
1/4 cup harissa (buy a jar premade or make Solomonov's recipe)
1. Combine the potatoes and the 2 cups pickle brine in a large bowl. Cover with plastic wrap and refrigerate overnight. When you're ready to cook the potatoes, drain them well and pat dry with paper towels.
2. Add 1/4 inch oil in a large skillet over medium heat until shimmering but not smoking. Working in batches to avoid crowding the skillet, add the potatoes in a single layer and fry until brown and crisp on the outside and tender within, about 3 minutes per side.
3. To make the harissa tehina, whisk together the tehina sauce and the 2 tablespoons pickle brine. Stir in the harissa—I like it when the sauce looks a bit broken and streaky. Serve the potatoes with the tehina sauce.
Basic Tehina Sauce
Makes about 4 cups. This recipe is a key building block in Solomonov's cooking, it is used throughout the book.
1 head garlic
3/4 cup lemon juice (from 3 lemons)
1 1/2 teaspoons kosher salt
2 generous cups tehina (Solomonov recommends Soom Tahini)
1/2 teaspoon ground cumin
1. Break up the head of garlic with your hands, letting the unpeeled cloves fall into a blender. Add the lemon juice and 1/2 teaspoon salt. Blend of high for a few seconds until you have a coarse puree. Let the mixture stand for 10 minutes to let the garlic mellow (that last step is essential!).
2. Pour the mixture through a fine-mesh strainer set over a large mixing bowl, pressing on the solids to extract as much liquid as possible. Discard the solids. Add the tehina to the strained lemon juice in the bowl, along with the cumin and 1 teaspoon salt.
3. Whisk the mixture together until smooth (or use a food processor), adding ice water, a few tablespoons at a time, to thin it out. The sauce will lighten in color as you whisk. When the tehina seizes up or tightens, keep adding ice water, bit by bit (about 1 1/2 cups in total), whisking energetically until you have a perfectly smooth, creamy, thick sauce.
4. Taste and add up to 1 1/2 teaspoons more salt and cumin if you like. If you're not using the sauce immediately, whisk in a few tablespoons of ice water to loosen it before refrigerating. The tehina sauce will keep a week refrigerated, or it can be frozen for up to a month.
Harissa
Harissa is the famous North African red pepper sauce that's most commonly used to spice up couscous and is so essential to my cooking. Excellent versions are available in jars and tubes, from instance from Kalustyan's. Here's our Zahav recipe if you'd like to master your own. We call it by its Hebrew name harif, which means spicy.
Combine 1/2 cup ground Aleppo peppers, 1 garlic clove, 1 1/2 tablespoons red wine vinegar, 1 teaspoon ground cumin, a pinch each of ground coriander and ground caraway, and 1/4 teaspoon kosher salt. Blend in a food processor to a coarse puree. Add 1/4 cup canola oil and process for another few seconds. Stop short of making it perfectly smooth. Refrigerated, harissa will keep 2 weeks.
Text excerpted from Zahav
, © 2015 by MICHAEL SOLOMONOV and STEVEN COOK. Reproduced by permission of Houghton Mifflin Harcourt. All rights reserved.
Author/Recipe photos © MICHAEL PERSICO.