Boston's 'Dirty' Beer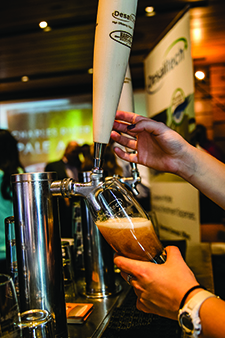 It was a perfect pairing. De­­salitech, a water purification company founded in Israel but headquartered in Boston since 2013, teamed up with Harpoon Brewery, a local maker of popular hand-craft­ed beers, to transform water from the Charles River into a tasty limited-edition brew.
Charles River Pale Ale made its heralded debut at Boston's HUBweek, a science, innovation and art festival in early October. It was also on tap at the com­­p­any's brewery on Boston's water­front, where it sold out in less than two weeks.
The once heavily polluted river was made famous with the 1960s rock hit, "Dirty Water," by the Standells, a favorite of Boston sports teams and covered by Bruce Springsteen, the Dropkick Murphys and others.
Improving the environment is part of Desalitech's mission, but partnering with Harpoon—the 15th-largest microbrew­­ery in the United States—had a big fun factor. De­sali­tech's Fortune 500 clients include major beverage companies that use its technology mainly to minimize waste­­­water from production.