My Father's Daughter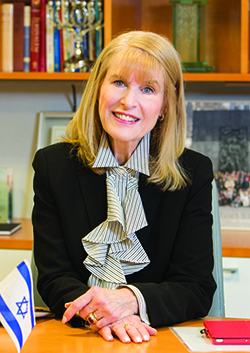 On May 5, 1945, the United States Army's 11th Armored Division was one of the units that liberated the Mauthausen concentration camp in Austria. Nicknamed the Thunderbolts because of their rapid march to reinforce besieged troops during the Battle of the Bulge, the 11th fought through Belgium and Germany before reaching Austria.
Although it happened before I was born, the camp's liberation played an indirect role in my decision to join Hadassah—and in the 40-plus years of involvement that culminated in my election as Hadassah's 26th national president. My father, Frank Goldberg, was one of the Thunderbolts at Mauthausen, and he never forgot what he saw there. Every day, I wear his bar mitzva ring as a reminder of his legacy. He told me I could practice Judaism any way I wanted—or not practice at all—but to always remember that I am part of the Jewish people, that Israel must survive and that the time would come when that survival would be my responsibility.
The time came in 1973. in august, my husband, Joel, and I, with our two young children, moved to Dix Hills, Long Island in New York. Friends took me to meetings of various Jewish organizations. All seemed worthwhile. Six weeks later, the Yom Kippur War began and one thing was clear: While all the Jews in my new community were concerned, it was Hadassah that mobilized first. The local chapter president called—I hadn't even joined yet—and said she was picking me up in 10 minutes. I got a briefing on Hadassah's work on the way to a supermarket and set out to raise money for hospital supplies to handle the casualties expected in the coming days.
When I approached people, some gave and some did not. But I'll never forget the response of one woman: "We need oil, not Jews. I hope they wipe the Israelis out of the Middle East forever." The woman had her own agenda—and she helped me set mine. Hadassah gave me the opportunity not only to verbalize my concern, but also to do something about it.
I am tempted to say that the challenges Hadassah faces today pale in comparison to the existential threat Israel confronted in 1973 or 1948, or from the surge in terror attacks in recent months—but that doesn't help address the difficulties before us. Hadassah's success now depends not on national defense or medical infrastructure, but on mastering a new social, programmatic, communications and fundraising landscape. It will take hard work and creativity, but I know we are up to the task.
New strategies are required; we will identify and develop them. But our priorities are set: Strengthen Israel and liberate the word Zionism from those who have tried to redefine the name of the Jewish national movement in grotesque ways; improve our hospitals—first and foremost completing the Sarah Wetsman Davidson Hospital Tower; and advocate in areas such as gender equity in medical research, human trafficking, preventive health care and affordable child care.
Each of us has a defining moment when Hadassah became central to our lives. We all need to reach out and help spark that moment for new members. The work we do is important, but the reason we do it is more important. Our energy and devotion to Hadassah, rooted in Jewish values, are and remain a pillar of the Jewish state and the renaissance of Jewish women.
My core position is simple: If a woman is passionate about Israel, then Hadassah should be her address. We can only grow through our own action. To me there are only two kinds of women—those who are already members and those who have not yet joined, either because we haven't convinced them or haven't asked.
I may not be over in 10 minutes to pick you up, but I know Hadassah, through its Power of Women Who Do, has a great army of volunteers. My father's ring reminds me every day of who I am and my responsibility. Kulanu be-yahad—we together—will work on behalf of Israel through Hadassah and reach even greater heights.