Modern Israeli Cooking
Any chef indulgent enough to make French toast out of babka slices is OK in my book—b'seder, if you will. Everyone, meet Danielle Oron, an Israeli-Canadian-American chef who blogs at I Will Not Eat Oysters.
Her first book, Modern Israeli Cooking: 100 New Recipes for Traditional Classics
, is a great read and a delight to cook from. Oron's taste reflects her Israeli Moroccan and French culinary roots, but reimagined for home chefs who don't own a tagine (Lemon Chicken with Olives); are too new-school to potchke around with rolling stuffed cabbage (Unstuffed Cabbage); and regularly stay up late and therefore require carb-and-cheese bombs (Feta Grilled Cheese) or foodie rethinks of childhood staples (Banana Nutella Pita Panini; check out the entire "Midnight" chapter).
There's plenty of healthy cooking (Ultimate Israeli Salad, Simmered Red Snapper) as well as several entrées appropriate for the Jewish holidays (Beer-Braised Holiday Brisket, Moroccan Spiced Shepherd's Pie).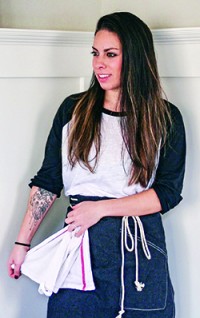 Oron's cooking style is simple, sophisticated Middle Eastern fusion. Sumac and za'atar make frequent appearances, as do labane and tahini. That last element makes a winning addition to two desserts—Salted Tahini Chocolate Chip Cookies and Tahini-Swirled Brownies. I recommend both.
Personally, I eat—and drink—anything with olives, from Bloody Marys and martinis to Oron's Lemon Chicken with Olives. Pair the chicken with the herbed deliciousness of Roasted Jerusalem Artichokes with Rosemary and Balsamic Vinegar. If you don't mind following up with dairy—or if your name is Rose, Blanche, Dorothy or Sophia and it's one in the morning and you're hungry—definitely try Oron's Whipped Cheesecake with Cookie Crust and Pecan Cookie Crumble. Yum, I'm stuffed.
All recipes and commentaries from Danielle Oron's Modern Israeli Cooking: 100 New Recipes for Traditional Classics
(Page Street Publishing).
Roasted Jerusalem Artichokes with Rosemary and Balsamic Vinegar
They taste like an artichoke but have the texture of a potato. They're also called sunchokes. It's so confusing, and I love it. Weird and knobby, but absolutely tasty. Here, I roast them on a bed of rosemary sprigs. It will fill your home with a warming scent and feeling. Try this recipe out next time you need to make some sort of roasted vegetable as a side.
Makes 4 servings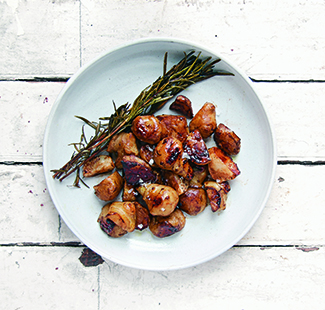 Rosemary sprigs
1/2 lb Jerusalem artichokes, scrubbed and cut into 1-inch pieces
2 tbsps olive oil
Salt and fresh black pepper
2 tbsps balsamic vinegar
1. Preheat the oven to 375˚F and lightly grease a baking sheet and line the whole sheet with rosemary sprigs.
2. Toss the artichokes with the olive oil and season with salt and pepper. Place them on top of the rosemary sprigs on the baking sheet and drizzle with the balsamic vinegar.
3. Roast in the oven for 45-50 minutes, turning the artichokes twice during the roasting process. Let cool at least 5 minutes before serving. Use the rosemary as a garnish.
Lemon Chicken with Olives
I've got both my parents making this recipe for their friends. That is how I know I've succeeded. This chicken is tangy and packed with so much flavor. It looks vibrant and tastes just as bright. Normally this is made in a tajine—a clay dish that acts as its own oven. I know most people don't own one, so I've substituted a pot for this traditional Moroccan way of preparing chicken (it's still just as delicious). I've also improved on the cooking method. I build the flavors gradually instead of throwing it all in and turning the heat on. It gives the dish more character and depth. You can use either preserved or fresh lemons as long as you adjust for salt content as you cook, as you should always do, anyway.
Makes 4 servings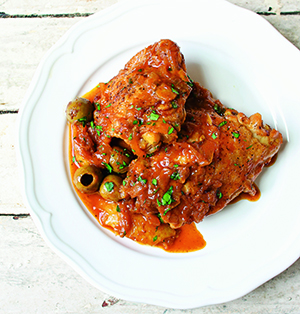 8 pieces skin-on, bone-in chicken drumsticks and/or thighs
Salt and fresh black pepper to taste
1 tbsp olive oil
1 large yellow onion, cut into 1/4-inch slices
2 cloves garlic, minced
1/2 tbsp grated fresh ginger
1 tbsp paprika
2 tsps cumin
1 tsp turmeric
1/2 cup white wine
2 cups chicken broth (homemade is always better)
1 preserved Lemon, rinsed, cut into 8 wedges (or use fresh lemon)
1 cup pitted green Spanish olives
2 tbsps fresh lemon juice
Chopped cilantro
1. Preheat the oven to 325˚F. Season the chicken well with salt and fresh black pepper on both sides. Heat the olive oil in a large Dutch oven or ovenproof pot over medium-high heat. Sear the chicken on each side until golden brown, about 4–5 minutes per side. Don't try to lift the chicken if it is stuck to the bottom of the pot! That means it's not ready to be flipped. It will release once it has browned properly. Do this in batches if needed.
2. Remove the chicken from the pot and add the onion. Stir and cook for 6-7 minutes until the onion has softened and picked up a bit of color. Stir in the garlic, ginger, paprika, cumin and turmeric. Sauté for 30 seconds just to release the aromas. Deglaze with white wine and be sure to scrape the bottom of the pot to release the flavor bits. Add the chicken back in and pour the chicken broth over top.
3. Turn the heat up to high and bring the broth to a boil. As soon as it begins to boil, turn the heat off and add the preserved lemon wedges and olives. Cover and braise in the oven for 50 minutes until the chicken is incredibly tender and cooked through.
4. Remove the chicken from the pot and bring the sauce up to a boil. Reduce by half until it has thickened, about 5-6 minutes. Stir in the fresh lemon juice and taste for seasoning. Add salt if needed. Turn the heat off and return the chicken to the sauce delicately.
5. Garnish with chopped cilantro before serving.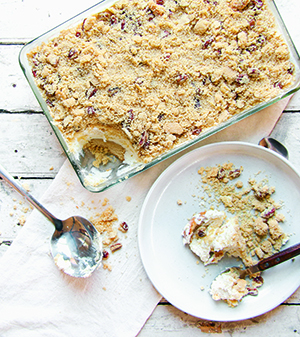 Whipped Cheesecake with Cookie Crust and Pecan Cookie Crumble
This is the perfect finish to a family meal. Our family has one, and only one, person who will always make this dessert. No one else has it in them to even give it a shot. I've changed it so that it's more of an American-Israeli cross between a crumble cheesecake and a whipped-cream kind of dessert. I've also added pecans because I like the texture it adds to the crumble. This is a great dessert to bring to the next dinner party you're invited to. Super easy and can be made ahead!
Makes 8-10 servings
14 tbsps room-temperature unsalted butter
1/3 cup dark-brown sugar
2 egg yolks
1 tsp vanilla extract
2 cups self-rising flour
1/4 tsp salt
1/3 cup chopped pecans
1 cup heavy whipping cream
1/2 cup sugar
1 cup Labane or sour cream
1 cup mascarpone
1 1/2 tsps vanilla-bean paste
1/4 tsp salt
1. Preheat the oven to 325˚F. In the bowl of an electric mixer fitted with paddle attachment, cream the butter and sugar until light and fluffy. Add the yolks and vanilla and continue creaming for another 3 minutes. Add in the flour and salt and mix on low until the dough comes together.
2. Transfer half of the dough into an 8-inch x 11-inch baking dish and press it evenly along the bottom. This will be the bottom crust.
3. Add the pecans to the remaining dough and mix to combine. Transfer the pecan dough to a separate 8-inch x 11-inch baking dish and press it evenly along the bottom. (This will be your pecan cookie crumble topping, so you can use a different-size baking dish, but keep it close.)
4. Bake both layers for 12-15 minutes until golden brown. Cool to room temperature.
5. In a bowl of an electric mixer with whisk attachment, whip the heavy cream and sugar until stiff peaks form. Add the labane, mascarpone, vanilla-bean paste and salt. Whip on medium speed to combine until light and airy, 3-4 minutes.
6. Spread the cheesecake mixture onto the plain bottom cookie crust in an even layer. Using your hands, crumble the pecan cookie crumble topping evenly over the cheesecake.
7. Cover and chill in the fridge for at least 1 hour.