Israel's Bakeries and Dessert Cafés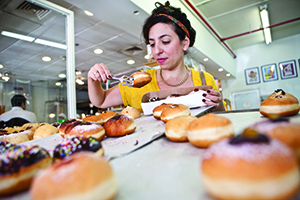 When the sun sets on Wednesday, March 23, the Festival of Purim will begin and Jews around the world will celebrate the victory of Esther and Mordecai over Haman, the vizier who persuaded Persian King Ahasuerus to eliminate his Jewish subjects on Adar 14, 357 B.C.E.
A big part of Purim is food, especially sweets. Although I love the traditional poppyseed hamantaschen given as mishloah manot, gifts of food and drink to friends or neighbors, or served at the Purim seuda, I believe we should embrace new flavors such as red velvet or chocolate chunk. Israelis are also embracing new and exotic flavors in their pastries. On a recent trip to Israel, I was delighted to see that desserts have gone beyond the traditional East European, Sephardic and Middle Eastern goodies—sponge and yeast cakes, strudels, halvas and sticky pastries—evolving in creative and global directions.
In Tel Aviv, Jerusalem and Hod Hasharon, I visited wonderful kosher bakeries whose display cases were filled with sophisticated delicacies. There were French éclairs and Argentinian alfajores cookies—reflecting the bakers' native lands—and delicious crusty sourdough, pain au levain and other hearty breads.
My taste tour in Tel Aviv began at Lachmanina, a bakery-café at the edge of the Bitzaron neighborhood. Three reasons to go there are: the pistachio croissant, a flaky pastry dusted with confectioners' sugar and ground pistachios and filled with pistachio paste; a chocolate bun glazed with caramel—a brilliant combination; and a cream puff filled with hazelnut cream and topped with chocolate glaze.
Bread lovers from all over Israel find their way here for its specialty: Nelson bread, a seeded whole-grain loaf based on a South African recipe with a dense yet soft interior.
Lachmanina's owners, Deganit and Nina Halevy, have an interesting backstory—when the two married, Nina was Ofer. When Nina lost her high-tech job, she began to sell her homemade bread to friends and neighbors. In 2011, the Halevys—whose marriage survived the gender change—joined with several partners to open Lachmanina (translated as "Nina's Bread"). As Deganit explains, hers is a story about "my husband who became my wife who became a baker."
Not to be confused with Lachmanina is Lehamim, with several locations in Tel Aviv. And it has a great reputation in New York, where its outpost is called Breads Bakery. "They call me a Jewish baker in New York," laments owner Uri Scheft, who was born in Israel to Danish parents, "but I make Danish rye, French pastries and other European desserts."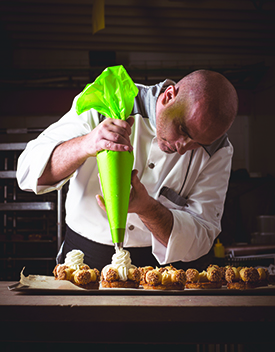 In Purims past, Lehamim showcased both sweet and savory hamantaschen, including ones with crisp, salty dough sprinkled with sesame and black onion seeds and filled with potatoes and herbs; and sweet potato, goat cheese and chopped walnuts. A sweet variety featured vanilla custard and chocolate bits.
Lehamim's flagship store on Hashmonaim Street illustrates the excellence of its breads. A sample of focaccia convinced me to buy an entire loaf—the inside was soft and its crisp crust was covered with coarse salt and sunflower and sesame seeds. It was the best focaccia I have eaten outside of Tuscany. Scheft says his biggest sellers are hallas, but flatbreads with za'atar and vegetable toppings are also in great demand.
Throughout the year, Lehamim displays borekas, breakfast pastries and loaves of apple and pear cakes. Much loved are Lehamim's classic French desserts: fresh fruit tarts and mille feuilles. Scheft has a cookbook coming out later this year, Baking Breads: A New World of Israeli Baking (Artisan), which he says will reflect his penchant for bringing back old-style desserts with modern variations.
What is his favorite cake? "The last thing that came out of the oven," Scheft says, half jokingly.
The dessert that makes the Hungarian bakery Kiortosh unique is its eponymous cake, a cylindrical pastry made by wrapping dough around a special rolling pin. Sugar sprinkled on the dough melts in the oven, creating a shiny, crispy exterior; flavors include cinnamon, chocolate, halva, vanilla and nut. Kiortosh is served by slicing the hollow cylinder into rings, then filling each with whipped cream, ice cream or fruit salad.
Curious about the unusual pastry, I discovered that Kiortosh was once called kurtoskalacs (chimney cake, in Hungarian) and the first kurtoskalacs recipe appeared in a 1784 cookbook by Countess Mária Mikes of Zabola, Romania.
At Kiortosh, I enjoyed pellerina, which is similar to the triangular Italian pastry made with stacked layers of dough called sfogliatelle. The pellerina is filled with vanilla cream instead of traditional ricotta cheese. The dough was as crispy as the Italian version—but the messy filling made me feel like a child.
A display case was arrayed with two-foot-long loaves of yeast cakes filled with poppyseeds, apple, cheese and fruit, reminding me of Viennese and Hungarian pastry shops.
The French patisserie Courcelles features all my favorites: éclairs, macarons, pear and lemon tarts, croissants, opera cake and cannelés. Parisian-born proprietor Sophie Kabrit opened the shop four years ago and now has two in Tel Aviv and one in Raanana. When asked where her chefs were trained, she responds, "Of course, all our chefs hail from Paris."
Courcelles's coffee éclair is delectable and the opera cake has the perfect balance of chocolate and coffee flavors. The shop also sells trendy choux (cream puff) pastries; colored icing hats signify their flavor—yellow for lemon, green for pistachio, brown for chocolate, pink for raspberry and more. All the tarts and mousse cakes are pareve.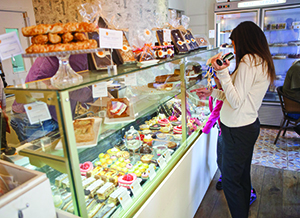 Tel Aviv is also home to Shemo Bakery, though the shop has branches in Ramat Hasharon and Haifa as well. Ruth and Isaac Shemo opened their first store in Israel's north in 1992 and wanted their sons, Miki, Ofer and Yohai, to follow them into the business. Miki is a pastry chef, cookbook author and television host (Miki Shemo Bakes From the Heart). He recalls when he "used to take a chair and stand beside [my mother] and wait until she was done [baking] so I could taste the leftovers and creams in the mixer." Today, he says, "the thing I love most about my business is making people happy."
Shemo's offerings include French breakfast pastries, rugelach, choux, French-style layer cakes and a refrigerated case filled with elegantly decorated mousse cakes. I stared at the overwhelming variety of cookies unable to choose which to sample—until a worker assembled a selection of her favorites for me. I savored every one of them.
Shemo also makes sugar-free desserts, including strudel, a filo-dough-and-nut pastry and chocolate pecan cookies. The bakery's soft-yeast-dough hamantaschen are filled with Israeli gevina levana (white cheese).
I discovered Artisan Bread in Hod Hasharon in central Israel; Artisan also has shops in Raanana, Kfar Saba and Netanya. Opened in 1999 by three brothers who learned their craft in Toronto, Artisan Bread features 20 varieties of bread from all over the world. Customers can sample a few before buying. Most popular are the hearty pain au levain and German breads, which reminded me of ones I enjoyed in Switzerland.
But Artisan Bread is not just about delicious bread. Try their outstanding alfajores and a croissant with an Israeli cheesecake filling and American-style crumble on top. And where else can you find the "mamzer"—giant rugelach made from a piecrust filled with jam and every type of nut and dried fruit. 
I began my Jerusalem bakery tour at the Mahane Yehuda shuk with Magdaniat Pe'er, the city's oldest bakery. Although the charming, original 80-year-old hole-in-the-wall location on Emek Refaim closed in 2015, the Mahane Yehuda shop is thriving. On display are eye-catching trays arrayed with bright meringues and whimsical cake balls dipped in chocolate and rolled in sprinkles.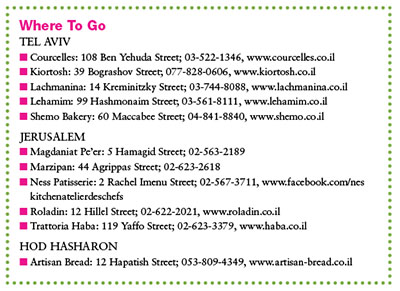 The classics are available, too—rugelach, borekas in every flavor, and cinnamon and chocolate pastries—but there are two incredible standouts. The first is a rich, chewy tart with a shortbread crust and a caramel filling with nuts and dried fruit. The second is crisp filo dough wrapped around a filling of nuts and dates.
From a full display of Sephardic desserts, I tasted sbakkia—fried dough glazed with rosewater—and a delicious cake that looked like baklava but had a curious walnut and honey filling that tasted more Poland than Middle East. For Shabbat, I bought round, braided whole-wheat halla; soft inside and tasting homemade, it had none of the dryness often found in whole-wheat baked goods.
Since 1958, Haba Bakery has been a presence in the shuk. It started with the baigele—the large rings covered in sesame seeds that are ubiquitous in the Old City. Today, the bakery has the trendiest French desserts in Jerusalem. Its delicacies are served next door at its restaurant, Trattoria Haba, which is run by Michelin-starred chef Michael Katz.
I still dream about Haba's salted caramel éclair. Topped with a thin sugar glaze, it has a superb crunch along with creamy caramel pastry filling. I practically inhaled an éclair filled with both chocolate cream and a dense praline layer and topped with crunchy pastry.
The malabi éclair, filled with rose-flavored cream, is a perfect shiddukh of Mediterranean and French pastry traditions.
I stopped at Marzipan, just outside Mahane Yehuda, looking for the gooiest, most chocolaty rugelach on the planet. The bakery, first opened by a Turkish Jew in 1986, is legendary because of the underbaked chocolate filling. But don't ignore Marzipan's fabulous apple rugelach—they are soft with a lovely apple-pie-like filling.
At Roladin, I found the nontraditional variety of offerings staggering: French desserts from simple cakes, puffed pastry, loaves of beautiful mousse cakes and superior borekas. The largest bakery chain in Israel with 55 locations, it was started in 1987 by brothers Avi and Kobi Hakak—who first peddled their cakes door to door. Roladin is famous for an unparalleled variety of Hanukka sufganiyot and kosher-for-Passover cakes. In 2013, Roladin upped its Purim game when it introduced hamantaschen filled with plums marinated in date syrup and mixed with almond cream, and halva with pralines mixed with specks of Belgian chocolate. Earlier creations were filled with dates rolled in Indian masala spice mix and chopped walnuts.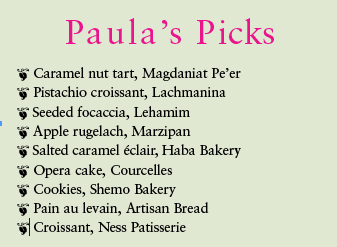 Roladin is a great source of high-quality, sugar-free cheesecakes, and fruit and apple cakes.
Visiting Ness Pâtisserie made me feel as if I were in  Paris. At the small French pastry shop, which expanded last March into    a nearby restaurant-café, I found French baguettes, brioche, breakfast pastries, pear and lemon tarts and chouquettes—hollow puffs topped with white sugar crystals.
Owner-manager Laurent Benhaim and his wife, Nathalie, made aliya from Nice seven years ago. He opened the bakery, he says, "because my wife bakes." His favorite is her almond croissants. But, adds Nathalie, "What Israelis like most are chocolate, coffee and vanilla éclairs."
Ness's refrigerated case houses a rainbow of macarons as well as shiny, glazed mousse cakes. As bakeries do in France, Ness sells the galettes des roi—pastry filled with almond paste—once a year, in January. I enjoyed their perfect plain croissant—flaky but not messy. Ness sells dairy pastries all week, but the Shabbat cakes are pareve.
Here are a few tips for your own journey: Go early, as some bakeries sell out of the most popular cakes and breads. Relish the variety and don't be afraid to try new flavors—from sweet to savory. At restaurants, always save room for dessert and grab a coffee in the bakery-cafés.
Bon appétit!