Look at Us Now, Mother!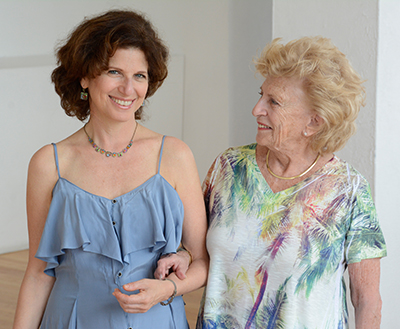 Mildred Kirschenbaum is not your stereotypical Jewish mom—if by that you mean a mother who nurtures her children and smothers them with love.
Ask filmmaker (and Mildred's daughter) Gayle Kirschenbaum, whose latest effort, Look at Us Now, Mother!, is an attempt to figure out what went wrong between them.
The youngest of three children and the only girl, Gayle was constantly told her hair was too frizzy, her boobs too small and her nose too large. While her brothers were "loved and adored," she says that her "earliest thoughts were that I must have been adopted."
She'd worked out some of her frustrations in a previous film, My Nose, but there were still relationship miles to travel.
"Growing up not being loved and being attacked all the time leaves its scars," said Gayle , 61. "It's no wonder that I'm at my ripe old age and never been married and have no children."
A bigger wonder is that Mildred participates in a documentary that paints her in such a negative light. Her daughter quotes Mildred saying, "When Gayle was born we bought a crib with instructions on how to set it up. Gayle didn't come with a manual."
That excuse is a bit facile, since her two sons also came without handbooks. Still, over the course of the filming, the two go to therapy and travel together and eventually reach a rapprochement. Gayle concludes that Mildred "did the best she could. In the movie I forgive her because I realized she's a wounded child because of her own tragedies."
Mildred's younger sister died when she was young and her father, facing severe financial difficulties, twice attempted suicide.
"I came to realize that I didn't do anything wrong; there was something wrong with my mom," Gayle said.
The film opens in limited release in Florida (Delray Beach, Boca Raton and Tamarac) on March 25 and in New York and Los Angeles April 8. But it's been making the rounds of Jewish film festivals and the reaction has been eye-opening for Gayle.
"I'm swamped and mobbed by people waiting to talk to me" after screenings, she said. "Someone came over and said 'you have no idea how you changed my life. I called my father and forgave him. You inspired me.'"
Another ego-booster: she received two proposals of marriage.