Hamantaschen, Classic to Modern
Hamantaschen lend themselves to the classically old school and delicious as well as the edgy, modern and foodie. Here, I give you both.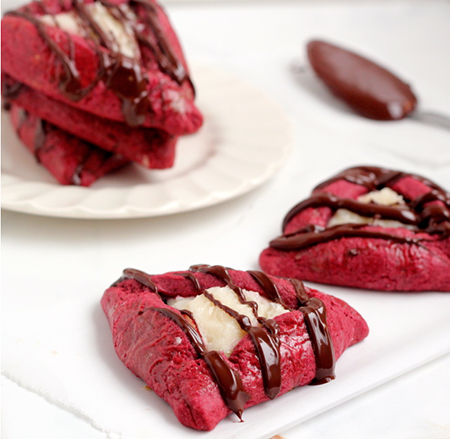 George Greenstein literally wrote the book(s) on the mainstays of any good Jewish bakery, from babka to rugelach to strudel. His hamantaschen, interestingly, call for a babka dough in place of the more familiar cookie-dough crust. And his version of the Purim staple is oversized, about 3 to 4 inches in diameter. In the recent book A Jewish Baker's Pastry Secrets: Recipes from a New York Baking Legend for Strudel, Stollen, Danishes, Puff Pastry, and More
(Ten Speed Press)—which he was working on at the time of his death and was completed by several family members—he offers filling suggestions from Poppy Butter to Prune or Apricot Lekvar as well as cream cheese, cherry pie or blueberry pie.
Jewish food blogger Amy Kritzer over at What Jew Wanna Eat is a one-woman whirlwind of Purim baking. Her blog, Instagram feed and Facebook page are chock-full of some of the most creative, imaginative hamantaschen recipes out there: Chocolate Bourbon with Bailey's Irish Cream; Hamantaschen Fruit Tarts; Chocolate Dipped; and flavors from halva and Manischewitz to red velvet, Neapolitan and mint chocolate. Oh, and Kritzer's cooked up caramelized onion as well as pita-and-hummus triangles savory version. Check out her blog for everything Purim, including cocktails, and I specifically recommend her Red Velvet Hamantaschen.
Prune Hamantaschen
A Jewish Baker's Pastry Secrets

Makes 12 cookies
Greenstein's recipe is a big potchke, requiring you to make babka dough at least one day ahead and, if not using store-bought, producing your own prune filling at home (which can also be made at least a day ahead). But, the resulting hamantaschen—which are dairy—are amazing, so if fussy, multistep baking is your thing, go for it.
Babka Dough:
4 scant tablespoons active dry yeast
1/4 cup warm water
3/4 cup milk, room temperature
1 1/2 cups bread flour
4 eggs
2 egg yolks
1/2 cup sugar
1 tablespoon nonfat dry milk
3 1/3 cups bread flour
2 1/4 teaspoon kosher salt
Finely grated zest of 1/2 orange
2 tablespoons orange juice
1/2 cup orange marmalade
1 1/2 teaspoons pure vanilla extract
1/4 teaspoon ground nutmeg
1/4 cup sour cream or yogurt
1 cup unsalted butter, melted and cooled
In the mixing bowl of a stand mixer fitted with a flat paddle, sprinkle the yeast over the warm water to soften. Add the milk and flour, pulsing the on/off switch until blended, making sure the flour does not fly out of the bowl. Continue to mix on low speed for 8 to 10 minutes. After a few minutes, change to a dough hook, if available. The dough should come away from the sides of the bowl. If not, continue for a few minutes at medium speed. Remove the hook or paddle and cover the bowl with a cloth. Let stand until doubled in volume, 20 to 35 minutes.
Beat the dough down with a few turns of the paddle. Mixing at slow speed, add the eggs and yolks in three additions.
When barely blended, add the sugar, milk powder, additional cups of flour, salt, orange zest and juice, marmalade, vanilla, nutmeg and sour cream. Mix by pulsing the on/off switch until the dry ingredients are absorbed so that the flour does not fly out of the bowl. Switch to the dough hook and knead for 8 to 10 minutes at slow speed. Add the butter in several additions, allowing it to become absorbed after each addition. Mix until fully blended. The dough should remain soft, moist, a little sticky, and have a silky appearance.
Transfer the dough into a clean, oiled bowl, turning to coat. Cover with a cloth or plastic wrap and let rest until puffy, about 30 minutes.
Turn our dough onto floured work surface and punch down so that all of the air is released. Cut the dough into 8 equal pieces, about 8 ounces each. Separate two portions to use for the hamantaschen, wrap in plastic wrap and refrigerate overnight. (Use the 6 leftover portions of dough to make 6 babkas, yummy!)
Prune Lekvar:
2 cups pitted prunes
1/4 cup sugar
1 teaspoon finely grated lemon zest
1 teaspoon finely grated orange zest
Pinch of ground nutmeg
Put the prunes in a nonreactive saucepan and add water to cover. Bring to a boil over medium heat. Reduce the heat and simmer for 5 minutes, uncovered. Drain and purée in small batches in a blender or food processor. While still warm, mix in the sugar, lemon zest, orange zest and nutmeg. Return to saucepan over low heat and simmer, stirring constantly, for about 5 minutes, or until thickened.
Refrigerate overnight or for several days. It keeps well and can be frozen for up to 8 weeks.
Assemble the hamantaschen:
2 portions babka dough
1 egg
1 tablespoon water
1 1/2 cups Prune Lekvar
Granulated sugar
Grease 2 half-sheet pans or line with parchment paper or greased wax paper.
Cut each piece of dough into 6 equal pieces to make 12 in total. Roll each into a ball on a surface lightly dusted with flour. Cover and let rest for about 10 minutes.
Flatten and roll out each ball into a 4-inch circle. Stretch each circle into a triangular shape. It can be irregular.
Lightly beat the egg with the water to make an egg wash. Drop 2 tablespoons of Prune Lekvar into the center of each triangle. Brush the edges with egg wash. With the base toward you, stretch and fold the right and left sides over the filling to form two sides of a triangle, and then bring the bottom up to the center to complete each pastry. Turn the pastries over so that the seams are on the bottom. Roll lightly with the rolling pin to flatten the wedges so that they form nicely shaped triangles.
Place the hamantaschen, evenly spaced, on the two baking sheets. At this stage the hamantaschen can be loosely covered with plastic wrap and refrigerated overnight to be baked the following morning. They can also be frozen for a week or more and then thawed slowly overnight in the refrigerator.
Brush with egg wash. Set aside and let rise until doubled in volume, 25 to 40 minutes. The sides should be pillowy and yield readily when lightly pressed with a fingertip. Gently brush a second time with egg wash and sprinkle with granulated sugar.
Position a rack in the center of an oven and preheat to 375.
Bake for 25 to 30 minutes, until evenly browned. Carefully lift a piece or two with the edge of a spatula to ensure that the bottoms are baked before removing from the oven. Cool in the pan on a wire rack.
They will keep 24 to 48 hours, tightly covered. Freeze baked hamantaschen for up to 8 weeks.