Freedom from Gluten
Though Passover cuisine doesn't have to mean gluten-free sides, mains and, most crucially, dessert, an eight-day celebration that forbids the consumption of leavened bread certainly lends itself to one of the country's hottest diet fads—Paleo eating and eschewing gluten.
Enter Simone Miller and Jennifer Robins's popular cookbook, The New Yiddish Kitchen: Gluten-Free and Paleo Kosher Recipes for the Holidays and Every Day
(Page Street Publishing). While most holiday fressers will still inhale gluten in the form of matza everything—sheets of the unleavened bread, matza brei, balls, chocolate covered, yada, yada, yada—there are all sorts of starches and thickeners readily available on the market now that so many Americans claim a gluten sensitivity and a desire to eat fewer processed grains that this sort of cooking isn't as tricky as you might fear. And these two ladies are mavens in starch-and-carb substitution: Miller runs the Paleo, gluten-free Zenbelly Catering in San Francisco and previously authored The Zenbelly Cookbook; Robins is the best-selling writer of Down South Paleo and Paleo Cooking for Kids and the force behind Predominantly Paleo. Once Passover concludes, check out The New Yiddish Kitchen's bagel recipes and sweets like Rugelach and Apple Kugel.
In their Passover pages, Miller and Robins go so far as to share two recipes for gluten-free matza; one employs chopped yucca root, avocado oil and water chestnut flour or coconut flour; the other calls for cassava flour, potato starch, avocado oil and honey. Their homemade creations then become the base for Sweet Matzo Brei, Savory Matzo Brei, Fluffy Matzo Brei and Chocolate-Covered Matzo.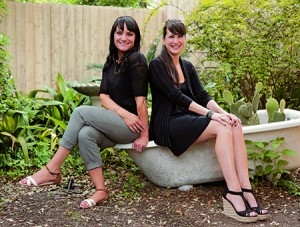 I suspect many of us will welcome guests to our Seder table with gluten sensitivities, so perhaps Miller and Robins can offer real help and inspiration. Why not start off your festive meal with their Chopped Liver and Salmon Gefilte Fish? And if baking your own gluten-free, Paleo-friendly matza isn't in your holiday-prep plans, perhaps you would consider making Cassava Flour Matzo Balls, Bubbe's Brisket and the truly delectable Raspberry Chocolate Macaroons; I share those last three dishes with you here.
Passover recipes have always involved the omission and substitution of our most common, seemingly essential ingredients. Let's change it up this year and swap out gluten, too.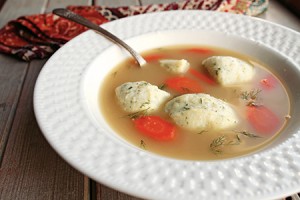 Cassava Flour Matzo Balls
This nightshade-, nut-free matzo ball recipe is a hybrid between a "sinker" and a "floater" and is seasoned perfectly with onions, sea salt and garlic. If you are a dill fan, be sure to add in some fresh dill to suit your fancy! Serves 4. 
Water or chicken broth, for boiling
1/2 cup cassava flour
3 eggs
1 tablespoon schmaltz, avocado oil or olive oil
1/4 teaspoon sea salt, or to taste
1/4 teaspoon garlic powder, or to taste
1/4 teaspoon onion powder, or to taste
1 tablespoon minced fresh dill, optional
In a large pot, bring the water or broth to a boil over high heat.
Mix together the cassava flour, eggs, schmaltz or oil, sea salt, garlic powder, onion powder and dill, if using. Drop the dough into the water or broth, about 1 tablespoon at a time, using a small cookie or ice cream scoop.
Cook over high heat until the balls start to float to the surface, about 1 or 2 minutes, and then allow to simmer for another 5 minutes.
Serve in piping hot chicken soup. (And, yes, The New Yiddish Cookbook includes a chicken soup recipe with options for Passover-appropriate noodles made from spiral slices of vegetables like zucchini, celery root and parsnips).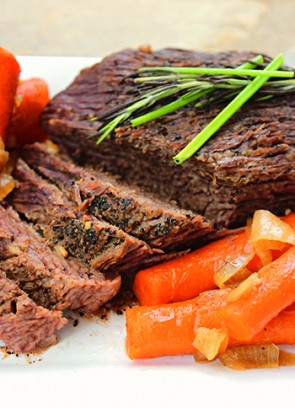 Bubbe's Brisket
This brisket comes out beautifully tender every time! Unlike barbequed brisket, this one cooks in broth on the stovetop, which helps seal in all the juices! Serves 4 to 6
1 tablespoon avocado oil
1 teaspoon salt
Freshly ground black pepper
1 brisket, grass-fed if possible (around 4 pounds)
1 large onion, sliced thin
6 large carrots, chopped
5 cloves garlic, minced
32 ounces beef broth
Heat a large stockpot over medium-high heat and add the avocado oil.
Rub the salt and pepper into the brisket and place in the pot. Cook for about 7 minutes on each side.
Add the onion, carrots, garlic and broth to the pot. Bring to a low simmer and cover. Cook for 4 hours or until tender. Remove the brisket and allow to rest for 10 minutes.
Slice it and serve with the cooked veggies.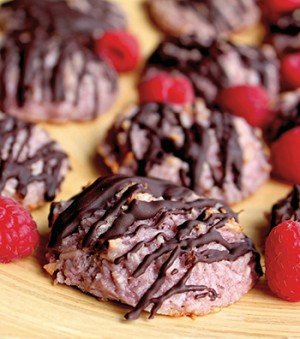 Raspberry Chocolate Macaroons
Raspberry jam and fresh raspberries put a new twist on this favorite cookie. And since the jam is sweet, you don't need to add any additional sweetener! Makes about 18 cookies.
1 (14-ounce) can full-fat coconut milk
1/4 cup raspberry jam
1/2 cup raspberries
2 egg whites
1/8 teaspoon salt
7 ounces, or about 2 3/4 cups, unsweetened coconut
For Chocolate Drizzle
3 ounces unsweetened chocolate, chopped
3 tablespoons honey
Preheat the oven to 350ºF and line two baking sheets with parchment paper.
In a medium saucepan, bring the coconut milk, raspberry jam and raspberries to a simmer over medium heat. Allow them to simmer for about 5 minutes, stirring occasionally.
In a medium bowl, beat the egg whites and the salt until medium peaks form.
Place the coconut in a large bowl, and strain the coconut milk mixture into it. Stir to combine. Gently fold in the egg whites.
Using an ice cream scoop with a lever or two spoons, drop the batter onto the cookie sheets, about 2 tablespoons (30 ml) each.
Bake for 20 minutes, or until golden brown. Allow them to cool on the pans placed over wire racks. They will firm up more when cool.
Melt about two-thirds of the chocolate in a double boiler and remove from the heat. Stir in the remaining chocolate until it's melted. Stir in the honey and set aside.
Once the macaroons are cool, drizzle with chocolate and refrigerate.