Chocolate Hazelnut Torte for Passover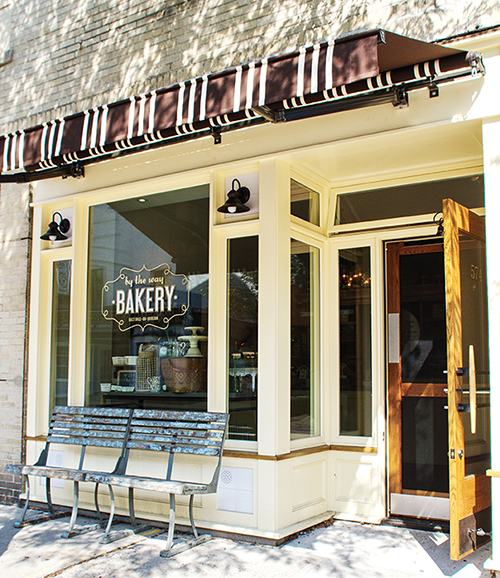 Desserts from cakes, cookies and tortes to muffins, scones and brownies, each and every one of them kosher, pareve and gluten free. Sounds gross, right? Wrong!
By the Way Bakery—with three outposts in New York and an arrangement to sell its mini cakes and cake slices at various New York-area Whole Foods—has deliciously proven that treats made without the aid of dairy and conventional flour can both look and taste amazing. Their custom-order layer cakes carry an especially strong wow factor for their glamorous, creative presentations.
For Passover, the bakery is offering an elegant Chocolate Hazelnut Torte. Bakery founder and owner Helene Godin, who doesn't suffer from celiac disease or gluten sensitivity but wanted to welcome those with the special diet to her shops, describes the holiday dessert as "rich and truffle-like."
Godin's bakery items are so good that it's only incidental, a curious side note, that they contain no gluten or dairy; that, by the way, these scrumptious treats are gluten and dairy free—oh, and kosher, too.
By the Way began life five years ago as a small shop in Hastings-on-Hudson, in Westchester County, New York. Godin has since expanded with two additional locations, both in Manhattan. She is hoping to open a fourth shop, probably in Brooklyn but perhaps in lower Manhattan or New Jersey, this year, she says. And the dynamo former lawyer-turned-baker shares that she is "building a much larger kitchen a few miles up the road from our Hastings-on-Hudson location. We'll then be expanding our regional and national distribution."
By the Way is certified gluten free and kosher pareve, but because eggs appear in most recipes, the baked goods are not vegan. However, the rugelach are egg free for those with an allergy or special diet.
Impress your Seder guests by baking By the Way's gorgeous torte. Maybe even leave it on the table all through the Haggadah reading as a prompt to hurry readers through the text and get to the good stuff?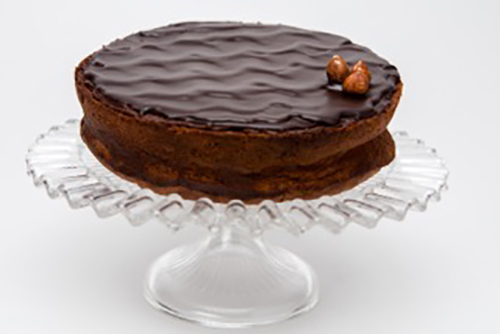 Chocolate Hazelnut Torte
Makes an 8-inch torte that serves 8-10.
4 ounces hazelnuts
3/4 cup plus 1 tablespoon sugar, divided
7 tablespoons water
1/4 cup cocoa powder
4 ounces dark chocolate, chopped
2 tablespoons vegetable shortening
4 large eggs, separated
2 1/2 teaspoons vanilla
Preheat oven to 350 degrees. Grease an 8-inch springform pan.
Place hazelnuts and 2 tablespoons of sugar in a blender and grind to an almost a fine powder (Be careful – if you grind it too much, you'll have hazelnut butter!). Set aside.
In a heavy-bottomed saucepan bring the water and the remainder of the sugar (3/4 cup) to a boil, stirring constantly over medium heat. Continue boiling and stirring until all the grains of sugar have completely dissolved and the mixture forms a simple syrup.
Remove the saucepan from the heat and stir in the cocoa powder until thoroughly combined.
Add chocolate and vanilla extract to the saucepan and stir until chocolate is melted and smooth. Set aside to cool.
In a large bowl, beat the egg yolks with an electric mixer until light and thickened, about 4 minutes.
Add the hazelnut mixture and the shortening to the egg yolks and beat until combined.
Add the cooled chocolate mixture to the hazelnut-egg mixture and combine thoroughly.
In a separate bowl, whisk the egg whites until they hold stiff peaks.
Gradually fold the egg whites into the chocolate-hazelnut-egg mixture, incorporating them gently but thoroughly (no whites should be visible).
Pour the batter into the prepared pan and bake for 30-35 minutes, until puffed and almost set but still a little gooey in the center. A wooden toothpick inserted 1" from the edge should come out clean.
Remove the pan from the oven and let cool on a rack.
When completely cool, run a thin-bladed knife around the edges of the torte. With the torte still in the pan, press the raised edges down gently, so that the edges of the torte are even with the center.
Dust with kosher for Passover powdered sugar or cover with chocolate glaze, if desired.
Kosher for Passover Powdered Sugar
1/3 cup granulated sugar
1 teaspoon potato starch
Place sugar and potato starch in a food processor and grind until it becomes a fine powder.
Chocolate Glaze (makes enough glaze for one torte)
1/4 cup cocoa powder
2 tablespoons coconut oil
1 cup kosher for Passover powdered sugar
1/4 cup hot water
Combine all ingredients until smooth. Pour over inverted torte (bottom side up), letting glaze drip down the sides. Smooth the top of the torte with a spatula to cover.