Gourmet Grains and Greens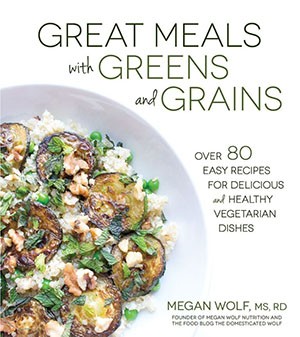 There's a natural camaraderie between vegetarian and kosher diets—especially if, as a vegetarian, you eat fish (sometimes referred to as a pescetarian). Enter Megan Wolf, a registered dietitian and nutritionist who blogs at The Domesticated Wolf, and who follows a vegetarian+fish diet. Wolf is a cheerful, encouraging advocate for a diet rich in whole grains, greens and meatless protein. Now, she's out with her first cookbook, a collection of accessible, breezy gourmet dishes that any home chef can tackle.
In Great Meals With Greens and Grains: Over 80 Easy Recipes For Delicious and Healthy Vegetarian Dishes
(Page Street), Wolf focuses her pared-down, simple style of cooking on everything from spinach, lettuce and arugula to kale and chard; quinoa, farro and wheat berries to polenta and couscous.
Perhaps because she is Jewish, perhaps because Mediterranean cuisine is inherently healthful and vegetable rich, Wolf features several recipes with an Israeli bent: Freekeh Tabouleh, Very Israeli Salad, Israeli Couscous with Mozzarella and Peppadews, Herbed Quinoa Salad with Chickpeas, Feta, and Pomegranate Seeds and Quinoa and Kale Falafel.
Think of Wolf, who lives in New York with her husband and young daughter, as your millennial guide to fun and fresh cooking, here to lighten and refresh your tired vegetables and grains and including ingredients like burrata, fava beans and naan bread. And don't miss her baked goods—Sweet Pumpkin Cornbread and Peanut Chocolate Chip Oatmeal Cookies.
Now that spring has sprung, it's the perfect time to swap out your meat entrées for Wolf's meatless Gemelli with Lemon Burrata and Escarole or Marsala Mushroom Farro Risotto. And try her Arugula Bread Salad as an opener to either meal. Enjoy!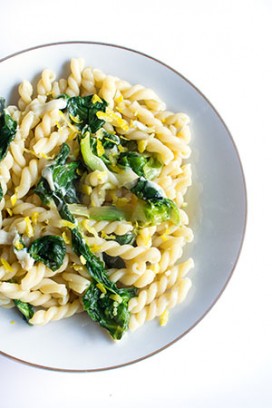 Gemelli with Lemon Burrata and Escarole
Serves 4
1 tablespoon olive oil
1 pound gemelli pasta
2 tablespoons olive oil
1 bunch escarole, roughly chopped
2 cloves garlic, minced
Zest of 2 lemons, divided
Juice of 2 lemons
8 ounces burrata or mozzarella cheese, diced
1/2 teaspoon salt (optional)
To make the pasta: Bring a large pot of salted water to a boil. Add one olive oil to the water, then add the pasta. Cook for 12 to 14 minutes for al dente pasta.
To make the sauce: In a large saucepan, heat two teaspoons olive oil over medium-low heat. Sauté the escarole until it's just wilted, about 3 minutes, then add the garlic, stir and cook for 4 minutes.
Drain the pasta and add it to the garlic and escarole in the saucepan and stir to combine. Add the lemon juice and half the zest, then the burrata, and toss gently.
Season to taste with extra salt if needed, then serve immediately with the remaining lemon zest sprinkled on top.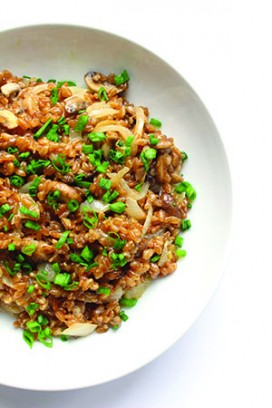 Marsala Mushroom Farro Risotto
Serves 4
1 tablespoon olive oil
4 1/2 cups sliced cremini mushroom caps, wiped with a damp paper towel
1 medium Vidalia onion, thinly sliced
2 tablespoons salted butter
1/2 cup dry Marsala wine
1/4 teaspoon salt
1 quart vegetable broth
1 tablespoon olive oil
1 1/2 cups farro, soaked in water to cover for at least 1 hour and drained
1 teaspoon chopped fresh thyme, plus more for garnish
4 tablespoon salted butter
1/2 cup shredded Parmesan cheese
1/4 teaspoon salt (optional)
1 tablespoon chopped chives, for garnish (optional)
To make the mushrooms: In a large heavy-bottomed pot, heat the olive oil over medium heat and cook the mushrooms until they are beginning to brown, about 5 minutes.
Add the onion, butter, Marsala wine and salt to the mushrooms, and stir to combine. Continue to heat the mushroom mixture until the alcohol in the Marsala wine is cooked off, about 8 minutes. Remove the mushrooms from the pot and set aside; because moisture leeches out of the mushrooms during cooking, there will still be some liquid in the pan after the alcohol has evaporated.
To make the risotto: Heat the vegetable broth in a pot over low heat until warmed through, about 5 minutes; keep warm.
Heat the same pot you cooked the mushrooms in over medium-low heat, add the olive oil, farro and thyme, and stir to coat the farro grains in the oil.
Add 1/2 cup of the warm broth to the farro, stirring constantly until absorbed. Repeat until all of the broth is incorporated into the farro, 30 to 45 minutes.
When the last portion of broth is absorbed into the farro, taste the farro to be sure it's tender. If it's not, you can add warm water a 1/4 cup at a time and continue cooking.
Return the mushroom mixture to the pot, add the butter and cook until the farro is soft and the mixture creamy, about 10 minutes. As you cook the farro, it will release its starch to thicken the broth.
Add the Parmesan cheese, stir to combine and season to taste with salt. Serve warm with extra thyme or chives as a garnish.
Vinaigrette
1 tablespoon honey mustard or whole-grain mustard
3 tablespoons balsamic vinegar1/4 cup olive oil
1/4 teaspoon salt, or more to taste
Salad
3 cups cubed stale or 2-day-old bread
2 tablespoons olive oil
1 medium red onion, thinly sliced
2 medium tomatoes, sliced and seeded
1 medium cucumber, sliced and seeded
1/2 cup chopped artichoke hearts
1/2 cup chopped roasted red peppers
3 cups arugula
1/2 cup shredded Parmesan cheese
1/4 cup chopped chives
Preheat the oven to  350o.
Make the vinaigrette: Combine the mustard and balsamic vinegar in a small bowl, then whisk in the olive oil and salt. Stir vigorously to mix.
Make the salad: Toss the cubed bread with the olive oil, spread on a baking sheet and bake for 10 to 15 minutes, or until golden brown and crispy.
While the bread bakes, assemble the vegetables, except for the arugula, in a large bowl.
Once the bread is baked, add it to the vegetables and toss with half the dressing. Add the arugula and the rest of the dressing, then toss well to combine. Top with the Parmesan cheese and chives and serve immediately.
Tips: This salad will keep in the fridge, but I think the taste and texture are best when served fresh. The vegetables and bread will begin to wilt and soften with time. If you're looking for even more richness, sliced avocado would be delicious. If you don't have stale bread at home, most bakeries or grocery stores will sell it at a discount.