Salmon for a Spring Supper
Besides roast chicken, it's hard to imagine a more Jewish protein than salmon. Whether broiled, grilled, canned or brined into lox—a word that actually means salmon in Yiddish—the beautifully hued omega-3-rich fish is inextricably linked to the food cultures of American Jews.
But do your classic salmon preparations need an update? Tired of maple-glazed, dill-poached, salmon-salad standards? Jewish cookbook author Diane Morgan, author of the encyclopedic Roots: The Definitive Compendium with More Than 225 Recipes
 (Chronicle Books), is out with a gorgeously photographed selection of salmon recipes that go far beyond the usual. In Salmon: Everything You Need to Know + 45 Recipes
 (Chronicle Books), Morgan shares delectable dishes from Salmon Carpaccio with Celery Root Slaw, Brown-Butter Seared Salmon with Smashed New Potatoes and Salmon Stir-Fry with Snow Peas and Shiitake Mushrooms to various types of salmon grilled on wood planks and even fish for breakfast—Salmon Hash with Yukon Gold Potatoes and Poached Eggs and Smoked Salmon on Tapenade Mayonnaise-Smeared Bread.
Craving a foodie reimagining of a familiar Jewish staple? Morgan has created Pastrami Salmon and Salmon Pickled in the Style of Herring (plus two progressive versions of gravlax).
Here, I'm sharing three fairly easy and straightforward dishes, each delicious and well suited to springtime cooking: Shanghai-Style Poached Salmon, Panko-Crusted Salmon Cakes with Jicama Orange Slaw and Farfalle Pasta with Salmon, Lemon, and Greens. With Shavuot just around the corner on June 11, test out these recipes now for your dairy-and-fish festivities.
Shanghai-Style Poached Salmon
Serves 4
4 salmon fillets, about 6 ounces each, skin and pin bones removed
1/2 cup soy sauce
1/4 cup distilled white vinegar
1/4 cup sugar
4 green onions, including green tops, cut into 1-inch lengths
4 thin slices fresh ginger, peeled and julienned
3 cups water
3 green onions, including green tops, cut into 1-inch lengths
5 thin slices fresh ginger, peeled
Remove the salmon from the refrigerator 30 minutes before cooking to bring it to room temperature.
Make the sauce: In a small bowl, stir together the soy sauce, vinegar, and sugar until the sugar is dissolved. Stir in the 4 green onions and julienned ginger. Set aside.
In a sauté pan just large enough to hold the salmon fillets in a single layer, combine the water, 3 green onions, and sliced ginger. Bring to a boil over medium heat, turn the heat to medium-low, and simmer for 5 minutes. Using a spatula, carefully slip the salmon into the pan. (The salmon should be completely submerged in the poaching liquid. If it isn't, add a bit more water.) Cover the pan and poach the salmon for 5 minutes.
Again using the spatula, lift the salmon to a plate. Carefully drain off almost all the poaching liquid from the pan, leaving only 1/4 cup in the pan. Remove and discard the green onions and ginger from the pan. Return the pan to medium-low heat and add the vinegar sauce. Bring to a simmer, stirring occasionally. Slip the salmon back into the pan and baste with the sauce. Continue to braise the salmon, basting frequently, until almost opaque throughout, or an instant-read thermometer inserted into the center registers 125°F or a little above, about 8 minutes. The sauce will have reduced and thickened a little.
Transfer the salmon to warmed dinner plates or shallow pasta bowls. Spoon the sauce around the fillets, dividing it evenly. Serve immediately with steamed jasmine rice, spooning some of the sauce over the rice.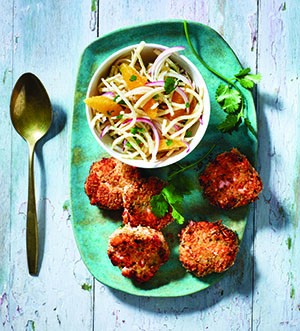 Panko-Crusted Salmon Cakes with Jicama Orange Slaw
Makes 12 salmon cakes; serves 12 as an appetizer or 6 as a main course
One 12-ounce salmon fillet, skin and pin bones removed
2 teaspoons extra-virgin olive oil
Fine sea salt
Freshly ground black pepper
4 tablespoons unsalted butter
1 tablespoon peeled and minced fresh ginger
1/2 cup finely diced white onion
1/2 cup finely diced celery
1/2 cup finely diced red bell pepper
1/2 cup mayonnaise
1 tablespoon fresh lemon juice
1/4 teaspoon cayenne pepper
1 teaspon minced fresh thyme
2 teaspoons snipped fresh chives
2 tablespoons minced fresh flat-leaf parsley
Jicama Orange Slaw
One 12-ounce jicama, peeled and cut into matchsticks 2-inces long and 1/4-inch thick
1/2 small red onion, halved lengthwise and cut into thin wedges
3 satsuma oranges, peeled, white pith removed, and sectioned
1/3 cup chopped fresh cilantro
3 tablespoons extra-virgin olive oil
Juice of 1 lime
1 teaspoon Dijon mustard
3/4 teaspoon ground cumin
3/4 teaspoon fine sea salt
1/2 teaspoon sugar
Freshly ground black pepper
1 1/2 cups panko (Japanese bread crumbs)
2 tablespoons grapeseed or other neutral oil
Position a rack in the center of the oven and preheat the oven to 250°F.
Place the salmon in a shallow baking dish just large enough to hold it. Rub it all over with the olive oil and season lightly with salt and black pepper.
Bake the salmon until the fat between the layers turns opaque, almost white, and the fish flakes slightly when pierced with a knife, about 20 minutes. Alternatively, insert an instant-read thermometer into the thickest part of the salmon; when it reg­isters about 125°F, the fish is done. Set aside to cool.
Meanwhile, in a nonstick frying pan or sauté pan, melt 2 tablespoons of the butter over medium heat and swirl to coat the bottom of the pan. Add the ginger, white onion, celery, and bell pepper and sauté, stirring frequently, until the vegetables are soft but not brown, about 4 minutes. Add 1/2 teaspoon salt and a few grinds of black pepper. Set aside to cool.
In a medium bowl, combine the mayonnaise, lemon juice, cayenne, thyme, chives, and parsley and mix well. Using a fork, flake the salmon into small pieces and add it to the mayonnaise mixture. Add the cooled vegetables and, using a rubber spatula, gently mix the ingredients, being careful not to mash the salmon.
Form the salmon mixture into 12 cakes, each about 1 3/4 inch in diameter and 1/2-inch thick. Place the salmon cakes on a rimmed baking sheet, cover, and refrigerate for at least 40 minutes, or up to 8 hours.
Now Make the Slaw: In a large bowl, combine the jicama, red onion, oranges, and cilantro and toss to mix well. In a small bowl, combine the olive oil, lime juice, mustard, cumin, salt, sugar, and a few grinds of black pepper and stir vigorously to form a dressing. Taste and adjust the seasoning. Pour the dressing over the slaw and toss to mix well. Cover and refrig­erate for up to 1 day. Remove from the refrigerator 30 minutes before serving. Toss again just before serving.
Spread the panko on a dinner plate. One at a time, roll the salmon cakes in the panko, coating evenly on all sides, then set aside on a plate. In a large sauté pan, preferably cast iron, heat the remaining 2 tablespoons butter and the grapeseed oil over medium-high heat and swirl to coat the bottom of the pan. Working in batches to avoid crowding, brown the salmon cakes on one side, about 3 minutes. Flip them and brown the second side, about 3 minutes longer. Transfer to a plate and keep warm. Repeat with the remaining cakes. Serve the salmon cakes warm, accompanied with the slaw.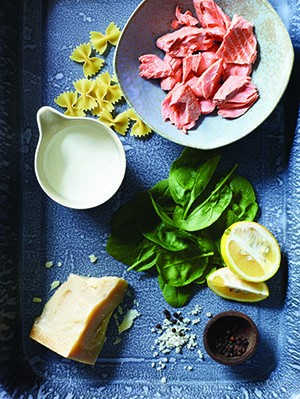 Farfalle Pasta with Salmon, Lemon, and Greens
Serves 4 to 6
Fine sea salt
1 pound farfalle (bow-tie pasta)
1 1/2 cups heavy whipping cream
1 garlic clove, lightly smashed
12 ounces baby spinach, large stems removed
Grated zest of 1 lemon, plus 1/4 cup fresh lemon juice
Freshly ground black pepper
8 ounces cooked salmon fillet, skin removed
Freshly grated Parmesan cheese, preferably Parmigiano-Reggiano, for serving
Fill a large stockpot two-thirds full of water, add 1 tablespoon salt, and bring to a boil over high heat. Add the pasta and stir. Cook the pasta until al dente, 11 to 12 minutes or according to package directions.
While the pasta is cooking, pour the cream into a large sauté pan and drop in the garlic. Bring to a boil over medium heat and simmer for 5 minutes. Remove the garlic. Add the spinach, a handful at a time, and stir just until it wilts, about 1 minute. Add the lemon zest, lemon juice, 1 teaspoon salt, and a few grinds of pepper. Stir to combine and then gently stir in the salmon. Cook just until heated through. Set aside and keep warm.
When the pasta is ready, drain it in a colander, reserving 1/2 cup of the cooking water. Place the pan with the cream mixture over medium heat. Add the pasta to the pan and toss to combine. Add just enough of the reserved pasta water, a little at a time, as needed to moisten. When heated through, remove from the heat.
Divide the pasta among warmed shallow pasta bowls and shower with Parmesan cheese. Serve immediately.
All recipes from Salmon
 by Diane Morgan, photographs by Leigh Beisch (Chronicle Books, 2016).