Time After Time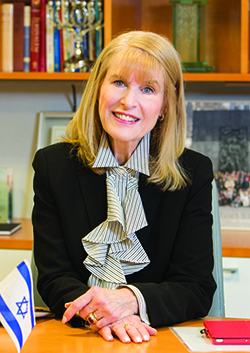 Intense experiences can have a surreal impact on our sense of time. How many of us remember an enormous gap between September 10 and September 12, 2001? After a daylong battle, soldiers often observe that the hours before and after seem years apart. Likewise, people who have been through euphoric moments, like witnessing President Anwar el-Sadat's historic first visit to Jerusalem, or watching the operation that brought 15,000 Ethiopian Jews to Israel in 1991, report a telescopic sense of time, the passage of an age in the space of a day.
These kinds of experiences inform our sense of past, present and future, which is why our calendar consists not only of squares that mark days, months and years that will never come again, but also points of celebration and remembrance that are always with us. And the seven weeks between Passover and Shavuot—the bookend holidays that commemorate the Exodus from Egypt and receiving the Ten Commandments at Sinai—seem to encompass all of Jewish history.
Within these past weeks we have observed Yom HaShoah (Holocaust Remembrance Day), Yom HaZikaron (Israel's Memorial Day) and Yom Ha'atzmaut (Israel's Independence Day), which ended 2,000 years of Jewish exile. The positioning of all these holidays signifies the transition from slavery to nationhood; darkness to light; sadness and remembrance of those who gave their lives to moving forward; and strengthening ourselves as a people and a nation.
There is more tucked into these few spaces on the calendar. We also celebrate V-E Day—the World War II Allied victory against Nazi Germany. My father's Army division was one of the units that liberated Mauthausen concentration camp in Austria three days before the war ended. What he witnessed is seared into my memory and identity; no one has to remind me what victory meant for the Jews of Europe.
Still before us—just a week in advance of Shavuot—is Yom Yerushalayim, which celebrates the reunification of Jerusalem in 1967. In our hearts, the city of David and Solomon is the eternal capital of the Jewish people. We are determined to keep it the eternal, undivided capital of the sovereign State of Israel as well.
I can't talk about the special days during this seven-week period without mentioning Mother's Day. More than 70 countries, including the United States, honor their mothers on the second Sunday in May. Israel does not, and therein resides a Hadassah story.
In the early 1950s, Israel decided to celebrate Mother's Day on the 30th of Shvat (which falls in late January or early February) on the Hebrew calendar. The date chosen is the anniversary of Henrietta Szold's death. Though Hadassah's founder had no biological children, she was regarded as the Mother of Israel for her leadership of Youth Aliyah, which rescued thousands of Jewish children from Nazi-dominated Europe. The holiday has since evolved into Family Day and is still observed on Szold's yahrtzeit. Those who save our children preserve the Jewish people as a family.
We live, day to day, between the parallel announcements of the news headlines and the fixed calendar. Both remind us that we have many challenges, losses and victories behind us—and, most likely, ahead of us. Indeed, the calendar keeps us optimistic, always putting despair into a larger context of hope and possibility in the days and years to come. Much has propelled us through history; nothing has destroyed us.
Of course we would like to see the end of terrorism, in Israel and around the world. Of course we would like to see the end of racism, anti-Semitism and efforts to marginalize people because of their otherness. Of course we would like to see peace between all nations, not least between Israel and her neighbors. The calendar counsels one step at a time. And the weeks between Passover and Shavuot remind us that sometimes the steps are big.