Gil Hovav, Israel's Leading Foodie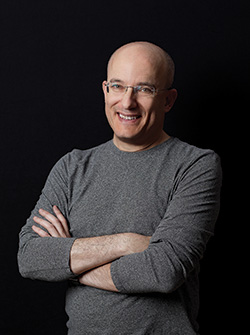 If you've been to Israel in the past couple of years, you already know Gil Hovav. That is his voice over the loudspeaker welcoming you to Ben-Gurion International Airport and wishing you a pleasant stay.
Recognizable voices run in the family. People often approach Hovav, one of Israel's preeminent food experts who is familiar from his popular television shows, on the streets of Tel Aviv and recite the Shema Yisrael prayer to him in a deep baritone.
If you didn't know better, you would think they regarded him as some sort of a god. But, in fact, they're conjuring the voice of his late father, Moshe Hovav, chief news announcer and head of radio at the Israel Broadcasting Authority. His dulcet tones saturated Israeli radio waves for decades and his recitation of the Shema prayer still greets listeners every morning.
There are also those who feel compelled to share a family recipe with Gil Hovav, 54, who has spent the better part of his career as a journalist, critic and essayist documenting and celebrating the many ethnic culinary traditions that make Israel one of the world's most diverse food cultures. Hovav always shakes hands, listens intently, sometimes takes notes and has even been known to offer his home phone number to elderly Moroccan ladies who want to share their secrets for the best meatballs but can't be bothered with the Internet.
It is this populist strain that has endeared Israelis to Hovav, who comes from a storied and prestigious family. Aside from his Yemenite father and Ashkenazic mother, Drora Hovav—who led radio stations Reshet Bet and Reshet Gimel—his lineage includes pioneering prestate journalist Itamar Ben-Avi, his grandfather, and his great-grandfather Eliezer Ben-Yehuda, an early Zionist who almost singlehandedly created the modern Hebrew language. No doubt this heritage helps explain Hovav's reputation as a writer who can transform even the humblest of subjects into an elegant read.
"In my family, we measure the quality of a town by how long their Ben-Yehuda Street is," joked Hovav, who travels the world speaking to Jewish communities about Israeli food or telling stories about his eccentric family, a subject he has explored in depth via three best-selling memoirs (including recipes) that Hovav hopes to have translated into English in the coming years.
When it comes to Israeli food, Hovav is a bit of a controversial figure. For starters, there's his disdain for fish: "I grew up in Jerusalem in the 1960s, where seafood wasn't fresh," said Hovav, who never developed a taste for it but will cook it for his husband, Dani Halpern, and their 12-year-old daughter, Nomi.
He also ruffles feathers with his insistence that the New Israeli Cuisine popularized by the likes of chef Yotam Ottolenghi is more of a marketing construct than a food movement.
"Dishes like chicken with anise, tangerines, pistachios and mint are not Israeli food," said Hovav, who views the reimagining of Israeli cuisine as a hazy Mediterranean fever dream garnished with fresh herbs. In other words, inauthentic.
To Hovav, the dishes most worth celebrating and preserving are those made by the Israeli immigrants who make the country a culinary melting pot: Yemenite soups, Libyan salads, Uzbeki rice dishes, Persian meatballs.
Though he still makes television appearances—his most popular food shows have been Shum, Pilpel v'Shemen Zayit (garlic, pepper and olive oil) and Ossim Shuk (going to market)—Hovav has settled into his role as a passionate advocate for home cooking. On his Hebrew-language website, Foodspy.co.il, tens of thousands of Israelis follow along to his recipes. One recent post described Zhurek, a sour bread soup he learned how to make in Poland. Hovav's accompanying photos are appealing and homey, inspiring confidence among his followers and keeping the focus on the recipes and the stories behind them.
The recipes that follow—for a spicy carrot salad, a simple tomato salad composed without oil and an herb-and-potato omelet—come from Hovav's single English-language cookbook to date, Confessions of a Kitchen Rebbetzin (Modan). The book was written in the voice of his alter ego, Ashkenazic grandmother Rebbetzin G.H. Halpern, who has a sassy tongue and a comprehensive knowledge of ethnic Israeli cuisine.
The omelet, a Yemenite dish, makes a great brunch dish served alongside the salad; a perfect sandwich with lettuce and tomato; or—my favorite—eaten cold right out of the fridge.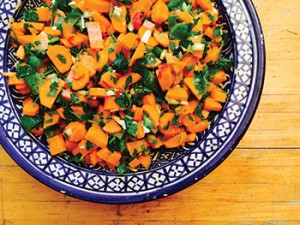 Spicy Israeli Carrot Salad
Serves 4-6
2 lemons, scrubbed and dried
6 large carrots, peeled
1 jalapeno, thinly sliced (seeded if desired)
1 cup chopped cilantro
3 scallions, chopped
5 garlic cloves, chopped
Coarse salt
Black pepper
Juice both lemons into a big bowl, then finely chop one lemon and add it to the juice. Using the slicing disc, slice all of the carrots in a food processor (or by hand). Add to bowl along with the cilantro, scallions, garlic, salt and pepper to taste and toss to coat.
No-Oil Tomato Salad
Serves 4-6
3 cups cherry tomatoes
4 garlic cloves, finely minced
1 red onion, finely chopped
1 jalapeño, finely chopped
1/2 cup chopped cilantro
1 TB kosher salt
1/4 cup balsamic vinegar
Combine everything in a large bowl and let stand for 15 minutes before serving.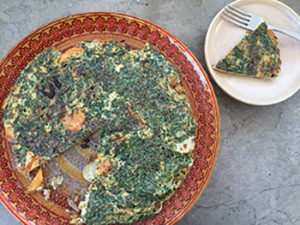 Idjeh (herb-and-potato omelet)
Serves 6
1/2 cup olive oil or vegetable oil
1 large onion, finely chopped
1 small (4 ounce) sweet potato
1 small (4 ounce) white potato
1 tsp kosher salt
1/4 tsp finely ground black pepper
4 large eggs, beaten
1 cup finely chopped mixed herbs, such as parsley, dill, cilantro, chives
1. In a 10-inch nonstick skillet, heat oil over medium heat. Add onions and cook, stirring occasionally, until golden, 10-11 minutes. During the last 5 minutes of cooking, peel both potatoes then thinly slice them, by hand or on a mandolin, or dice them if you prefer. Add potatoes to the onions along with the salt and pepper and cook, stirring occasionally, until potatoes begin to soften, 3-4 minutes.
2. In medium bowl, whisk the eggs with the herbs and add to the skillet, shaking initially to distribute the eggs but then resisting the urge to stir. Cook until a solid omelet forms, 8-9 minutes, covering for a couple of minutes at the end if you like to speed up the process.
3. Loosen the omelet with an offset spatula or knife and carefully slide (don't flip!) the omelet uncooked side up onto a round plate that you've checked to make sure is larger than the circumference of the skillet. Place the skillet on top of the omelet. Using oven mitts, flip the plate so the uncooked side is now face down in the skillet. Cook until the underside is golden, 4-5 minutes. Slide onto a serving platter and serve warm or at room temperature.