Series Finale: Kosher by Design Brings It Home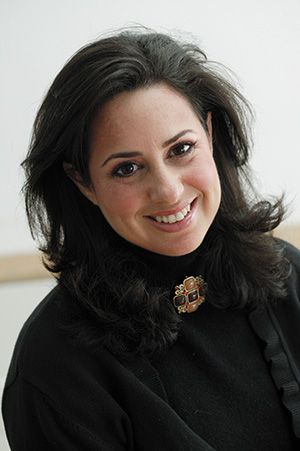 Since 2003, one name has been synonymous with kosher home cooking in America, and that name is Susie Fishbein.
When the New Jersey-based chef came out with Kosher by Design (ArtScroll) 13 years ago, she had no inkling that she was creating an empire that would expand to include nine internationally best-selling cookbooks that have sold close to half a million copies. When I asked Fishbein in a recent interview if she suspected she was onto something big all those years ago, she quickly answered, "Honestly, no, although a girl can dream. Sometimes, with hard work and luck, dreams come true."
Fishbein's dream certainly did. In addition to the books, she has gone on to present kosher cooking on The Today Show and Martha Stewart Radio and has become a leading cooking instructor at venues as diverse as the De Gustibus Cooking School in New York, kosher cruises and the International Food and Wine Festival event held at Epcot Center in Orlando. Now, after years of leading culinary tours to iconic gourmet destinations around the globe, Fishbein is launching Susie Fishbein and Friends Culinary Center for NJY Camps at a new, state-of-the-art facility.
"Kosher by Design came onto the scene at the right time, when the audience was ripe and thirsting for content," Fishbein said. "I couldn't write the books quickly enough. I would finish a book, take a day off and start the next."
But, she acknowledged, "trends have changed, bookstores have closed. Many people, including myself, get a lot of our recipes and information online. Always wanting to stay a step ahead of the curve, I feel like this is the right time to end this particular series—on a high, as it deserves."
Fishbein's final installment focuses on her culinary travels. Kosher By Design Brings It Home
 features 100-plus recipes gathered from and inspired by her journeys to Italy, France, Mexico, Israel and all across North America.
Recipes to look for include Beresheet Spa Corn Soup—from the luxury spa hotel, Beresheet, which overlooks the Ramon Crater in Mitzpe Ramon, Israel; the Tuscan picnic dish Lentil and Tuna Salad and Warm French Potato Salad, which began life as an Ina Garten recipe before it was tweaked by Fishbein's good friend, Chedva Hubsher.
Also be on the lookout for Fishbein's multiple Asian dishes, especially Korean Short Ribs. She gives foodie takes on a few Jewish classics, like Slow Roasted-Honey Spiced Chicken, and blesses us with Ancie's Kugel, a skillet potato kugel with a crust that "becomes a crisp, deep brown and encases a soft, velvety, white interior almost like a creamy latke." And you'll go (hazel)nuts for the truly sinful Nutella Peanut Butter Cheesecake.
My sweet tooth got the better of me when digging into Kosher by Design Brings It Home, so I'm sharing three especially scrumptious desserts: New Fishbein Brownies, adapted from her mother-in-law's family favorite; Strawberry Mascarpone Bread Pudding, which uses challah as a base and is inspired by the world-renowned strawberries Fishbein found in the markets of Carpentras, France, a Provençal town with a celebrated Jewish past; and Lemon Tiramisu, the chef's ode to Limoncello, the "sunshine in a bottle" made from Amalfi Coast lemons.
New Fishbein Brownies
Serves 12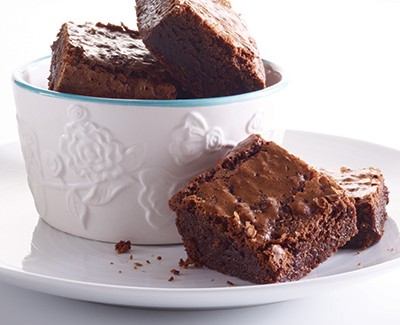 8 ounces best-quality semisweet chocolate, broken into chunks
1 teaspoon espresso powder or instant coffee granules
2 sticks unsalted butter or margarine
1 1/3 cups all-purpose flour
1 teaspoon baking powder
1 1/2 tablespoons Dutch process cocoa powder
3/4 teaspoon fine sea salt
1 3/4 cups sugar
4 large eggs, at room temperature
2 teaspoons pure vanilla extract
Preheat the oven to 350. Coat a 7 x 11-inch brownie pan with nonstick cooking spray. Lay 2 strips of parchment paper into the pan to make a plus sign with 2 inches of overhang. Coat the parchment with cooking spray as well. This will allow you to remove the brownies from the pan to cut them neatly. Set aside.
Melt the chocolate and espresso powder with the butter in a microwave-safe bowl using 30-second increments, stirring after each until smooth. This can also be done in a double boiler over a pot of simmering water. Set aside to cool for 5 minutes.
In a medium bowl, whisk together flour, baking powder, cocoa and fine sea salt.
In a second bowl, whisk together sugar, eggs and vanilla until they are a pale yellow. Slowly whisk in the melted chocolate. Whisk until thick and glossy. Stir in the flour mixture. Use a wooden spoon or silicon spatula to mix until smooth. Transfer to prepared pan.
For truly fudgy brownies, bake for 30 minutes. The top will be shiny. No need to stick a skewer in; the brownies will be too gooey to test. Immediately transfer from the oven to the refrigerator. If you like cakier brownies, bake for 45 minutes. Allow to cool completely before serving.
Strawberry Mascarpone Bread Pudding
Serves 10-12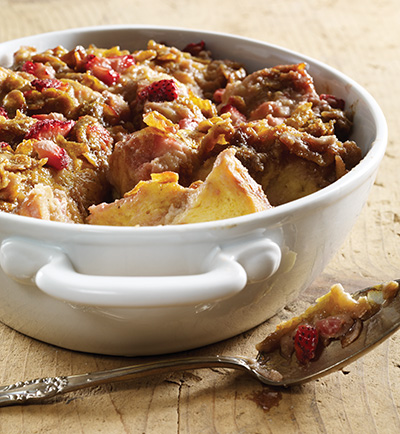 12 ounces mascarpone cheese
3/4 cup strawberry jam
1 – 1 1/2 (15-18 ounces) store-bought egg challahs, crusts trimmed as best you can
6 large eggs
3/4 cup half & half
1/4 teaspoon freshly ground black pepper
1 cup whole cornflake cereal
4 tablespoons unsalted butter
1/4 cup dark brown sugar
3-4 fresh strawberries, chopped
Preheat the oven to 350. Spray an 8 x 11-inch oval oven-to-table pan with nonstick cooking spray. Set aside.
In a medium bowl, stir the mascarpone with the jam until just blended.
Cut the trimmed challah in half lengthwise. Cut a pocket the entire length of the challah half, making sure not to cut all the way through. Fill each half with half of the strawberry mascarpone. Cut each half into large cubes or chunks. Place into the prepared pan, making 2 layers, stuffing in chunks to fill any gaps.
In a medium bowl, whisk the eggs, half & half and pepper. Slowly drizzle over the challah in the pan, allowing egg mixture to soak into the bread, stopping every few seconds to compact the bread with your palms and help it absorb the egg.
Place the cornflakes into a small bowl. In a small skillet, melt the butter and brown sugar, stirring frequently. When mixture is smooth, pour it over the cornflakes. Use a wooden spoon to toss together; be careful, it will be hot. Sprinkle over the top of the soufflé. Toss the chopped strawberries on top. Cover with foil. Bake, covered, for 30 minutes. Uncover and bake 20 minutes.
6 tablespoons unsalted butter or margarine
1 cup sugar plus 2 tablespoons, divided
2 large eggs plus 2 egg yolks
2/3 cup lemon juice, from 4-5 lemons
2 teaspoons lemon zest, divided
2 cups heavy whipping cream or nondairy whipped topping
2 (3-ounce) packages soft sponge or hard ladyfingers (24 per package)
Limoncello
Line a plastic or glass rectangular or square container with plastic wrap, leaving enough overhang to completely enclose the lemon curd. Set aside.
In a stand mixer with the paddle attachment, beat the butter and 1 cup sugar for 2 minutes. Slowly add the eggs and yolks, beating for 1 minute. With the machine running, slowly pour in the lemon juice; it is O.K. if it doesn't look smooth. Transfer to a pot.
Cook the lemon mixture over low heat for 15 minutes, whisking gently almost the whole time. It will thicken, but don't allow it to boil or get brown on the bottom of the pot; gentle bubbles are OK. The lemon curd will become smooth, thicker and darker in color. Stir in 1 teaspoon lemon zest. Pour the lemon curd into the prepared container, folding the sides of the plastic wrap to cover the lemon curd in order to keep a skin from forming. Seal the container; place in refrigerator to cool completely.
When lemon curd is cold, whip the whipping cream to firm peaks.
Place the ladyfingers on your cutting board; drizzle lightly with the Limoncello.
Place a layer of ladyfingers into a glass or ceramic pan. Spread a thin layer of the lemon curd over the ladyfingers. Top with a layer of cream. Repeat twice more.
Place remaining teaspoon of lemon zest and remaining 2 tablespoons of sugar into a medium bowl. Rub the sugar and zest together between your palms to combine. Sprinkle over tiramisu. You can substitute culinary lavender rubbed together with sugar for a similar garnish.