True Colors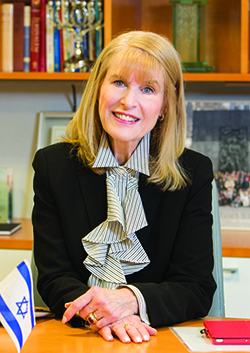 The aim of Zionism was to create a state in which the Jewish people could be free and self-reliant. Despite all the obstacles Israel has overcome in nearly 70 years of independence and the challenges it still faces, the nation has been a spectacular success. It ended our exile, restored sovereignty, revived our ancient language and sparked a Jewish renaissance not only in Israel itself but also in the diaspora.
But the missing piece in Israel's success is that while becoming a free and thriving nation it has not become an equal one. Though there was a honeymoon with much of the world for its first generation—the Phoenix that rose from the ashes of the Holocaust, the plucky little nation that made the desert bloom and defeated enemies many times its size—those days are behind us. Other than the wonderful support it receives from the United States, Israel is largely diplomatically isolated.
This isolation is most painful when it comes to terrorism. The hate that has been aimed at Israel for decades has metastasized and spread to every corner of the globe. When terrorists strike in France, Turkey, Belgium, Bangladesh or the United States, the world expresses its solidarity and sympathy. How many times have we seen world landmarks from the Eiffel Tower to the Sydney Opera House lit in the flag colors of the nation most recently targeted? Many of us have joined in putting the same flags on our Facebook pages. These gestures may not help prevent the next attack, but they are healing gestures that express our common humanity and solidarity.
But when an attack takes place in the Jewish state, there is often a deafening silence from the world, an effort to conflate the killing of Israeli civilians with a broader "cycle of violence" or, at worst, a pivot to suggest that Israel bears responsibility—textbook examples of blaming the victim.
The double standard is reflected in news reporting. A typical headline in recent days (from the Los Angeles Times) said, "At Least 41 Killed in Suicide Attack at Istanbul Airport." Last December, the same newspaper failed to note that two of the Palestinians referred to in the following headline—"Four Palestinian Teens Killed in Israeli Violence"—died as they carried out stabbing attacks against Israelis and that the other two died in a violent demonstration on the Gaza-Israel border.
Since October 2015, 35 Israelis have been murdered in a series of premeditated attacks, with an additional 275 injured. Israelis today are on constant alert as they conduct their daily lives—working, going to school, shopping, waiting for a bus, walking down the street or sleeping in their beds. Parents have been murdered in front of their children. Victims have included pregnant women, teenagers and toddlers.
Just as Israel is often deemed uniquely qualified for criticism over exercising self-defense, it also appears to be singularly unworthy of sympathy in the face of terror attacks. But no person or nation's position against terror can stand scrutiny if it excludes one country—explicitly or by omission.
The cruel irony is that many countries have been able to improve security—from airport screening to intelligence gathering to the functioning of hospital trauma centers—by relying on Israeli experience and expertise.
I make these observations as someone who has seen the carnage of terrorism firsthand. Our medical center in Jerusalem—renowned for treating all patients alike—has treated more than 170 victims, as well as many of the perpetrators, during the recent wave of brutal attacks. If we can practice nondiscrimination toward people who seek to do us harm, the world can act the same way to support people in harm's way.
Like any nation, Israel must be able to defend itself, even if it runs the risk of losing sympathy. My most basic wish is not to see more Israeli colors on Facebook pages or the face of the Eiffel Tower in response to terror attacks, but to see a world in which there is no need to put up anyone's colors.