A Behind-the-Scenes Look at 'Denial'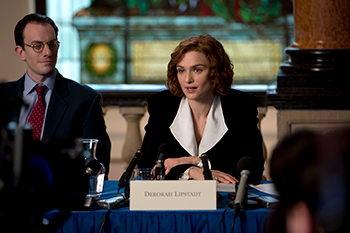 There is a touchstone moment in the new film Denial that poignantly captures the emotional toll that the Holocaust continues to demand from Jews. The British actress Rachel Weisz, playing real-life American Holocaust scholar and writer Deborah Lipstadt, is part of a group touring Auschwitz–Birkenau to help prepare a defense for a lawsuit.
As Weisz walks the stark, hallowed grounds, the tension and anguish she feels become real for the viewer. Finally, unable to bear the vestiges of horror all around her, she excuses herself and steps out of a delousing chamber into fresh air. Her emotions etched on her face, she enters a clearing and begins to recite El Maleh Rachamim, the Jewish prayer for the dead.
It is a profound scene in the tense and well-acted drama, helmed by British-Jewish director Mick Jackson and recently released in theaters across the United States. Weisz's voice rings out with cantorial passion, and when she's joined in prayer by Mark Gatiss, the British actor playing camp expert Robert Jan Van Pelt, their fervor and pain are palpable.
Denial is based on a true story: In 1996, Lipstadt was sued by David Irving, a British author and historian who claims the Holocaust never happened. Labeled a denier by Lipstadt in her 1993 book, Denying the Holocaust: The Growing Assault on Truth and Memory, Irving retaliated with legal action. One would think her case, coming 50 years after World War II, would have been a slam dunk. But Irving brought suit in England, where libel laws are different than in the United States. In an American court, Irving would have to prove that he was lied about. In England, the onus is on the defendant to show that he or she did not lie.
The film—based on Lipstadt's retelling of the case, History on Trial: My Day in Court with a Holocaust Denier—is a taut, exciting courtroom drama, but it is scenes like the one filmed at Auschwitz and the passion of the actors that raise it far above the average based-on-actual-events movie.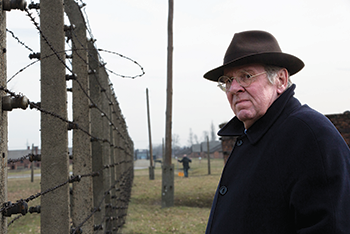 Weisz, 46, has appeared in dozens of films, from The Fountain, directed by her former fiancé, Darren Aronofsky, to The Bourne Legacy. In 2006, she won both an Academy Award and Golden Globe for her supporting role as Tessa Abbott-Quayle in The Constant Gardener.
But it was experiences like filming in Auschwitz that made this role special, she said in a telephone interview. "I'll tell you what made it more than another job—when I went to Auschwitz," Weisz said. "I had not been before. I don't know if anyone can come away from that experience unaffected."
The actress has a personal connection to the Holocaust: Her maternal grandfather, Alexander Teich, and his family fled their native Vienna post-Anschluss in 1938. "They had to pretend they were going on a holiday in England," Weisz said.
Lipstadt linked the significance of that family history to the British actress's work in Denial. "Weisz brought to the film an intangible personal connection," the historian said during a telephone interview. "Fifteen years ago, when my book was first optioned, I'd joke with friends. We had a whole list of people to play me: Meryl Steep, Helen Mirren and Julia Roberts. Rachel Weisz didn't come up until later, but I'm so glad it turned out to be her."
"It's my heritage," Weisz explained when discussing her family and her Jewishness. "It's very much a part of my cultural identity."
Weisz was raised in a suburb of London in a Jewish household she called "very liberal," which in England means similar to Reform. Even though her maternal grandfather was Jewish, her mother, Edith, was raised Roman Catholic and converted to Judaism when she married Rachel's father, George Weisz, a refugee from Hungary.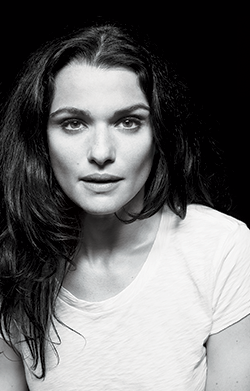 "My dad comes from Eastern Europe and is very intellectual," Weisz said. "He went to yeshiva—his mind is very talmudic. I would say what my Jewishness means to me—in terms of my heritage—is a few thousand years of asking a lot of questions. If I asked my father a question, he would ask me a lot of questions. Putting things under a great deal of scrutiny; that's what it means."
According to Lipstadt, who served as a consultant on the film and made several trips to the set, Weisz took great care in her preparation for the role—which included posing dozens of questions. "She wanted to understand the story, to get to know me," recalled Lipstadt, the Dorot professor of Modern Jewish History and Holocaust Studies at Emory University in Atlanta. "We started with a few intense days at her home in New York City together, discussing the story, reviewing the script. And she asked me all kinds of questions that had nothing to do with the movie. She wanted to get my actions right—and I couldn't be more pleased."
For Weisz, the personal connection was also gratifying. "Deborah is great to spend time with," she said. "I'm a British Jew, so culturally my Britishness is what's in the foreground. Her Jewishness is a part of her identity. That was kind of fascinating to me."
But, Weisz added, "I wasn't seeking advice" about how to become the historian. "It isn't a documentary and it wasn't an imitation of her." She sees it as "a piece of art written by a great playwright"—Academy Award-nominated David Hare—"that tells a story with huge ramifications today."
On the surface, Irving's suit seemed unwinnable. Still, there was some pressure on Lipstadt to settle. "We thought Penguin"—Lipstadt's publisher and a co-defendant—"was pressured by its insurance company, but I made it very clear that I would not settle," she stated emphatically.
Van Pelt's expert testimony at the trial and 770-page-long report submitted to the court was, according to news accounts of the case, instrumental in Lipstadt's ultimate victory. Speaking via Skype from San Sebastian, Spain, where he was preparing the exhibit "Auschwitz: Not Far Away, Not Long Ago" for a show at Madrid's Centro Exposiciones Arte Canal, Van Pelt made it clear that he had agreed with Lipstadt's decision to proceed to trial. "I realized that it would be a necessary battle," he said.
The Dutch-born professor's life story might make its own interesting movie. Van Pelt didn't learn he was Jewish until age 11. He came home from school one afternoon during the Six-Day War in 1967 and found his mother crying. Hidden during World War II and still suffering from severe trauma more than 20 years later, she had kept her and her son's Jewishness a secret. Her tears finally revealed the truth.
Van Pelt studied the history of architecture, which he teaches at the University of Waterloo in Ontario, Canada; his doctorate was on the "Cosmic Speculation of King Solomon's Temple." Asked now if any other site rivaled the Temple in Jerusalem in importance, he responded, "Yes, Auschwitz." The death camp, he argued, forces us to consider what it means to be civilized, what it means to be human. In fact, Van Pelt is one of the pre-eminent scholars on the architecture of concentration camps. In 1996, he and co-writer Debórah Dwork won a National Jewish Book Award for Auschwitz: 1270 to the Present.
Yet, he noted sadly, disbelief is as widespread today as it has ever been. "Holocaust denial has now become an aspect of a general tendency to deny facts," he lamented.
Weisz echoed those sentiments. "This is very important to talk about in the climate at the moment," she said. "It's not about the Holocaust. It's about freedom of speech and lies. As Deborah says, 'You can have your own opinions, but you can't have your own facts.' "
That type of critical thinking was encouraged and taught early on to Weisz and her sister, Minnie. Her father was an inventor of medical devices and her mom was a psychotherapist.
By the time she started modeling at 14, Weisz—with long dark hair and a porcelain complexion—had already been referred to as an English Rose. That same year she was offered a part in the King David film starring Richard Gere, a role she turned down at the insistence of her father, who worried about that level of exposure for his teenage daughter.
During her teens, she became something of a rebel. At one point, she was even kicked out of high school. "Asked to leave is the way I would put it," Weisz said. "It wasn't one bad thing. It was many. I have authority issues."
But then an English teacher instilled a love of literature, which changed her life. An English major at Trinity Hall, University of Cambridge, she co-founded a theatrical troupe and won some favorable notices and increasingly impressive theater roles.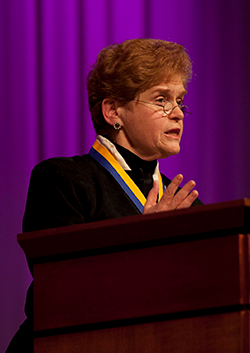 As an adult, the self-described tomboy blossomed into a great beauty. One early mentor, British director Sean Mathias, who had cast her in a 1994 London production of Noël Coward's Design for Living, said: "She was still quite unformed, and she was naïve, but you knew that she knew that she was a very sensual girl—definitely. And she gave a wonderful performance."
Weisz was soon getting parts in Hollywood films. In 2000, she was quoted in Index, a now-defunct arts magazine, as saying that she felt her looks—which she described as too Jewish—were holding her back. (She claims the quote was taken out of context.)
"When I went to Hollywood," Weisz explained, "I used to get asked to audition for Hispanic roles. I used to go up against Salma Hayek." Because of her darker looks, she said, she was asked to audition for "exotic" characters.
Today, at an age when many female actors find it hard to get good parts, Weisz, who is married to British actor Daniel Craig, is more in demand than ever. "I'm really cooking," she said proudly. "I'm getting the best roles I ever had, and I don't know why."
Earlier this year, Weisz starred in The Lobster. More recently, she appeared in Complete Unknown, released in August, and The Light Between Oceans, in theaters in September.
And there's already been Oscar buzz for Weisz's portrayal of Lipstadt. It would be a tremendous honor for her while at the same time highlighting this key battle and decisive victory in recent Holocaust studies.
Curt Schleier, a freelance writer, teaches business writing to corporate executives.