Pati Jinich on Mexican-Jewish Mashups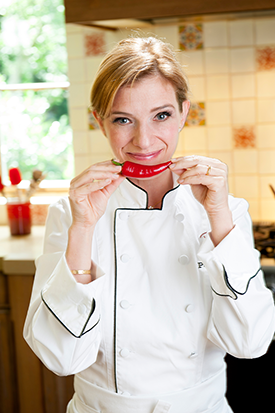 In the Mexico City of their youth, Pati Jinich and her three sisters were practically the only Jewish students in their private school classes—and probably the only one whose grandmother prepared guacamole with Jewish flair.
"We always knew we were Jewish but we weren't front and center about it," Jinich (pronounced yee-nitch) said of her Judaism as we snacked on a selection of ceviche and other small plates at Caracol, a trendy Mexican restaurant in Houston. Jinich, 44, a petite, sharply dressed and highly energetic sparkplug, was in town for a cooking demonstration and book signing for Mexican Today: New and Rediscovered Recipes for Contemporary Kitchens
, her second cookbook. We talked about her upbringing, filming the fifth season of her Emmy-nominated public television show, Pati's Mexican Table, and what it's like to be a Yiddishe mama Mexicana.
Jinich's parents raised their daughters with minimal connection to the formal Jewish community, eschewing religious school, Jewish girl scouts and membership at the Jewish community center for a focus on cultural integration and academic success.
But, every week she had Shabbat dinner with her paternal grandparents, Polish immigrants who came to Mexico fleeing pogroms in the early 1900s. They lit Shabbat candles, recited Kiddush, said Hamotzi and ate tzimmes, matzah ball soup, brisket and honey cake. Still, there were always Mexican touches, like chicken soup shot through with chilis. And there was that guacamole, with chopped onion and hard-boiled egg folded into the mashed, ripe avocado and then crowned with gribenes. "I know it sounds like a lot," said Jinich, "but it was delicious!"
Then there were the High Holiday meals with her mother's Austrian-Czech parents, refugees from World War II who reinvented themselves in Mexico as successful silversmiths. They favored elaborate French meals served on fine china and silver and, again, Mexican elements: Gefilte Fish a la Veracruzana, her maternal grandmother's version of the Jewish staple, is smothered with tomato sauce and punctuated with salty olives.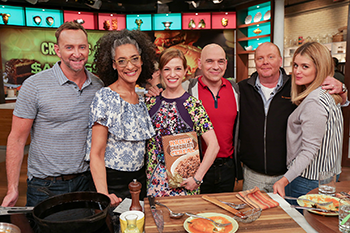 In 1996, at the age of 24, she married Dani Jinich, a fellow Mexican Jew, and the young couple soon moved to Dallas so her husband could pursue a career in finance while she earned a bachelor's degree. All along, her interest in food grew; she became an intern on Texas chef Stephan Pyles's public television show. The couple then moved to Washington, D.C., where Pati Jinich completed her master's degree in Latin American studies from Georgetown University and started working at a prestigious think tank. But the call of a career in food was growing too strong to ignore. Soon, she enrolled in L'Academie de Cuisine in Maryland, began contributing to local publications and eventually caught the eye of the Mexican Cultural Institute of Washington, D.C., which invited her to host a series of high-profile dinners. To this day, she is their chef in residence.
As she was developing her new career, Jinich simultaneously began exploring her Mexican-Jewish heritage. "Being away from the country made me miss it," said Jinich, who read history books and scheduled long phone interviews with great-aunts and great-uncles in Mexico. She discovered a rich tradition dating back to the early 1500s, when three boats carrying Spanish crypto-Jews arrived in the southern port of Veracruz. After Mexico was secularized in the 1860s, President Porfirio Diaz wooed many progressive European Jews to relocate. Subsequent waves of Jewish immigration paralleled the end of the 19th century and the rise of Nazism as well as post-World War II, when an influx of Jews from Syria and Lebanon arrived. The current current Jewish population in Mexico is approximately 50,000. Each wave has contributed dishes to the Jewish-Mexican cooking canon.
The first season of Pati's Mexican Table aired in 2011 and included an episode that focused on the Sephardic and Lebanese influences on Mexican cooking. (You might also recognize Jinich from her frequent appearances on ABC's The Chew, a popular food and lifestyle talk show.) The best-selling cookbook of the same name followed in 2012. Her latest book focuses on easy-to-prepare dishes that she serves her husband and three sons: Alan, 17; Sami, 14; and Julian, 10.
While Jinich's gefilte fish recipe comes from her personal archives, the port-infused, apricot-glazed almond cake is from the new book as is this roasted asparagus recipe.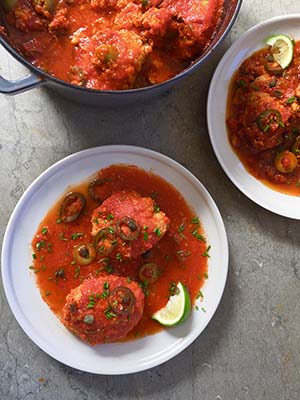 Gefilte Fish a la Veracruzana
Serves 8 to 10
For the fish patties:
3/4 pound skinned red snapper fillets
3/4 pound skinned flounder fillets
1 large white onion (1/2 pound), quartered
2 small carrots (1/4 pound), peeled and roughly chopped
2 eggs
1/2 cup matzah meal
2 teaspoons kosher salt
1/2 teaspoon ground white pepper
For the red sauce:
3 tablespoons vegetable oil
1 /2cup chopped white onions
1 (28-ounce) can crushed tomatoes
3 cups water
2 tablespoons ketchup
1 teaspoon kosher salt
1/4 teaspoon ground white pepper
1 cup pimento-stuffed green olives, halved
6 jarred pickled pepperoncini peppers, sliced
1 tablespoon capers
Lime wedges and chives for garnish
1. Make the patties: Rinse the fish under cold water; pat dry. Cut into chunks and pulse in a food processor until finely chopped but not pasty, 5 to 10 seconds. Transfer to a large bowl.
2. Place the onion, carrot, eggs, matzah meal, salt and white pepper into a processor bowl and process until smooth; add to fish and combine thoroughly. Chill until ready to use.
3. Make the red sauce: Heat the oil in a large pot over medium heat. Add the onion and cook until translucent, 5 to 6 minutes. Add the tomatoes, raise the heat to medium high, bring to a boil and cook until thickened, 6 to 7 minutes. Stir in the water, ketchup, salt and pepper, bring to a boil, reduce the heat and simmer while you form the patties.
4. Wetting and rewetting your hands as needed, form 16 equal-sized fish patties about 3 inches long by 2 inches wide and 1 inch high. Gently slide each patty into the simmering red sauce, raising the heat if necessary to maintain a steady simmer. Cook the patties, covered, for 25 minutes.
5. Remove the lid and gently stir in the olives, peppers and capers. Continue to simmer the patties, uncovered, for an additional 20 minutes until they are thoroughly cooked through and the red   sauce has thickened.
6. Divide the 16 patties and red sauce among plates or shallow bowls, garnish with chives and serve with lime wedges.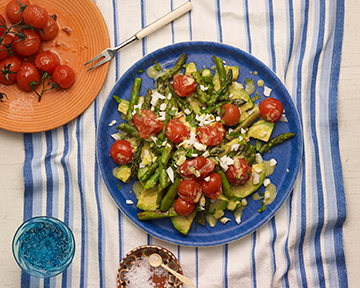 Avocado, Roasted Asparagus and Cherry Tomato Salad
Serves 6
1 pound asparagus
2 tablespoons chopped fresh basil or 2 teaspoons dried
2 tablespoons chopped fresh mint or 2 teaspoons dried
2 tablespoons chopped fresh sage or 2 teaspoons dried
1/4 cup plus 2 tablespoons extra-virgin olive oil
Kosher or sea salt
1 teaspoon freshly ground black pepper or to taste
1/4 cup thinly sliced shallots
1 pound cherry tomatoes
Grated zest of 1 lime
2 tablespoons freshly squeezed lime juice
1 teaspoon Dijon mustard
2 large eggs, hard-boiled, cut in half, yolks separated from whites, and whites finely chopped
2 large ripe Hass avocados, cut into large bite-size pieces
1. Preheat the oven to 425 degrees. Trim away the dry hard ends of the asparagus (about 1 inch from the bottom). Using a vegetable peeler, peel each asparagus stalk, beginning 1 1/2 to 2 inches below the tips and peeling all the way down to the bottom.
2. In a large bowl, combine the basil, mint and sage with 1/4 cup of the olive oil, 1 1/2 teaspoons salt, pepper and shallots. Beat with a whisk or fork until combined.
3. Set a rimmed 18 x 13-inch baking sheet on the countertop. Add the cherry tomatoes to the marinade, toss well and, with a slotted spoon, arrange on half of the baking sheet. Place the asparagus on the other half. Pour the remaining marinade over the asparagus and toss until thoroughly coated.
4. Roast the vegetables for 12 to 13 minutes, until the asparagus is crisp yet tender. Remove the asparagus and set on a cutting board to cool. Return the tomatoes to the oven for another 5 to 6 minutes, until they have burst, deflated and begun to char. Remove from the oven and let cool.
5. Using a slotted spoon, gently transfer the tomatoes to a bowl. Pour all the juices from the baking sheet into a blender.
6. Once the asparagus has cooled, cut away 1 inch from the bottom of each stem and add the ends to the blender. Cut the rest of the asparagus into 1 1/2-inch pieces and set aside. Add the lime zest and juice to the blender, along with the remaining 2 tablespoons oil, the mustard, 1/2 teaspoon salt and the egg yolks. Purée until completely smooth.
7. Place the avocado chunks in a large serving bowl, pour on the vinaigrette and gently toss until the avocado is thoroughly coated. Arrange the asparagus on top. Spoon the roasted tomatoes over the asparagus, garnish with the chopped egg whites, and serve.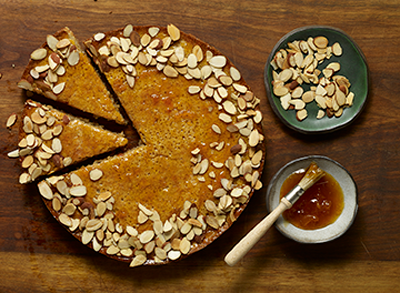 Flourless Almond and Port Cake
Serves 12 to 15
2 cups slivered almonds
3/4 cup sugar
4 eggs
1/2 cup butter at room temperature
1 tablespoon vanilla extract
1 tablespoon port wine (optional)
1/4 cup apricot marmalade or jam
1 tablespoon lime juice, freshly squeezed
1/4 cup sliced almonds, lightly toasted
Whipped cream (optional)
1. Butter a round 9- to 10-inch springform pan, and cover the bottom of the pan with parchment paper. Preheat the oven to 350°.
2. Place the almonds and sugar into a food processor. Pulse until finely ground. Crack the eggs on top of the mixture. Pulse until well combined. Mix in the vanilla extract and port. Drop in the butter in chunks and process until smooth and thoroughly combined.
3. Pour the batter into the pan. Place on a rack in the middle of the oven and bake for 30 minutes. The top will be nicely tanned, the cake will feel springy to the touch and a toothpick inserted in the cake should come out clean.
4. Remove cake from the oven and let cool for 10 to 15 minutes. Unmold the cake, invert onto a platter and remove the parchment paper. Invert the cake again onto another platter to have the top of the cake right side up.
5. In a small saucepan, mix the apricot marmalade or jam with the lime juice. Set over medium heat and simmer for a couple minutes.
6. With a brush, spread the apricot glaze on the outer circumference of the cake top, about 1 to 2 inches in depth. Sprinkle the glazed area with the toasted almonds. You may serve the cake with whipped cream on the side, or on the top of the cake.
Recipes excerpted from 'Mexican Today' ©2016 by Pati Jinich. Reproduced by permission of Rux Martin Books/Houghton Mifflin Harcourt, all rights reserved.