Dreaming Big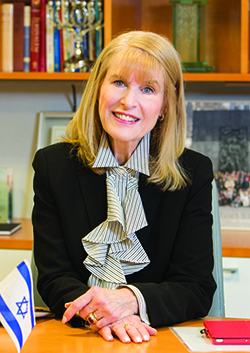 Harriet Tubman, Harriet Beecher Stowe, Clara Barton, Susan B. Anthony: They are icons of American history, but they also remind us how limited the opportunities were for 19th-century women to achieve power and influence. A handful of Jewish women in that period also left their mark on history. The educator and philanthropist Rebecca Gratz is said to be the inspiration for the character Rebecca in Sir Walter Scott's Ivanhoe. Before she launched Hadassah, Henrietta Szold founded the first adult-education school for immigrants in 1888 and, in 1893, became the first female editor of an American book publisher.
These pioneers paved the way for great progress. Though there were many social, legal, educational and individual factors that helped lead to increased opportunities for women, there is also no denying that Hadassah played a large role.
Eight years before the 19th Amendment gave American women the right to vote, Hadassah was founded as a women's organization to compete on an equal footing in the male-dominated Zionist movement.
In building medical and educational institutions for a nascent Jewish state, Hadassah women built themselves. They didn't ask for a seat at the table of leadership; they just sat down. Our founding generation were mostly women who did not have a college education and who had never before worked outside their homes—but they created an organization of leaders.
Hadassah became integral not only to the building and well-being of Israel but also to the vitality of American Jewish life—and a world leader in the advance of medicine and education.
In the 21st century, there are women improving the world through their work with Hadassah who remind me every day of our illustrious history. I am thinking about leaders like Irene Pollin, the psychotherapist and philanthropist who funded the Linda Joy Pollin Cardiovascular Wellness Center for Women at the Hadassah Medical Center in Jerusalem, and Dr. Donna Zfat-Zwas, the American-born, Harvard-educated cardiologist who is the center's director. The Pollin center educates women in heart health and is one of the prime forces in Israel in promoting awareness of gender differences in medicine—which in turn has helped Hadassah in America become a major player in fighting gender discrimination in research and treatment and in shaping public policy.
Our July convention in Atlanta also reminded me of the many women connected to Hadassah who make an impact in the wider world. Among those we honored—and who honored us with their presence—were Dr. Nanette Wenger, professor of medicine emerita at Emory University and a former president of Hadassah Atlanta; Dr. Anne Schuchat, principal deputy director of the Centers for Disease Control and Prevention, whose grandfather was one of Henrietta Szold's immigrant students; and Judge Ellen Steinberg, chief magistrate of Charleston County, S.C., and also a former Hadassah national vice president.
Another illustrious jurist who is a Hadassah life member is Ruth Bader Ginsburg; every time new members of the National Hadassah Attorneys Council are sworn in to the Supreme Court bar in Washington, Justice Ginsburg meets with them personally.
The theme of our convention was "The Power of Our Dreams." Most accomplishments large and small, rec-ords that are short lived or long lasting, progress that is personal or global, begin as dreams and are fulfilled as reality. Humankind has been dreaming since the dawn of time, but the revolution Hadassah signed up for was one in which dreaming was combined with action on a large scale.
Henrietta Szold told us, "Dare to dream; and when you dream, dream big." Through her example and her legacy, Hadassah has played a key role in the empowerment of women. We all know there is more ground to cover. But one of the surest signs of progress is that in our own time, the number of women renowned for seizing opportunities to change the world is too large to count.