The Gerda III, Worthy and Seaworthy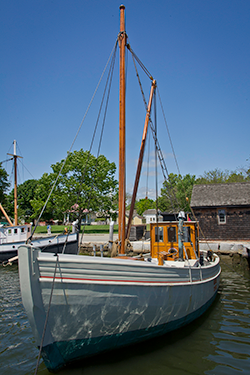 The diminutive Gerda III is nowadays berthed in the friendly waters of the Long Island Sound, where it is on loan to the Mystic Seaport in Connecticut from its owner, the Museum of Jewish Heritage–A Living Memorial to the Holocaust in N.Y. Dwarfed by the tall ships at Mystic, her story is anything but small.
The Gerda III was built in 1926 as a lighthouse tender, a ship designed to provide lighthouses with mail, fuel and passage back and forth to the Danish mainland.
In September of 1943, warned by a German official that Danish Jews would be part of Hitler's Final Solution, the Danish people rose up to protect their nation's Jews. Aboard the Gerda III, 19-year-old Henny Sinding, daughter of the boat's owner, and a four-man crew successfully hid and transported to neutral Sweden 300 Jews in groups of 10 to 15—despite German boarding parties. Because of the small ship and other crafts like her, more than 7,220 of Denmark's 7,800 Jews at the time were ferried to safety.
The Gerda III was gifted to the Museum of Jewish Heritage by the government of Denmark and underwent complete restoration. She is the museum's only seaworthy artifact.