Ribalow Winner Honors the Memory of Warsaw Ghetto Hero
In accepting Hadassah Magazine's 2016 Harold U. Ribalow Award for his Holocaust novel, The Book of Aron, Jim Shepard paid tribute to Janusz Korczak for "the tireless work he did in calling attention to both the vulnerabilities and the potential of children" in the Warsaw Ghetto. He said he hoped his book "could operate as a reminder of just how hard we all have to work as human beings to overcome our inherent inability to fully inhabit anyone else's pain." 
And don't miss reading the thoughtful talk delivered by guest speaker Matthew Thomas or the words of Reena Ribalow, daughter of prize namesake Harold U. Ribalow.
---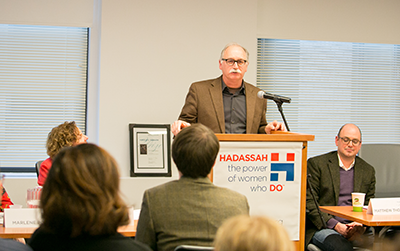 I'm one of those people who believes that the proper response to winning any award is humility, given how much good fortune has to come together to make that happen. And humility seems to be even more in order when the subject of your project involves extremities of suffering, and on top of that, extremities of suffering that have taken place at an enormous remove from your own experience. I want to thank everyone involved in the Harold U. Ribalow Prize here at Hadassah Magazine for the honor they've bestowed upon me. And I want to thank them as well for, by having done so, bringing a little more attention to the figure of Janusz Korczak, a figure who's unknown to most Americans. I'll always honor his memory especially for the tireless work he did in calling attention to both the vulnerabilities and the potential of children. No one was more eloquent about the inherent powerlessness of a child's position, and no one provided more hope when it came to reminding us of the astonishing capacities of a child's potential. I honor him for his devotion to principles he set forward in his unfinished Declaration of Children's Rights, principles that the rest of the world has continually proven its willingness to trample.
One of the pleasures that fiction can deliver is the god-like ability to flit from sensibility to sensibility—to penetrate everyone's consciousnesses, and to know with certainty what everyone is thinking: a mobility and omniscience that we never in our regular lives get to experience. But another pleasure that fiction can offer is the opportunity to inhabit a single, other sensibility, as limited (or perhaps even more limited) than our own, as fully as possible. Both pleasures are exercises in the empathetic imagination, but for me the latter option has always been more instructive as a crash course in empathy. And as we head into a new era as a country in which we much more openly enshrine selfishness and devalue compassion, it seems clear that we can all use as instructive a crash course in empathy as we can get.
In the construction of this book, limiting myself to a single first person sensibility allowed me to begin to address the hubris of what I was attempting, since I could reassure myself that I was not any longer responsible for relating the story of the Warsaw Ghetto; I was only responsible for telling one story.
It also allowed me to address the tension that's always present, when the subject is historical catastrophe, between what the reader knows and what's opaque to those in the historical moment. It allowed me to start to teach myself a more adequate response to those ahistorical and revisionist questions that modern readers always ask about the victims when encountering the Holocaust: How could they not have seen what was coming?
And if it's both the task and responsibility of the writer who chooses to make a child a narrator to maintain the illusion of staying within the child's vocabulary while still with that reduced pool of resources evoking the most complex emotional states, then that challenge also has the happy side effect of paralleling conceptually a crucial aspect of childhood, in that it enacts the child's relative helplessness while restoring to her her dignity. And that allows the writer to assert with the very form of the work itself that there's never enough, in terms of vocabulary, with which the child has to work. But even so, it's amazing what they are able to express.
I'm sure I was drawn to my character's perceptual limitations as well because they so closely mimicked my own. A commonplace claim about the relationship between the Holocaust and the arts has been that the enormity of the suffering defeats any attempt at adequate representation. The argument derives from Adorno's famous remark that there could be no poetry after Auschwitz, by which he seemed to mean that art that aspired to the traditional ideas of harmony and beauty could only operate as a grotesque falsification of an experience as inhuman as that of the Holocaust. But I hoped—and in this, other books before mine certainly showed me the way—that by making a child our guide to such horrific regions, a work could enact any number of ways in which the impossible facts of the Holocaust make children of us all. And I hoped that maybe by doing that, it could operate as a reminder of just how hard we all have to work as human beings to overcome our inherent inability to fully inhabit anyone else's pain. This seems like an even more urgent agenda that usual, now that our government is morphing into something that is going to aggressively pursue many of our very worst instincts, as individuals and as a collective, and as that government has already begun the process of accruing unto itself the power to make things very difficult for anyone who decides that, in all good conscience, they're going to have to resist that transformation. Thank you all for coming, and for all the cultural work you've done on behalf of compassion already.
---
Jim Shepard has written seven novels, including The Book of Aron, published in 2015, which won the Sophie Brody Medal for Excellence in Jewish Literature and the PEN/New England Award for Fiction, and four story collections, including Like You'd Understand, Anyway, a finalist for the National Book Award and Story Prize winner. He teaches at Williams College.