Author: Tell the Story of the Holocaust Every Day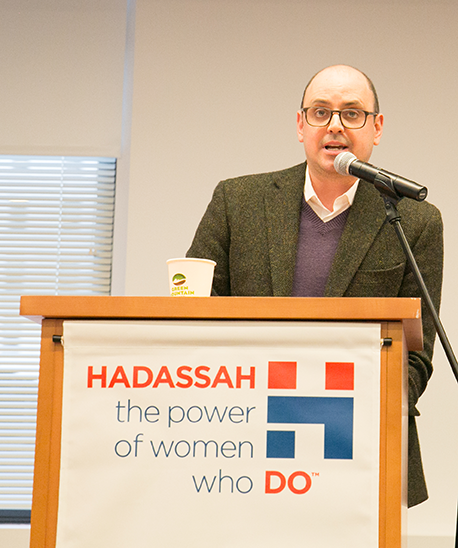 Matthew Thomas, a fellow writer and friend of the 2016 Ribalow Prize winner Jim Shepard, spoke eloquently about the importance of Holocaust art. "Some have argued there is something grotesque in making art of the Holocaust, but I will argue the opposite: There is something grotesque in not telling the story of the Holocaust every day to anyone who will listen. Silence leads to denial, or the loss of collective memory, or the presumption of familiarity, the sort that safely dresses the wounds in the gauze of history."
And don't miss reading Jim Shepard's award ceremony remarks or the words of Reena Ribalow, daughter of prize namesake Harold U. Ribalow.
---
It is an honor to join to you today in celebrating Jim Shepard's winning the 2016 Harold U. Ribalow Prize.
I want to begin with the counterintuitive and perhaps naïve statement that at this point in the history of America and of the world, art, in specific narrative art, is of huge importance. What could be more consequential than falling under literature's spell? What could be more necessary than literature, at the end of 2016?
Primo Levi, in Survival in Auschwitz, writes of trying to explain Dante to a messenger boy with whom he is traveling to pick up some soup from the kitchen of the concentration camp they are both slated to die in. "How many things there are to say, and the sun is already high, midday is near. I am in a hurry, a terrible hurry. Here, listen Pikolo, open your ears and mind, you have to understand, for my sake." And then he recites from imperfect memory, in translation, a few lines from The Canto of Ulysses.
Think of your breed; for brutish ignorance
Your mettle was not made; you were made men,
To follow after knowledge and excellence.
What a bitter irony it must have been for him to recall those words in that hellish place that dehumanized people, destroying their minds and spirits along with their bodies. And then Levi writes that it was, "As if I was also hearing it for the first time: like the blast of a trumpet, like the voice of God. For a moment I forget who I am and where I am." It is one of the most miraculous, most unfathomable lines in all of literature. For a moment, Levi is pulled out of his circumstances, and it is literature that has done the pulling. He writes, "Pikolo has begged me to repeat it." And after a bit: "perhaps he has felt that it has to do with him, that it has to do with all men who toil." Levi finishes, "it is vitally necessary and urgent that he listen;…tomorrow he or I might be dead, or we might never see each other again."
Thanks to social science, one doesn't require such a dramatic backdrop to make an argument for literature's power. The practical benefits of literature have been well established. A pair of psychologists at the New School for Social Research have proved that reading literary fiction enhances the ability to detect and understand other people's emotions. If we value empathy as a good in itself, we can go to literature to build that muscle.
But what's the point? Who could argue with the notion that we live in a dystopia already? The evidence isn't hard to find. Corrupt politicians aid powerful multinational corporations in poisoning our food, destroying our environment and slaughtering our innocents. Plutocrats abandon social responsibility in pursuit of unprecedented wealth. Entrenched class structures and racial prejudices ensure the existence of a permanent underclass of wage-slaves. Economic instability and an eroded civil discourse allow demagogues to foment hatred and fear. Empty consumerism reigns. We are handing down an environmental disaster to future generations, and the worst part is that we know we're doing it, and we can't seem to stop ourselves.
Well, here's the point, or one of them, anyway: against all this, I set books, more specifically the escape into literature. "Escape" isn't a word we commonly employ when discussing literature, because when we invoke "escapism" or "escapist fiction," we think immediately of the kinds of disposable entertainments that place few demands on our intellects and that literature is written in opposition to. But I like to think of literature as an escape in the best sense. The reader of literature escapes the degradation of language in a culture saturated with the bromides of advertising, in which not only are the definitions of words altered to the seller's end, but the very notion that phrases strung together might convey complex or even provocative ideas is deliberately eschewed. The reader of literature escapes into a realm in which a single consciousness has chosen every detail carefully, for maximum effect, and toward no meretricious end. The making of literature is the opposite of the production of commerce. The writer needs only his or her imagination and the language. She sits in a room contemplating the chaos of existence and attempts to graph sense onto it, bringing to bear an ethical understanding of the need to achieve art at every level—the word, the phrase, the sentence, the line of dialogue, the apt description, the sensory detail, the characterizing gesture, the paragraph, the page, the chapter, the book. Literature offers the pleasure of spending time with a mind curating an experience with no aim but the achievement of truth as art demands it. No level of cognition is off limits. There is no such thing as too much or too little. There is only what is required. The artist's conscience is a severe critic, and what filters to the reader has been vetted to the most exacting standards.
Perhaps what is most remarkable about this art form is that an attempt at capturing the sublime can come via an exploration of entirely more earthbound subject matter. A work may explore the darker sides of man's nature and dramatize the uncomfortable complexity of human motivations, but the art in that work operates on a different level than the material. No matter the subject matter, there is nothing despoiled in the way the writer of literature approaches the work. Even when the characters in a book behave in ways that reflect a vain, corrupt world—even when they are wholly unlikable—the writer, when writing that book, is not corrupt, and the book, when written as art, can be pure and beautiful.
The quiet urge at the center of literature is to grasp the ungraspable. Thomas Mann said that "writers are people for whom writing is more difficult than it is for other people." Implicit in this remark is the idea that the attempt to get a work completely right, the concentration of a mind engaged in a Herculean effort at art, is a salvo against chaos, against oblivion, against entropy, against death.
I can think of no more consummate artist among writers than Jim Shepard. Shepard is on the very shortest list of the most highly regarded writers among his peers. The author of seven novels and five collections of short stories, including one to be released early next year, Shepard is a mentor to hundreds, perhaps even thousands of writers as a result of his decades of teaching at Williams College and as a visiting writer at several other institutions. Shepard's list of accolades includes a Guggenheim fellowship, the Story Prize, the Massachusetts Book Award, the Sophie Brody Medal for Achievement in Jewish Literature from the American Library Association, the PEN/New England Award for fiction, as well as being named a finalist for the National Book Award, the Andrew Carnegie Medal for Excellence in Fiction, the Kirkus Prize, and others.
It's not hard to see how an artist of Shepard's caliber might embrace the challenge of writing about a subject as powerful as the Holocaust, even as a non-Jewish writer. The holocaust has called to so many writers, from Bellow, to Roth, to Foer, and many others in-between. For a while, there was a searching conversation about whether one should write about the holocaust at all, even as a survivor. Elie Wiesel, the most famous of narrative witnesses to the holocaust, questioned the project of committing it to accounts: "Then, it defeated culture;" he wrote of Auschwitz; "later, it defeated art. The truth of Auschwitz remains hidden in its ashes." The conversation evolved to ask whether Jewish writers in succeeding generations were appropriating the Holocaust for their fiction. And as an Italian-American Catholic writing about the holocaust, Shepard raises an altogether different set of questions germane to contemporary discourse about identity.
In her celebrated recent essay in the New York Times, "Who Gets to Write What?," Kaitlyn Greenidge, an African-American novelist, in discussing whether a classmate of hers in graduate school, an Asian-American writer named Bill Cheng, had the right to write a lynching scene, writes, "Bill had a right to write that scene because he wrote it well. Because he was a good writer, a thoughtful writer, and that scene had a reason to exist." (Cheng went on to publish the critically acclaimed Southern Cross the Dog.) Greenidge continues, "And yet the question was worth asking: Had he "culturally appropriated" an experience — an experience of pain, no less? He hadn't been lynched, and when most people think of lynching in this country, they do not think of people who look like him. Should everyone get to create the art they feel called to make?"
Greenidge's answer is illuminating: "Imagine the better, stronger fiction that could be produced if writers took this challenge to stretch and grow one's imagination, to afford the same depth of humanity and interest and nuance to characters who look like them as characters who don't— how much further fiction could go as an art."
A person taking in the sweep of Shepard's body of work would be hard-pressed to find a challenge that Shepard didn't rise to. Shepard is the rare writer with the chops to write a book like the one we are honoring him for today. He may not be Jewish, but there is a Talmudic quality to his engagement with primary and secondary historical texts, and the gargantuan list of works cited in the back of this novel (like the similar pages in his books of stories) reveals an almost tortured relationship to the idea of getting things right. His answer to the question of appropriation is rigor and art. Shepard is a world-class scholar, but above all else he is an artist. The comprehensiveness of his research inspires awe, but what's even more impressive is how lightly Shepard wears that research. The Book of Aron gives the miraculous impression of having been simultaneously researched down to the tiniest grain of sand and written entirely out of whole cloth and the free play of the imagination. It feels completely authoritative while also being freely invented. One knows that everything is exhaustively proved, earned, and compiled, and also that an artist has arrogated to himself, with an even greater reassurance than fact can provide, the right to make the whole thing up.
The art is there in the opening lines of the book, so potent in voice, so slyly foreshadowing, so richly suggestive. "My mother and father named me Aron, but my father said they should have named me What Have You Done, and my uncle told everyone they should have called me What Were You Thinking. I broke medicine bottles by crashing them together and let the neighbors' animals loose from pens. My mother said my father shouldn't beat such a small boy, but my father said that one misfortune was never enough for me, and my uncle told her that my kind of craziness was like stealing from the rest of the family." Reading this resonant voice, we could be anywhere, at any time. This is fiction rooted first and foremost in characters. It is also about history, but we greet that history through individuals, and how powerful the encounter is for that choice.
In an essay in The Atlantic, Menachem Kaiser lays out what he thinks non-eyewitness Holocaust literature's greatest power is. "Literature," Kaiser writes, "is supplementary, not antithetical, to history: it allows, and in the best instances demands readers to universalize, empathize, to visualize and imagine, not merely to be informed."
David Lodge in The Art of Fiction puts it a different way: "We read fiction not just for the story, but to enlarge our knowledge and understanding of the world."
Some have argued there is something grotesque in making art of the holocaust, but I will argue the opposite: there is something grotesque in not telling the story of the holocaust every day to anyone who will listen. Silence leads to denial, or the loss of collective memory, or the presumption of familiarity, the sort that safely dresses the wounds in the gauze of history. As Thackeray wrote: "The two most engaging powers of an author are to make new things familiar, familiar things new." The awful history of the Holocaust must be told afresh in every generation for it to be heard at all.
The America of 2016 is a people that doesn't know history, that has been systematically maleducated and has suffered the dulling of its intellect. The dominant media of our age, noise-drenched and image-saturated, make few demands of us. A people whose intellect has been dulled is a people vulnerable to political opportunism and demagoguery. As Santayana said, "Those who cannot remember the past are condemned to repeat it." A people so preyed upon by demagogues is a people that purveys intolerance. This is why it is so crucial to remember that atrocities happened: there is the need to prevent their happening again. And they are happening again, as world events clearly reveal. The specter of neo-Nazism hovers over the entire Western world, and when a conciliatory press agrees to call it the alt-right, it feels in terrible moments as if the horrors of the past might be upon us again. The current political arena makes The Book of Aron feel immediately, viscerally relevant in a way that is almost unfathomable, but which cannot be allowed to remain unfathomable. This novel is an essential text for our times.
If silence about the Holocaust may lead to its particular horrors being forgotten, then aesthetic scruples about possible appropriation must be set aside in favor of the greater good of keeping it on people's minds. Chekhov summed this idea up in an 1887 letter: "The writer is not a pastry chef," Chekhov writes, "he is not a cosmetician and not an entertainer. He is a man bound by contract to his sense of duty and to his conscience. Once he undertakes this task, it is too late for excuses, and no matter how horrified, he must do battle with his squeamishness and sully his imagination with the grime of life."
Jim Shepard's entire body of work is an argument for faith in the idea that art for its own sake can be captivating.
Nabokov, in his essay "Good Readers and Good Writers," writes "There are three points of view from which a writer can be considered: he may be considered as a storyteller, as a teacher, and as an enchanter. A major writer combines these three—storyteller, teacher, enchanter—but it is the enchanter in him that predominates and makes him a major writer."
Shepard is an enchanter who has always found history a fertile ground for his enchantments. He assimilates an astonishing amount of history, whether he's writing about Aeschylus, or a Roman scribe at Hadrian's Wall, or Attorney General John Ashcroft. Few living writers understand as well as Shepard does how there is something almost numinous about the way facts sit in the past, quivering with intense potential. Shepard himself writes, "Writers have as one of their first tasks and obstacles the creation of a world that is vivid and convincing. Often that requires some kind of research: on the daily life of nuns, the kind of work investment bankers usually do, the way a Soho gallery operates." Or, as the novel being honored today so amply demonstrates, what life was like in the Warsaw Ghetto.
The emotional power of The Book of Aron builds as we head inexorably toward the conclusion that we know is coming but that we wish could be avoided. We know the book won't break its own rules; it's too scrupulously honest to devolve into an exercise in kitsch. We've all encountered would-be art in one form or another that makes kitsch out of the holocaust. Milan Kundera in The Art of the Novel defines kitsch as "the need to gaze into the mirror of the beautifying lie and to be moved to tears of gratification at one's own reflection." The Book of Aron does exactly the opposite. There is no escape for anyone here, only the temporary balm of illusions, hard-won for a group of orphans headed to Treblinka by the extraordinarily self-sacrificing Janus Korczak, famed educator and orphanage director and the most convincing hero to come along in a novel in recent memory. But even that temporary balm fails; an epilogue explains that the bodies were piled so high at the destination that no pretense could be kept up on approach. Shepard delivers no false consolations, and yet Korczak's speech at the end is so profound, so true, so moving, that despite its scarifying honesty the book stirs the reader to something like hope in its argument for the dignity of individuals against the inhumanity of people in the aggregate.
Part of the bedeviling complexity and ambiguity of this book is the way we respond to Korczak. I called him a hero, and he is a hero, deeply so; and yet what if he'd listened to the young Boris—more on him later—and gotten free and gotten the word out? How many lives could have been spared? He cares deeply for the individual orphans under his stewardship, and his moral position is unalloyed; and yet could a bit of varnish on those principles have led to far greater good? Was sparing a few kids' psyches for a while worth giving up the possibility of rescuing untold people from the gas? Is his altruism actually a kind of egoism? Shepard asks the toughest questions in this book, insoluble, ancient questions. One of the book's many triumphs is the way it engages a sophisticated moral framework in the subtlest of ways, so that it always feels more work of art than work of morality, though it is profoundly the latter as well.
The way the character of Boris, one of the Jewish boys at the heart of the narrative, evolves over the course of the book can't fail to captivate the reader. Boris, who survives by running smuggling schemes, goes from being an operator, slightly cynical, certainly street-wise, to being the clearest-eyed person in the room, the most adult. At the end, with his access to privileged information about what kind of monstrosity is afoot here, he grows about a decade before our eyes. His methods are mysterious but remarkably effective; he's a crafty as Odysseus, but reminds us more of Cassandra as he tries to warn the titular Aron that this is about to get very bad and there is no time to lose. The truth of what they're all facing lies plain before him, and he has a farseeing plan. And we see both that his plan would have worked, probably, had Aron gone along, and that he was doomed to fail from the start. (And then the last time we see him, as Aron passes by, Boris is standing outside, looking helpless, his plan come to nothing, and our hearts break for him. He's just a kid; it's never been more plain. And yet he's a hero, nothing less, whose efforts are lost to history.)
The Aron of the title, Boris's companion in black marketeering, is fated to resist his old partner's efforts to get Korczak to act boldly in resistance, and he reduces the reader to frenzied questioning. Why not? Why? Perhaps the new home Aron has found among the orphans, and under Korczak's eye, provides too powerful an emotional relief for him to see clearly, or perhaps he's he afraid to be decisive and brave. The ambiguity is thick, and Aron's regret at his own inaction will no doubt prove enormous. But then speaking of regret in this context is an injustice, because Korczak makes the point himself at the end: none of this is the fault of any of these kids. Nothing they've done or will do is their fault. The Nazis have driven them to this. Anything they do—anything—falls under the guilt of their oppressors. Even Aron, the locus of our disappointment at the end, isn't to blame. They are kids put in an untenable position, though they navigate the world like adults.
But even here Shepard gives us rich ambiguity, because as he suggests ("Those of us who were here, if we ever met up after this…How could we look each other in the eye without asking, 'How is it that you happened to survive?'"), and as we've heard articulated in Survival in Auschwitz, Night and other Holocaust narratives: those who survive this kind of terror—what unfathomable things did they have to do? Can we say a person is still a kid when he goes through trials like this? Can we say he doesn't share part of the blame? Can we not be angry at Aron at the end? These questions are a thick soup, nourishment for real moral inquiry.
Jim Shepard has spent a career producing works of art of the highest order, written with extraordinary care and supported by the ballast of tremendous research. They are fully imagined, audacious and brave. The writer we are honoring today is the same writer who managed to make two Nazi engineers on the Hindenberg feel somehow sympathetic, by making them gay men whose love brings the airship down. He is the same writer who made readers feel the humanity of two suburban kids planning a Columbine-style massacre at their school.
"There is probably nothing more profound than imagining other people's lives," Shepard writes, "and nothing less profound. The favor of doing that might be the best we can do for each other." Elsewhere, Shepard writes: "Fiction confronts ugliness in the service of its opposite." And I will leave you with this quote, Shepard again, that serves as a perfect summation of the achievements of this magnificent book: "It is the goal of literature to disturb and console, to exhilarate and counsel, to reintroduce us to rapture and dread, to the turmoil and gratitude of being alive."
---
Matthew Thomas's New York Times-best-selling novel We Are Not Ourselves was shortlisted for the James Tait Black Prize, the Center for Fiction First Novel Prize, and the John Gardner Fiction Book Award, longlisted for the International Dublin Literary Award, the Guardian First Book Award, and the Folio Prize, and named a Notable Book of the year by The New York Times.