Shapiro Family Says "Shalom" After Six Years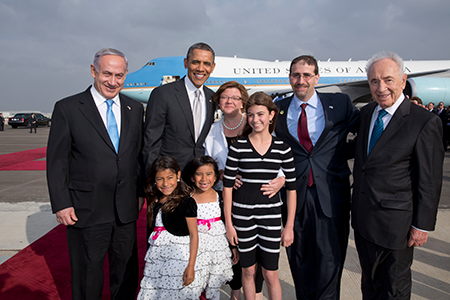 As Americans watched Barack and Michelle Obama and their daughters pack up and leave the White House last week, Israelis were bidding an official farewell to the family of U.S. Ambassador Dan Shapiro, an Obama appointee who ended his six-year stint the day President Donald Trump took the oath of office.
Like the Obamas, the Shapiro family's moving truck didn't have far to travel—and for the same reason. Both families still have daughters in high school who want to continue at their current schools. For the Shapiros, that meant moving to a town close to the ambassador's residence in Herzliya Pituach, marking the first time that a U.S. ambassador to Israel hasn't immediately returned home.
When I arrived at the U.S. ambassador's for a final interview with the family days before Trump's inauguration, I was greeted in the spacious living room by 12-year-old Merav, the middle of three daughters, who was sent to entertain me until the rest of the family was ready. Knowing she had just celebrated her bat mitzvah, I asked Merav about her experience and she said it was wonderful. I said she must be sorry it was over, and she nodded.
"Of course," I said, "you probably miss all of the attention and the gifts and the celebrations, right? But you are probably relieved that you don't have to study your Torah portion anymore."
Her reply: "No, actually, not at all. I studied Torah with my dad and having that special time with him was really great. I love being able to be with my dad, study with him and talk to him. That's what I miss."
It would be hard to find an anecdote that better encapsulates the spirit of the Shapiros' stay in Israel. The demands on Shapiro's time and energy were huge, making his presence a precious commodity to his wife, Julie Fisher, and their three daughters. He was, after all, charged with navigating the rocky relationship between the Obama administration and Israeli Prime Minister Benjamin Netanyahu. Fisher, who previously worked as an educator at a Washington, D.C., day school, has also had a busy six years. She jokes she was the "the hardest-working unpaid embassy employee" who volunteered at a wide range of organizations, served as a leader in the community of "diplomatic spouses" and hosted countless events in the residence.
At the same time, the couple has worked hard to balance their packed schedules with a strong commitment both to family life and Jewish practice; they have a shared tie to Judaism that dates back to their teenage years when they were counselors together at a Reform movement summer camp.
Sitting in the living room with his youngest daughter, Shira, 10, on his lap, Shapiro, 47, looks around the room: "We had our last Shabbat dinner here this weekend, and I said to everybody that I was feeling emotional about leaving this house. It wasn't because it's a beautiful house or the official events that have happened here, but because this house matters; we've had important years of our family together here." He points across the room, noting that his two oldest daughters "became bat mitzvah and studied at the dining room table with me. We had amazing family Seders on Pesach at that table, hosting dear friends and relatives."
When the Shapiros arrived in the residence overlooking the Mediterranean Sea in 2011, their three girls were 11, 6 and 4 years old. Although they were the youngest, Shira and Merav, both of whom were adopted from Guatemala, say they clearly remember being picked up by a private car at the airport and arriving at the residence for the first time. "We thought this was a hotel or something," says Merav, perched between her parents. "We were confused and amazed."
The house's commodious downstairs and massive garden served double-duty as family living space and reception area for numerous parties, lectures, meetings and concerts, sometimes holding hundreds and even thousands of guests.
"Some of us embraced it with less enthusiasm than others," Shapiro says wryly. He is referring to their older daughter, Liat, who had made it clear she wasn't happy about the changes, despite the new luxurious lifestyle. Like any 11-year-old, leaving her friends behind was painful. After an unhappy first year in Israel, Liat changed schools and her relieved parents say they saw her transformed into a happy girl surrounded with friends.
One of the keys to their adjustment, says Fisher, was "creating a community of our own" through the Conservative synagogue they joined and where they found close friends, most of them former Americans who had immigrated to Israel. The family's embrace of organized non-Orthodox Judaism made them unique in a country where the Reform and Conservative movements are small and their customs, like girls and women reading from the Torah, are considered unusual. In a way, they say, this meant they were also ambassadors for egalitarian Judaism.
"I remember our first visit to Mea Shearim," recalls Fisher, 47. They were in a boy's yeshiva before Pesach, and the rabbis were talking about teaching the boys to recite the Four Questions. "Dan made a point of saying, 'I'm teaching my daughters to say the four questions.' It was respectful, not in their faces, but he let them know who we are."
They have passed down those values to their girls. "Going up to the Torah and doing my best in reading at my bat mitzvah showed me that I'm a strong woman," Merav says. "I think I showed that women have every right to read from the Torah if that's what they want to do."
Shapiro and Fisher were also the first U.S. ambassadorial family to host LGBT organizations in the residence, participate in the Tel Aviv Gay Pride Parade and decorate the U.S. Embassy with rainbow flags. "We have not shied away from our beliefs and our values that we think reflected the American beliefs and values, and certainly the Obama administration's beliefs and values," Shapiro says.
The couple made a point of traveling extensively throughout the country and visiting Muslim, Christian and ultra-Orthodox communities. Fisher says she made a special connection with the community of African asylum-seekers, helping to fundraise and collect toys for their day care centers.
The family recounts among their cherished memories their encounters with leaders like the late President Shimon Peres, for whom they hosted a 90th birthday dinner at the residence. Merav remembers meeting Peres when they first arrived. The then-octogenarian head of state reached down and picked up her sister Shira. "My mom started freaking out because she thought he would hurt himself," Merav recalls. "And then I saw this important guy picking up Shira and I said, 'I want that,' so I reached out my hands. And so he picked me up."
Also during their first year, Fisher recalls, their eldest, Liat, joined her parents to pay a condolence call to Prime Minister Benjamin Netanyahu after his father died. "Netanyahu left all of the bigwigs and greeted Liat and told her how glad he was she came," Fisher remembers. "Then, he gave her a tour of his childhood home, room by room, telling her stories of his memories of his parents."
Even while bidding a sad farewell, Fisher says she sees the upside of the big change. "Sure, I'll miss having a positive impact. But I take pride in the fact that I've helped others serve the community, get to know Israel and help the relationship between the two countries as an active spouse," she says. "It's been really an amazing experience, but I think I'll savor some quiet time and more sleep and more down time. I need to catch up on the books and movies from the last six years."