Sticky, Nutty, Jammy Hamantaschen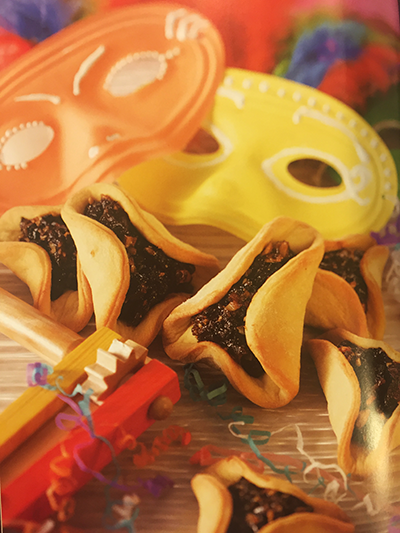 This deliciously gooey, fruit jam-and-chopped nut hamantaschen recipe was first published in our beloved Hadassah Jewish Holiday Cookbook
. The recipe comes courtesy of Hadassah Past National President Bonnie Lipton. B'teyavon and Chag Sameach Purim!
HAMANTASCHEN
Makes about 5 to 6 dozen
DOUGH
4 cups sifted all-purpose flour
1/2 cup sugar
2 teaspoons baking powder
1 teaspoon grated orange zest
1/2 teaspoon salt
4 eggs
1/2 cup oil
1/4 cup fresh orange juice
FILLING
1 pound prunes, finely chopped
1/2 cup crushed pineapple, thoroughly drained
2 tablespoons apricot jam
1/2 cup granulated sugar
1 teaspoon ground cinnamon
1 teaspoon grated orange zest
1/4 cup finely chopped nuts
Preheat oven to 350 degrees. Sift flour with sugar, baking powder, orange zest and salt. Make well in center of dry ingredients and break eggs into the well.
Add oil and mix well. Add orange juice, stirring until all is absorbed. Knead until smooth and satiny.
Mix ingredients for filling.
Roll out dough on well-floured surface to 1/8-inch thickness. Cut into 2 1/2-inch rounds. Place small amount of filling on each round. Bring up edges of dough in triangular shape. Pinch together over filling, but do not close completely. Place on increased baking sheet and bake for about 30 minutes, until nicely browned.