A Passover to India with Joan Nathan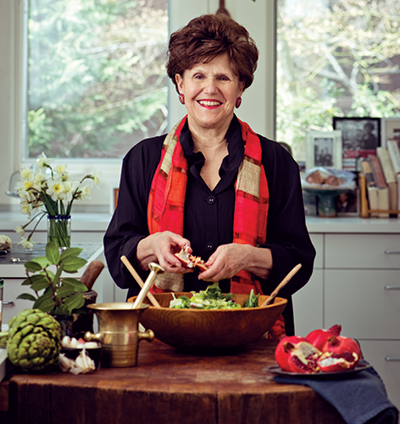 When I visited India a few years ago, my search for local Jewish food finally proved fruitful when I arrived in Kochi, in the state of Kerala. In that colorful, exotic coastal city, I met Queenie Hallegua, the 78-year-old doyenne of the city's now tiny Jewish community. Hallegua's great-grandfather came to this place more than a century ago as a peddler from Iraq: Her grandfather, Samuel Koder, went on to become a merchant who is thought to have brought electricity and ferries to all of Kochi, which used to be known as Cochin. Today, Hallegua still lives in her family home on Synagogue Lane in the heart of Jew Town, until recently the center of the pepper auction run by Jewish merchants.
Over glasses of pungent homemade wine boiled from raisins blended with water and strained through a cloth, Hallegua regaled us with stories of how delightful it was during Passover to grow up in a country that loves all kinds of religious ceremonies. In those days, there were several thousand Jews in the area.
"Pesach work began in January when we bought rice, cleaned and washed it, pounding some into rice flour," Hallegua told us as we toured a separate Passover kitchen across the path from her house. "We also cleaned chilies, coriander, cinnamon, pepper, ginger and cardamom and set some aside for Passover." Later, these spices, harvested in December and January, were dried in the sun for two or three days, then roasted and ground for use.
These days, Hallegua goes to the mill and buys prepackaged rice, rice flour and spices, but the large stone mortar and pestle that remain in the Passover kitchen are reminders of how much work the holiday used to be.
"In the olden days, we made our own matzah," she continued. "We pounded the wheat collected in fields and people gathered to cook it on a grill over a wood fire in our courtyard—sometimes in 100-degree heat." Most of the Jews in Kerala now buy matzah from the Israeli consulate in Mumbai. For her charoset, however, Hallegua still uses a copper cauldron to boil down dates to the texture of honey in the Iraqi way. Also known as duvo, it is served topped with chopped cashews, walnuts or almonds.
At Hallegua's table, ancient Jewish tradition comes alive. We nibble on her delicious pastels—thin rice pastries made at Passover and stuffed with potatoes and flavored with cilantro, onions, garlic and fenugreek—and enjoy her coriander chicken, a staple at her family seder.
The next day, we visited the teeming marketplace of Ernakulam, about an hour away. Our guide insisted on searching for Elias "Babu" Josephai, one of the two remaining shochets in the community. Soon we arrived at a tropical fish and plant store where we found, much to our surprise, the Kadavambagam synagogue, a place for the few remaining Jewish merchants to steal away from their businesses to pray.
Babu arrived just moments after we did, riding haphazardly on his motor scooter. When I mentioned that I was searching for Jewish recipes, he immediately rushed us out the door, put us in a rickshaw cab and sent us to meet his wife, Ofera.
We found her in the kitchen, cutting long string beans into tiny pieces for a curry. At Passover, she told us, she also makes a chicken dish similar to Hallegua's, but hers is doused with a fresh masala of sautéed onions, cilantro, mint and tomatoes. These are the flavors of Bene Israel Jews from Mumbai, formerly Bombay, from where she hails.
As she chopped, Ofera answered a question I had about the chickens I saw skinned and cut up everywhere in the south of the country. "My husband shochets it and then sends it to a local butcher to clean it up," she said. "The butcher pulls off the skin because it is easier than plucking all the feathers."
This piece and recipe were adapted from King Solomon's Table: A Culinary Exploration of Jewish Cooking from Around the World
by Joan Nathan. Copyright © 2017. Excerpted by permission of Alfred A. Knopf, a division of Random House LLC. Photos by Garbiela Herman.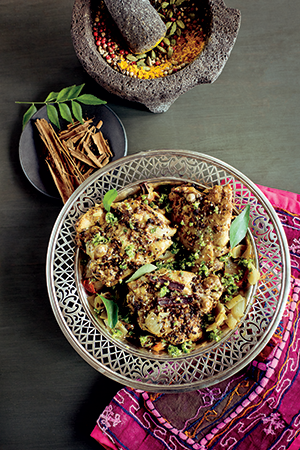 Indian Chicken with Cardamom, Cumin, and Cilantro
Serves 4 to 6
Seeds from 4 cardamom pods
6 cloves
6 black peppercorns
– or –
1 teaspoon ground black pepper
3 heaping tablespoons coriander seeds
12-inch Ceylon cinnamon stick
1/2 teaspoon anise seeds
1 teaspoon cumin seeds
1/2 teaspoon ground nutmeg
1/2 teaspoon ground turmeric
1/2 teaspoon salt
3 large onions, diced in large chunks
2-3 tablespoons vegetable oil
3 pounds (about 6 to 8) boneless skinless chicken thighs
3 tomatoes, roughly chopped
4-5 curry leaves, optional
2 tablespoons white vinegar
2-inch piece of fresh ginger
4-5 cloves garlic
1/2 bunch cilantro leaves (about 1 cup), chopped
1/4 bunch mint leaves (about 1/2 cup), chopped
2-3 fresh green chilies, minced
1. Heat a frying pan over medium heat. Toast the cardamom seeds, cloves, peppercorns, coriander seeds, cinnamon stick, anise seeds and cumin seeds for about 5 to 6 minutes, stirring often, until they start to pop. Immediately remove them from the pan and grind them in a small blender or mortar and pestle with the nutmeg, turmeric and salt. Rub into the chicken and let rest in the refrigerator for a few hours
or overnight.
2. In a Dutch oven, sauté the onions for a few minutes in about 2 tablespoons of oil over medium heat until golden. Add the chicken, tomatoes, curry leaves if using, 1/2 cup water and the white vinegar. Bring to a boil, reduce to a simmer and cook, covered, for about 20 minutes, or until the chicken is soft and cooked through.
3. In a food processor, blend the ginger, garlic, cilantro, mint leaves and 2 of the chilies. Taste and add more chilies if desired. Add to the chicken and simmer for another 5 minutes. Serve over rice.
Bene Israel Fish Curry with Fresh Ginger, Tamarind, and Cilantro
Serves 6
2 pounds whiting, yellowtail, kingfish, pomfret, grouper, bass, or any slightly firm fish fillets, cut into roughly 2-inch pieces
1/2 teaspoon salt, or to taste
1/2 teaspoon turmeric
1/2 teaspoon chili powder
Juice of 1 lime
2 cloves garlic
1/4-inch knob of ginger, peeled
1/2 cup chopped cilantro
2 to 3 green chilies, stemmed and seeded if you want less spice
2 curry leaves
1 tablespoon tamarind paste
4 tablespoons vegetable oil, divided
1 onion, chopped
1 tomato, diced
1. Take the fish fillets and sprinkle with the salt, turmeric, chili powder, and lime juice. Cover and let marinate in the refrigerator for a few hours.
2. Meanwhile, in a small food processor fitted with a steel blade, puree the garlic, ginger, cilantro, green chilies, curry leaves, and tamarind into a paste. Set aside.
3. Heat 3 tablespoons of the oil in a large nonstick skillet ad sauté the fish until golden on both sides, about 2 minutes per side. Cook the fish in batches if necessary. Remove and drain on paper towels.
4. Meanwhile, in a medium skillet, sauté the onions and tomatoes in the remaining tablespoon of oil.
5. When ready to eat, put the cooked fish back on the large nonstick skillet, then add the sautéed onion, the tomato and the ginger-cilantro paste. Cook gently just to warm through and allow the flavors to blend. Serve with rice and chutney.