Golden Opportunities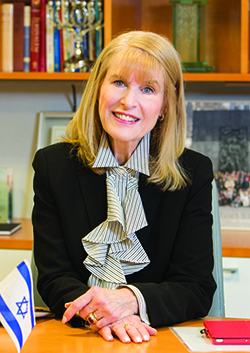 Do we remember Jerusalem because the psalmist tells us to—or does the psalm (137:6) simply reflect a flame that burns within every Jewish soul? Whatever the answer, the city that for much of our history was out of reach has remained our spiritual focal point—never more so than this month, when we celebrate the 50th anniversary of Jerusalem's reunification.
The city's name appears more than 600 times in the Hebrew Bible and is also a constant theme of our prayers and poetry. Naomi Shemer invoked the heat of our internal flame when she sang, "Your name will scorch my lips forever/ Like seraph's kiss, I'm told/ If I forget thee, Jerusalem/ City of Gold."
I'll never forget my first visit to Jerusalem, my first walk in the footsteps of our ancestors, my first glimpse of the pale limestone walls that make even modern parts of the city look ancient. I discovered the difference between dreaming of a place and experiencing it with all five senses. Every time I am there, I feel that sense of renewal again.
If losing Jerusalem was always painful to our ancestors, losing half of it during Israel's War of Independence in 1948 was just as heartbreaking. Israelis in the newly reborn state could see the Old City, location of the Kotel and Temple Mount, but could not enter.
Jerusalem has been the center of Hadassah's vision since our founding. The dismal state of the city's public health was one of the sparks that illuminated Henrietta Szold's path; Hadassah's first act of practical Zionism was dispatching two nurses to Jerusalem in 1913. We built the medical foundations of the future state and raised its first modern hospital on Mount Scopus.
A month before Israel declared independence in May 1948, Arab forces ambushed a medical convoy heading to Hadassah Hospital, killing 78 people, mostly patients, doctors, nurses and Hebrew University faculty members. At the end of the War of Independence, Jerusalem was divided: Mount Scopus—like our holy sites—remained cut off behind Jordanian lines. Hadassah operated out of satellite buildings in central Jerusalem until we dedicated our new hospital in Ein Kerem, on the city's western edge, in 1961.
On June 7, 1967, in response to Jordanian shelling, Israel took control of the entire city—putting all of Jerusalem under Jewish sovereignty for the first time in 2,000 years.
A few days later, on Mount Scopus, Jerusalem Mayor Teddy Kollek symbolically handed the hospital keys to then-Hadassah NationalPresident Charlotte Jacobson. Jacobson described the devastation at our hospital building—walls damaged by artillery fire, rusted beds and equipment, wind tearing through broken windows. But she could still reach out and touch the past: Bulletin boards bore messages posted in 1948. Hadassah pledged to rebuild, and we rededicated our hospital on Mount Scopus in 1976.
Hadassah has been central to the restoration of Jerusalem and the building of modern Israel. This month, as we celebrate both Jerusalem and Hadassah's reunification, I am leading a special Reunification Mission; in addition to our Ein Kerem campus and the monument to the victims of the convoy massacre, we will visit our rebuilt Mount Scopus campus. There, in a re-enactment of the unforgettable scene from 1967, Jerusalem Mayor Nir Barkat will hand me the keys to our hospital.
A month before Charlotte Jacobson received the keys to Mount Scopus, she and most of the world's Jews thought a united Jerusalem was a distant dream. When she made her first visit to the Kotel, she commented, "The age of miracles is not over. This is indeed an age of renaissance for the Jewish people."
Now, as we celebrate the golden anniversary of Jerusalem the Golden as the united capital of the Jewish state, who knows what other opportunities, even miracles, may be just beyond our horizon?