Listening to Hillel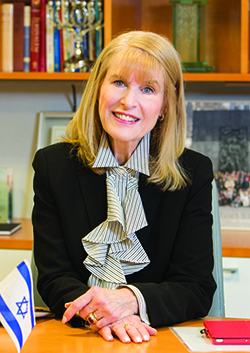 In addition to computers, phones and framed photos, desks at Hadassah's New York headquarters have a bomb-threat checklist—an instruction sheet covering telephone, email and letter threats, and identifying signs that a package may be suspicious. We've had our unwelcome share of warnings over the years.
We know that there are haters out there—racists, white supremacists, anti-Semites, neo-Nazis and other bigots—and that some of them will act on that hate. Neither borders nor oceans offer full protection. We all remember the fatal shootings at the Pulse nightclub in Orlando, Fl., the Emanuel African Methodist Episcopal Church in Charleston, NC, the Kansas City Jewish Community Center and too many other horrible examples in recent years. In light of the shocking Nazi/Klan rally in Charlottesville and the terror attacks in Spain, we have to ask if things are getting worse.
The answer is yes.
FBI statistics released last November showed hate crimes rising, with African-Americans the most frequent victims based on race and Jews the most frequent target based on religion. But the biggest increase on a percentage increase—257 percent over the previous year—was in attacks against Muslims.
According to a recent Anti-Defamation League report, during the first quarter of 2017 anti-Semitic incidents in the United States rose 86 percent over the same period last year. That follows a 34 percent increase from 2015 to 2016.
The United States is witnessing an alarming rise in bigotry and racism—hate speech, digital harassment, vandalism, bomb threats and cemetery desecrations, in addition to physical harassment and assault.
At Hadassah's National Business Meeting, held in St. Louis in July, we adopted an updated policy, dedicating ourselves and calling on others to do more to combat anti-Semitism. We called on the United States government to ensure that hate crimes and threats are punished to the fullest extent of the law and to strengthen penalties for threats against houses of worship, educational institutions and community centers. We called for robust funding and effective collaboration for the Departments of Justice and Homeland Security, FBI and other government agencies to combat anti-Semitism in all its forms.
We urged expansion of congressional efforts to lead initiatives promoting tolerance worldwide, and for additional legislation to improve anti-Semitism awareness, education and training. We urged the appointment of a new special envoy to monitor and combat anti-Semitism—a position vacant since January. And we urged our leaders and representatives to use their resources and influence to motivate international leaders to counter global anti-Semitism.
But even though we discussed and adopted these positions in July, we were still shocked by the events of August, including the death and injuries that resulted when a Nazi sympathizer drove his car into a crowd of counter-protesters and, nearby, neo-Nazis shouting "Sieg Heil" and other epithets as they passed in front of the local synagogue.
Across the ocean, another vehicle-driven attack in Barcelona attack took place near a kosher restaurant; it's not clear if it was specifically targeted, but an Islamic State declaration claiming credit for the murders said the goal was to kill "Jews and Crusaders."
But even if oceans and borders don't offer absolute security, we still have a formidable defense in the strength of American democracy, the fabric of American society and our own values and vigilance. We are not alone in the face of anti-Semitism, nor will we let other communities feel alone as they are targeted.
In recent months I have seen heartwarming acts of support between the Jewish and Muslim communities. We need to keep reaching out and strengthening ties—across lines of faith, race, ethnicity, gender and sexual orientation. Our attitude must be what it has always been: An assault on one community is an attack against all, and against America itself. Anyone who experiences or witnesses an act of hate should notify local law enforcement.
As Hadassah, the Women's Zionist Organization of America, we especially need to work on college campuses, in the feminist movement and in progressive circles, where anti-Zionism is often a thinly veiled expression of anti-Semitism.
As we approach the New Year and celebrate our traditions, let us also look beyond ourselves and ask Hillel's question, "If I am only for myself, what am I?" Having been targets of hate for thousands of years, we are keenly aware of the line between cherishing the richness of our diversity and risking that those differences can become the basis of suspicion.
The bomb-threat checklist will stay on my desk, but may it yellow with age and lack of use. May the New Year bring a new dawn of peace and harmony, not only to the Jewish people, but to all humanity.