Courtroom Drama 'Marshall'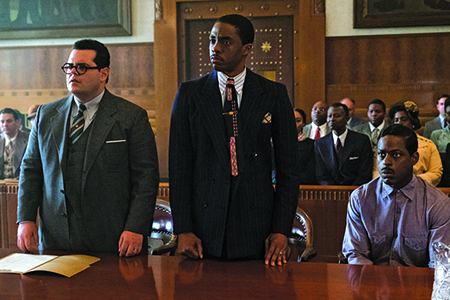 Most people know Thurgood Marshall as the first African-American justice on the Supreme Court, a wise voice in an increasingly divided, mid-20th-century court. But long before he came to the highest court, Marshall was the young, pugnacious head of the nearly bankrupt NAACP Legal Defense and Educational Fund.
Director Reginald Hudlin's film Marshall, which opens in theaters nationwide in October, depicts the attorney as ruthless, brilliant and arrogant—and something of a bully to Jewish attorney Sam Friedman. The two team up on a racially charged criminal case, and their evolving relationship is one of the delights of this compelling legal drama.
It is the early 1940s and Marshall (Chadwick Boseman) has come to Connecticut to defend black chauffeur Joseph Spell (Sterling K. Brown), who is accused of raping his socialite boss, Eleanor Strubing (Kate Hudson). Marshall tricks local attorney Friedman (Josh Gad) into filing a motion to allow Marshall to practice in the state.
When the motion is rejected, Friedman is assigned to the case while Marshall, an experienced criminal lawyer, is permitted to sit at the defense table—but not speak.
The film portrays their developing rapport as Marshall guides Friedman, who has never tried a case before, through the trial process. We watch as Friedman becomes a willing and active participant in Spell's defense.
Based on a true story, Marshall just looks at one aspect of the great justice's life. Hudlin does play with the truth and events surrounding the trial played out differently than on the screen. Friedman may have been the only white lawyer willing to touch the case.
Nevertheless, the film is an important reminder of the once-great collaborations between blacks and Jews. "Marshall," says Hudlin,  "is a celebration of the alliance between black and Jewish attorneys in the civil rights movement. The Constitution says all men are created equal, but it was the brilliant work of people like Marshall and Friedman who made it a reality."