An Encyclopedic Memory of the Holocaust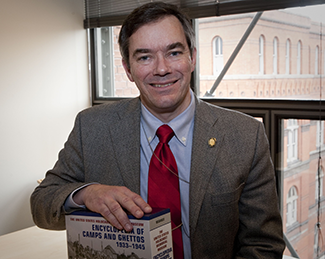 When Geoffrey Megargee signed on to edit an encyclopedia of Nazi camps for the United States Holocaust Memorial Museum in Washington, D.C., he expected to catalog up to 7,000 sites. "I thought that was an astronomical figure," recalled Megargee, a military historian and the project's senior applied research scholar.
​Seventeen years later, Megargee has documented a staggering 40,000 locations—including concentration camps, ghettos, forced labor camps for Jews and prisoner of war camps.
​Now the full measure of those camps is available to the public. In addition to a $300 hardcover version, the first two volumes of Encyclopedia of Camps and Ghettos, 1933-1945 are newly published online in PDF form. Megargee expects to add another five volumes within the next decade.
​The online archives continue to be used by German courts to corroborate obscure sites in adjudicating Jewish restitution claims. The encyclopedia also reveals new perspectives on the Holocaust.
​"Just the number itself tells you something about the claim so many Germans made after the war," professing ignorance of the horrors, Megargee said. "You couldn't turn a corner in Germany without knowing somebody who was being held somewhere."