Mitigating Disasters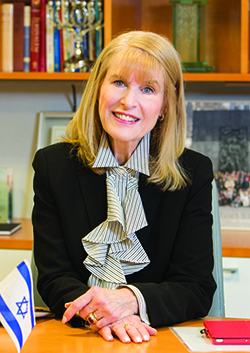 A few days after the October 1 mass shooting in Las Vegas, I spoke to Barbara Raben, president of Hadassah's Desert Mountain Region, who lives in the grieving city. Aside from relating the horror of what happened, one observation she made stuck with me—watching news of the tragedy and realizing that she knew so many of the local people being interviewed, she felt even more vulnerable, as if her big city had become a small town.
She also told me that she had commiserated with her sister who lives in Blacksburg, Virginia, home of Virginia Tech, where a shooting rampage took place in 2007; another sister lives in Houston, where Hurricane Harvey did so much damage in late August.
The entire world, it seems, is now a small town. And it's getting smaller—in positive ways through human ingenuity and disastrous ways through human folly. Families are spread over greater distances, but it's never been easier to stay in touch. Using social media, many of us these days are connected with family and friends in states, and even countries, we have never visited, but we share in their joys and also in their sorrows.
Through a combination of natural forces and our inability to deal with climate change and gun violence, those sorrows are becoming more frequent and more intense. The last several weeks have left us reeling: Las Vegas; mega-hurricanes Harvey, Irma and Maria; a 7.1-magnitude earthquake in Mexico; and the deadly wildfires in northern California.
In a hyperlinked world, no one is just a spectator. We cannot be content to reflect in the abstract on how so much destruction and loss of life touches us, affects people close to us and impacts people we don't know but who need assistance.
We have to ask how we can help, even if it's in small ways, and then act.
Barbara Raben didn't just share her observations about what happened. She and her colleagues did something. Within hours of the Las Vegas shooting, long lines of local citizens formed outside hospitals and blood banks. Not only were some of our members in those lines to donate blood, Hadassah on the ground helped organize volunteers to distribute food and water to people who were waiting.
After each of the hurricanes, national Hadassah communicated with our network of members, donors and friends, providing contact information for a range of relief agencies—from Save the Children and AmeriCares to Jewish federations and NECHAMA: Jewish Response to Disaster—through which they could donate money or time. Camp Young Judaea-Texas offered temporary housing and meals not only to the YJ community but to others in east Texas who needed shelter.
After the Mexican earthquake, which killed 370 people and injured more than 6,000, Dr. Esti Galili-Weisstub, director of Hadassah's Jerusalem Crisis Intervention Center and one of the world's leading experts in adolescent post-traumatic stress disorder, arrived to assist in the country's efforts to deal with the psychological aftereffects. Dr. Galili-Weisstub, whose visit was arranged by HMO and Hadassah International, met with Mexican health officials and provided training for psychologists working directly with the victims.
While all this was going on, our medical center in Jerusalem continued to offer world-class care and conduct pioneering research. The emergency room at Hadassah-Ein Kerem treated a border guard shot by a terrorist; three other guards were killed in the attack. A study on brain inflammation by Dr. Shahar Arzy, head of HMO's Neuropsychiatry Clinic, was published in The Lancet Psychiatry.  In America, Hadassah planned and held events in connection with Breast Cancer Awareness Month.
We also brought in a New Year, refreshing our commitment to our families, our values and the bounty of the earth.
When tragedy strikes, preparation and motivation concentrate our energies, allowing us to find more time and resources. At best, that's how it works on a government and institutional level, and on the personal level as well. We cannot undo the destruction, but we can mitigate it—and we must find ways to minimize future tragedies that flow from humanity's failures.
In the end, we're all responsible for one another. If we want to achieve the world of our dreams, we have to start with the world—the only one we have—as it is.