Paula Wolfert Eats to Remember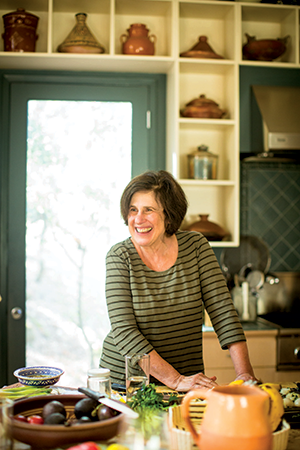 The cruelest irony of Paula Wolfert's Alzheimer's disease is that her 79 years have been marked by enough unforgettable experiences to fill five lifetimes. While not a household name, Wolfert was the globetrotting culinary adventurer largely responsible for bringing couscous and other Middle Eastern staples to American kitchens. Today, she finds herself in a race against the clock to document decades packed end to end with indelible memories.
​Enter Emily Kaiser Thelin, who stepped up to become her mentor's memory keeper. Thelin first met Wolfert in 2008 while on assignment for Food & Wine magazine in Morocco. Together, the two women wound their way through Marrakesh's ancient marketplace.
​It was the start of a friendship that deepened when, in 2010, Thelin and her then-fiancé relocated from New York to Northern California, just as Wolfert and her second husband, William Bayer, a crime novelist, had done several years earlier.
​Thelin's move westward coincided with Wolfert's initial suspicion that her brain wasn't firing on all cylinders. By 2012, she could no longer hand-roll couscous—something she had done thousands of times—or remember how to make an omelet for her husband in their Sonoma home. In 2013, Wolfert received a diagnosis of stage 4 probable Alzheimer's. Her short-term memory began slipping away first; over time, basic functions and long-term recollection would be compromised.
​"I wanted to get her memories down while she still had them," said Thelin, who suggested Wolfert collaborate with her on a cookbook that would serve as a capstone to nine masterworks that include Mediterranean Cooking 
and Couscous and Other Good Food from Morocco
.
​"It amazes me how few people know who she is, and that makes me angry," said Thelin. A dozen publishers passed on Thelin's book idea, but she pushed ahead with her plans via a Kickstarter campaign, partnering with a team of crack food world professionals willing to work on drastically reduced budgets. The campaign easily raised over $90,000 from some 1,100 contributors—doubling its $45,000 goal. In late 2016, Unforgettable: The Bold Flavors of Paula Wolfert's Renegade Life
was released to great acclaim. Poring over Thelin's loving, insightful text, Wolfert's delicious recipes and renowned food photographer Eric Wolfinger's images, it's hard to understand how any publisher had declined to acquire it.
​The story begins with young Paula (née Harris) born into a middle-class Jewish family in the Flatbush section of Brooklyn, N.Y. Wolfert clashed with her mother, Frieda, a looks-obsessed housewife who put her young daughter on diets of cottage cheese and lettuce from an early age.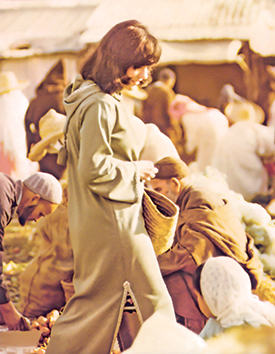 ​"Her mother was such a piece of work, confined to the narrowness of a certain type of existence, that Paula always associated her Judaism with this sort of life," said Thelin. She was, however, extremely close with her maternal grandmother, Bertha Harris, whose soulful Balkan-Jewish cooking inspired Wolfert's lifelong love of eggplants, red peppers
and chilies.
​Wolfert struck out on her own as soon as she could, moving to Manhattan to attend Columbia University at age 16. Within a couple of years, she met writer Michael Wolfert and was married by 19. (Wolfert has two grown children, Nicholas and Leila, from her first marriage.) Soon, she enrolled in French cooking school, earned a culinary diploma and worked in restaurant kitchens and as an assistant to James Beard before she and her husband moved to Marrakesh in 1959 so he could work on his writing. There, they hung out with Beat generation luminaries like Paul Bowles, Tennessee Williams
and Allen Ginsberg.
​Her years in Morocco expanded Wolfert's view of world cuisine beyond her French training. By cooking with women all over the country—from maids to wives of dignitaries—she acquired an impressive expertise in Moroccan food. Today, immersive cookbooks supported by meticulous research and days spent with ethnic home cooks are common, but when Wolfert started, she was in the rare company of women like Indian-born food personality Madhur Jaffrey and Egyptian-born Claudia Roden, a leading Jewish food writer perhaps best-known for The Book of Jewish Food.
​"Paula's legacy endures because she can be trusted when she interprets traditional classical dishes—and they work," Roden said via email from her home in London.
​Throughout her career, Wolfert presaged many trends, including a focus on healthy grains, regional French cooking, appreciation for slow-cooked dishes and a love of foraging for seasonal greens—something she did in Israel in the 1990s.
​"I take a lot of journalists and others around who know about cooking, but no one matched her," recalled Moshe Basson, executive chef and owner of Eucalyptus restaurant in Jerusalem, who organized Wolfert's foraging excursion in the hills outside the Holy City. Basson, Wolfert and company put together a spontaneous picnic, sautéing the greens they had gathered with olive oil and white wine.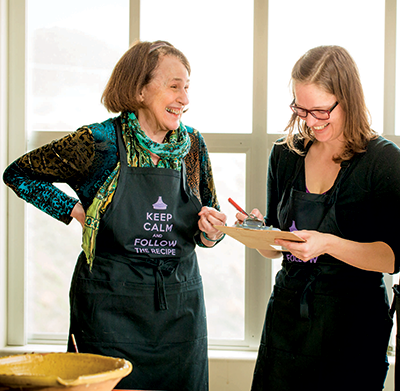 ​The Unforgettable Kickstarter project was such a resounding success—several thousand finished copies of the book were shipped to those who had donated a specified amount—that Grand Central Publishing reissued the book in October with a new forward by superstar chef Alice Waters.
​"I love the fact that some of her food, like eggplants with creamy walnut spread and pomegranate seeds, could be in a new cookbook by Yotam Ottolenghi," an Israeli-British chef, said editor Karen Murgolo, who acquired the book for Grand Central. "That is how far ahead of her time she was. I want as many people to know about Paula Wolfert as know about Julia Child."
​These days, Wolfert is focused on preserving her mind. Unforgettable's final pages contain a primer on the research between memory retention and diet. There's even a section on the connection between flavor and memory, which suggests ways to expand our ideas on how to taste food.
Wolfert has taken up meditation, exercise and intermittent fasting, all of which she believes slow the growth of harmful proteins on her brain. She also starts most days with a homemade version of so-called bulletproof coffee fortified with clarified butter.
​
"Since my diagnosis, I've had to focus all my energies on my health," Wolfert said via email. "Because dementia has diminished my palate, I have moved on from my life in food." A painfully stark admission from a woman once considered to have the best palate in the business, according to prominent food writer and critic Ruth Reichl.
​Today, Wolfert eschews gluten, dairy and sugar whenever possible. Instead, she favors meat and seafood enriched with omega-3 fatty acids as well as nuts, avocados and berries—all considered beneficial for heart and brain health. She also takes advantage of medical marijuana to help her sleep seven to nine hours a night.
​"As my grandmother often told me, you can't win a war unless you're willing to fight," said Wolfert. "I don't expect my diet to cure me, but I think it has helped me stabilize.
​ "I really do live in the now," Wolfert continued. "If this illness has given me anything, it's the ability to enjoy what I have in this moment, and to make the best of it."
​The recipes in Unforgettable are a compendium of favorites from Wolfert's lifetime of culinary wanderlust. The cooking method for Oven-Steamed Salmon—rich in omega-3—is a revelation; a steam bath surrounds the fish with moisture and helps speed up the cooking, resulting in the silkiest salmon you'll ever taste. Armenian Cauliflower with Raisins and Pine Nuts is meant to showcase Wolfert's love of clay
pot cooking, but you can use a small roasting pan. And she first learned to make this chickpea-ringed Deconstructed Hummus in Israel in the 1990s.
Adeena Sussman is a cookbook author and recipe developer based in New York City and Tel Aviv. Her latest cookbook is Short Stack's Tahini
.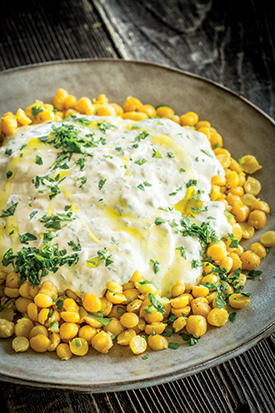 Deconstructed Hummus
Serves 4 to 6
1 cup dried chickpeas, soaked overnight in water to cover, or 1 (14-ounce) can chickpeas
Flaky sea salt and freshly ground black pepper
4 garlic cloves, peeled
1/4 cup plus 1 tablespoon tahini, stirred in the jar before measuring
1/4 cup plus 1 tablespoon fresh lemon juice
About 3 tablespoons ice water
1/3 cup chopped fresh flat-leaf parsley
1 small serrano or jalapeño chile, seeded and finely chopped (about 2 teaspoons)
1 teaspoon extra-virgin olive oil, plus more for garnish
Pita triangles, for serving
1. If using soaked dried chickpeas, drain the chickpeas, rinse and place in a saucepan. Add water to cover by 1 inch and a few pinches of salt and bring to a boil over high heat. Lower the heat to medium and simmer, uncovered, until tender, 45 minutes to 1 hour. Drain the chickpeas and let cool until they can be handled. If using canned chickpeas, drain and rinse. Whether using cooked or canned chickpeas, rub them to slip off the skins. Do your best. Not every chickpea needs to be peeled.
2. Using a mortar and pestle, the back of a heavy knife and a cutting board, or a mini food processor, crush together the garlic and 2 or 3 pinches of salt, forming a paste. In a food processor, combine the tahini, 1/4 cup of the lemon juice and 1/2 teaspoon of the garlic paste and process until smooth. With the motor running, drizzle in the ice water, 1 tablespoon at a time, and process until the mixture is the consistency of mayonnaise. Transfer the sauce to a bowl and gently fold in all but 1 tablespoon of the parsley. Set aside 1/4 teaspoon of the garlic paste for adding to the chickpeas and use the remainder to season the sauce if needed. Let the sauce stand at room temperature for 1 hour to mellow and develop flavor.
3. Shortly before serving, in another bowl, toss the peeled chickpeas with the reserved 1/4 teaspoon crushed garlic paste, the remaining 1 tablespoon lemon juice, half of the chile and the olive oil. Season with salt and black pepper, then taste and adjust with any remaining garlic paste or chile if needed.
4. Arrange the chickpeas on a shallow serving dish and spread the sauce on top. Garnish with the remaining 1 tablespoon parsley and a drizzle of olive oil. Serve with pita triangles.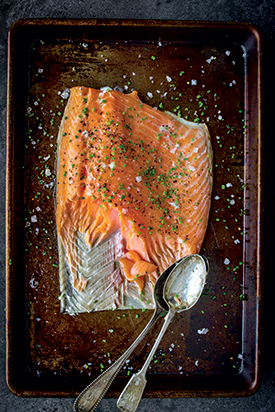 Oven-Steamed Salmon
Serves 1 to 8, depending on size of fillet
Olive oil, for greasing
Center-cut salmon fillet, preferably wild-caught Alaskan king or sockeye, 1 inch thick and any size between 5 ounces and 2 1/2 pounds
Flaky sea salt and freshly ground black pepper
Snipped fresh chives, for garnish (optional)
1. Position an oven rack in the lower third of the oven and a second rack in the upper third. Preheat the oven to between 225° and 275°. Grease a thin sheet pan with olive oil.
2. Carefully place a frying pan of just-boiled water on the lower oven rack. Arrange the salmon on the prepared sheet pan, season generously with salt and pepper, and place on the upper oven rack. Bake until an instant-read thermometer inserted into the thickest part registers 110° for rare, 115° for medium-rare or 125° for medium. This should take 10 to 12 minutes for 5-ounce fillets or 20 to 25 minutes for a 2 1/2-pound fillet. (The color of the salmon will not turn dull and the texture will be very juicy.)
3. Transfer the salmon to a platter or one or more individual plates and season with more salt and pepper, if desired. Sprinkle with chives, if using, and serve.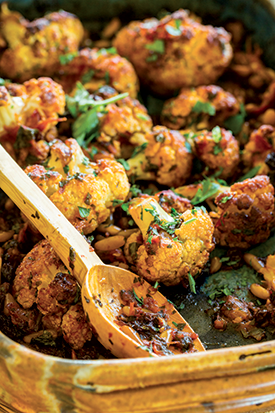 Armenian Cauliflower with Raisins and Pine Nuts
Serves 4
2 tablespoons raisins (not golden ones)
1/4 cup extra-virgin olive oil
1 head cauliflower, cut into florets
1 teaspoon sugar (optional)
2 cups peeled, seeded and diced tomatoes (fresh or drained canned)
Pinch of mild red pepper flakes, preferably Marash
Flaky sea salt and freshly ground black pepper
1/4 cup hot water
2 tablespoons pine nuts
1 garlic clove, finely chopped
2 tablespoons chopped fresh flat-leaf parsley
1 1/2 tablespoons fresh
lemon juice
1. Preheat the oven to 350°. In a small bowl, combine the raisins with warm water to cover and let stand until plump, about 10 minutes. Drain and reserve.
2. Meanwhile, in a 10- to 12-inch cazuela clay pot, roasting pan or ovenproof frying pan, heat the olive oil over medium-low heat, using a heat diffuser (known as a blech in kosher kitchens) if using a cazuela. Add the cauliflower and sugar (if using) and cook, stirring, until the cauliflower starts to soften, about 10 minutes. Raise the heat to medium and cook until the cauliflower is lightly browned, about 5 minutes longer. Stir in the tomatoes and red pepper flakes, season with salt and black pepper, and cook until the tomatoes have begun to soften, about 5 minutes.
3. Add the raisins, hot water, pine nuts and garlic to the cauliflower and stir well. Transfer to the oven and bake the cauliflower until very tender when pierced with a knife, about 30 minutes.
4. Remove from the oven, stir in the parsley and lemon juice, and let stand at room temperature for 30 minutes. Serve warm.
Recipes and photographs excerpted from Unforgettable: The Bold Flavors of Paula Wolfert's Renegade Life
 by Emily Kaiser Thelin. Copyright © 2017 by Emily Kaiser Thelin. Photographs copyright © 2017 by Eric Wolfinger. Reprinted with permission from Grand Central Life & Style. All rights reserved.