Kitchen Kibitzing with Boston's Jeff Gabel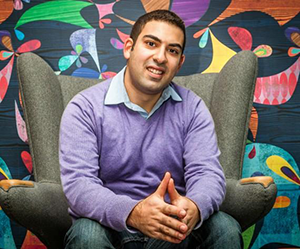 Jeff Gabel, 28, has collaborated with some of the hottest voices in Jewish food—personalities such as Jeffrey Yoskowitz and Liz Alpern of The Gefilteria and modern Jewish farm girl and food blogger Molly Yeh as well as many well-known Boston chefs. His main goal is to help create a modern Jewish cuisine free from stereotypes and cultural boundaries. He invites the curious to join in through Kitchen Kibitz, which curates culinary events and pop-up restaurants in the Boston area.
Among his many memorable projects have been an Asian Jewish New Year pop-up dinner at the Asian gastro-pub, Shojo, with chefs Jeremy Lee and Mark O'Leary, where Matzah Ball Ramen and Pastrami Rye Bao (steamed buns) were featured on the menu. He also hosted a family-style Yemenite Rosh Hashanah feast he billed as "The Land of Milk and Honey," held at the Met Back Bay Townhouse, where guest chef Geoff Lukas of Sofra Bakery brought Braised lamb shoulder with pomegranate molasses and chickpeas to the table for the main, and a date and apple halva for dessert.
Gabel is young, passionate and determined to make his mark. Here's what I found out when I picked his brain.
How did Kitchen Kibitz get started?
Kitchen Kibitz was born from a love of Jewish cuisine and a passion to preserve the integral parts. I found a disconnect between my generation and the food that I had grown up loving. It's a cuisine we love to poke fun at with our jars of jellied gefiltefish, cardboard matzah and dry macaroons. However, underneath the food is a deep emotional connection and love of family and tradition. I wanted to bring the cuisine to new heights to bring technique and global influence to the forefront.
In 2013, I started doing pop-up dinners with a focus on global Jewish cuisine and curating the best chefs in Boston to execute the food. I saw a unique opening in Boston because most of the population is young, highly transient and super adventurous eaters, so forming relationships over food seemed the logical choice.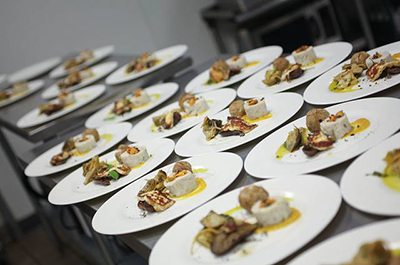 How did you initially get involved in the Boston Jewish food scene, then expand beyond it to bring in foodies from other areas?
After college, I worked for Combined Jewish Philanthropies, Boston's Jewish federation, to engage young adults with community programing. We had so many opportunities to help them connect at all levels, but nothing spoke to me stronger than food engagement. Eating is the great equalizer and connector of people and ideas. It helped tell my story as well as many others from different backgrounds.
I became enamored with finding other creators and innovators in the Jewish food scene, where I grew to discover that I was not alone and there were other amazing events happening across the continent from Jewish food tours in Montreal, artisan gefilte fish makers in New York City and Jewish bloggers in North Dakota. This fueled my passion to dig deeper and collaborate with some super talented individuals.
What excites you about Jewish flavor mash-ups?
I love to tell a deeper story with food and take people on a journey. When I approach a new event and a topic I'd like to explore I take two approaches. One is that I look at global Jewish migration in history and explore untold stories of Jews in faraway regions to share the story of lost communities—like Yemeni or Bukharan Jews. The second approach grants more liberties but unleashes a lot more creativity to explore how Jewish cuisine could be portrayed in a place like the Philippines or West Africa or Brazil. I'll layer ideas like an Ashkenazi kugel and build regional flavors on top like jackfruit, pandan and coconut into the dish to create something new.
While it's deeply important to preserve tradition, I view Jewish cuisine as a blank canvas to build flavors, spices and even technique to make new and exciting dishes. We might sous vide a beautiful local pike for gefilte fish, or translate the seder plate into well-crafted cocktails [as we did in 2014 for our Spirits of Passover cocktail and hors d'oeuvres sipping seder], to show that we are no longer peasants in Eastern Europe, just as we tell the story of Passover to show that we are no longer slaves in Egypt
What is your main goal at this point in time?
My focus right now has been to work with the best chefs in the industry to elevate Jewish cuisine and create conversations around the food. We've built an amazing community of hungry diners (many of who are not Jewish) and we're excited to bring together new ideas from around the world. The dream is to open a series of restaurants that focus on different regions of Jewish cuisine and give them a modern approach.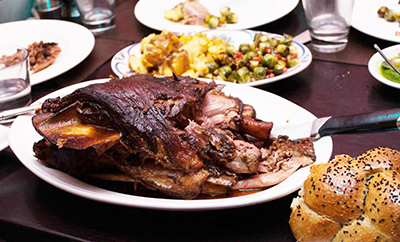 Tell me about your most recent pop-up restaurant, Simcha.
I partnered with Avi Shemtov of the Chubby Chickpea to launch a month-long residency pop up called Simcha in Roslindale, Mass., this past month (October 2017). The focus was on modern Israeli cuisine beyond the falafel and shawarma. The menu was designed to bring the flavors and spices from Israel with some New England influence. We were in a wonderful neighborhood just outside the city that's been super supportive of the concept.
While Boston is growing as a dining destination with exciting cuisine, there's still a major vacuum for Middle Eastern food and Israeli cuisine. Massachusetts also happens to have one of largest growing tech hubs for Israeli founded companies and we're serving a large population of people who are homesick for good food.
What brings you to Israel now, and what connection do you feel to the country?
Every time I come to Israel I'm inspired by the food, the people and most importantly the hospitality. Whether it's learning new techniques cooking in a Druze community or picking a perfectly sweet tomato from a farm in the desert, I walk away with a deep appreciation for the culinary melting pot of Israel. I'm excited to dive deeper into the beautiful shuks of Israel, study Yemenite cuisine and enjoy the growing cocktail culture in Tel Aviv. This trip I'll be meeting with chefs and food thought leaders to better understand the changing landscape.
What mark do you hope to leave on Jewish cuisine?
I want to bring Jewish cuisine to the forefront. Too often we bundle the category behind Kosher or Delicatessen or Middle Eastern, and this is no longer the case. It's time to shift perceptions and push the evolution of food forward. We're not erasing the memory or tradition but simply building on top of it and approaching food from different angles. My hope is that a new generation can embrace the food and preserve the traditions in a new fashion.
What is your next project?
We're currently working on a globally inspired matzah ball soup concept from a local food truck for those frigid New England winters.
Iraqi Pumpkin Cheesecake
This dessert straight from the Kitchen Kibitz test kitchen takes flavors from the Iraqi Jewish community and mixes them with America's favorite fall treat—roasted pumpkin—all in one tender and creamy cheesecake.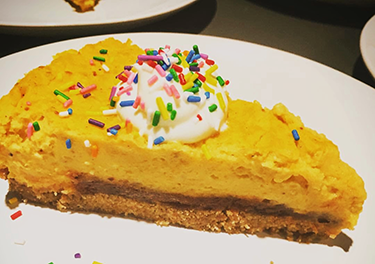 ROASTED PUMPKIN
1 small pumpkin, clean and cut in 2 1/2-inch pieces (need 1 pound total)
1 tablespoon brown sugar
1 tablespoon of Baharat spice
1 tablespoon butter
Pinch salt
1/2 cup water
GRAHAM CRACKER CRUST
1 3/4 cups smashed graham crackers
3 tablespoons light brown sugar
1/2 teaspoon ground cardamom
1 stick salted butter, melted
CHEESECAKE BATTTER
3 cups labne
Roasted pumpkin (recipe above)
3 eggs plus 1 egg yolk
1/4 cup sour cream
1 1/2 cups sugar
2 tablespoons all-purpose flour
1 teaspoon vanilla extract
Preheat oven to 350. Prepare and roast the pumpkin: clean out the pumpkin, skin and cut into pieces and place in a baking tray. Add the sugar, Baharat spice, butter, salt and water. Bake until tender. Set aside.
Make the crust: Place the graham crackers in a food processor and crumb them. In a bowl combine crumbs, sugar and cardamom and mix well. Add melted butter.
Transfer the crust mix into a cheesecake baking pan; press crumbs down flat and evenly. Once prepared, refrigerate the mold until needed.
Prepare the filling: In a food processor cream the labne until smooth. Add pumpkin, eggs, egg yolk, sour cream and sugar. Add the flour and vanilla and combined.
Pour the mix on top of the crust and spread evenly. Bake for 1 hour. Cool the cheesecake at room temperature, then refrigerate for 4 hours.