Aly Raisman on Abuse: 'Society Is in Desperate Need of Change'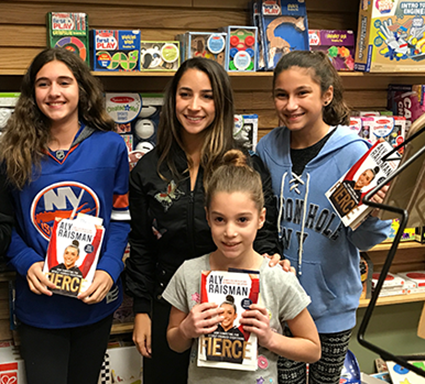 The line snaked around Books & Greetings in Northvale, N.J.: It was mostly mothers and daughters, clutching photos and copies of Fierce: How Competing for Myself Changed Everything
, all waiting for its author, Aly Raisman.
The girls know Raisman, 23, as one of the most decorated gymnasts in American history—six Olympic medals, four medals at World championships—but they are likely unaware of what all the adult fuss is about.
In the book, Raisman reveals that she was sexually abused by Dr. Larry Nassar, the USA Gymnastics team physician. She does not write or speak in detail about what he did, except to say that he touched her body inappropriately, usually without gloves on. She has been sharing her story for the last several days with the media, most notably on the CBS News program 60 Minutes. Raisman is adding her voice to the growing chorus of women—in fields from entertainment to politics to journalism—who are revealing their experiences of sexual harassment and abuse and naming their abusers.
In the meantime, Dr. Nassar has pleaded guilty to federal child pornography charges and is awaiting trial for criminal sexual conduct.
It is late afternoon of a hectic day of interviews and appearances at area schools. Tired but game, Raisman powers through another conversation about this difficult subject.
"It's hard to talk about," she admits. "It's emotionally draining."
Raisman was 15 years old the first time Dr. Nassar met with her: "He was a doctor, so I trusted him. You never in your wildest dreams think someone is that evil. He made me uncomfortable, but I trusted him when he said it would help me.
"I didn't know he was abusing me," she adds. "I didn't know. I just thought he was kind of an off person. He groomed me and manipulated me to believe that he was my friend. So even if I was uncomfortable, he would kind of distract me by giving me gifts and making me believe he was my friend. He made me feel guilty for [feeling uncomfortable] because he was so nice to me and that is how he got away with it."
As difficult as it is to speak about, Raisman says she never considered not including it in the book "because I think it's something we need to talk about. Our society is in desperate need of change. Sexual abuse is very common."
At least 140 women have charged Dr. Nassar with sexual abuse, most recently Raisman's 2012 Olympic teammate McKayla Maroney. And, in what is the most damning statement of our interview, when asked if USA Gymnastics officials were aware of what was going on, she says: "I think they knew."
No matter what happens with Dr. Nassar, Raisman's battle is far from over. "There's a lot that needs to be done," she asserts. "We have to start educating everyone on exactly what sexual abuse is and teach people about grooming technique"—referring to how pedophiles prepare youngsters for abuse by gifting them presents—"so that they understand that just because someone is nice to you doesn't mean that they are doing the right thing or that they are a nice person. I think we have to have stricter policies so that this is no longer tolerated; people have to stop looking the other way."
In the room with her is her mom, Lynn Raisman. She's been busy texting on her phone until Aly, who has been giving a good interview, makes her first mistake. The subject was her Judaism.
In 2012, Raisman—a life member of Hadassah—became the first American woman to win Olympic gold on the floor exercise, in a routine set to "Hava Nagila." She subsequently dedicated her performance to the Israeli athletes murdered at the Munich Olympics 40 years earlier. She was a bat mitzvah and says "being Jewish is all about spending time with your family. I love when we get together for the holidays. That's really special."
So far so good. But it was a throwaway question meant to lighten the mood that got mom's attention: What is your favorite Jewish food?
"Umm," she ponders. "Potato latkes?"
Mom's head bounces up from the phone: "What about my noodle pudding?"
Fortunately, Aly quickly recovers. "Yeah, noodle pudding."
Curt Schleier, a freelance writer, teaches business writing to corporate executives.