'1945,' On Hungary's Postwar Greed and Guilt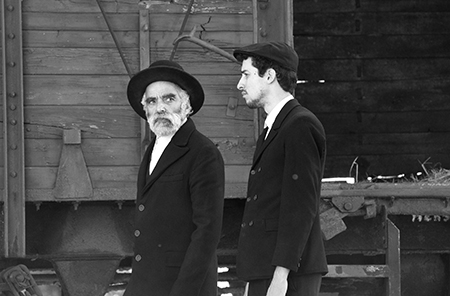 "There are Jews in the village. Go tell the others."
Thus begins 1945, a mournful, elegant film set in a small Hungarian town a few months after the end of World War II. The arrival of a grim-faced Jewish father and son at the town's train station, transporting two mysterious bulky crates, forces locals to deal with their complicity in the deportation and death of their neighbors.
Though an ally of Germany, Hungary was relatively safe for Jews until early 1944. That's when the government, realizing Axis defeat was inevitable, attempted to sue for peace. Germany's reaction: occupy Hungary and install a new regime.
Within months of the occupation, over 400,000 Jews were deported. Locals confiscated the Jews' houses and businesses—property they generally refused to return to survivors or their descendants.
The great fear in 1945 is that the two visitors are heirs to those deported Jews and have come to reclaim their property. It is what prompts the stationmaster to rush to inform Szentes István (Péter Rudolf), the town clerk and magistrate, about the newcomers.
Szentes—a bully who torments his drug-addict wife and even his son, scheduled to be wed that very day—also bullied town drunkard Bandi (József Szarvas) into signing a false affidavit during the war denouncing a local Jewish family. Bandi's wife is determined to keep the house that her husband's lies earned them; Szentes is determined to keep the business he appropriated from the Jewish family. It is only Bandi who seems remorseful.
The film takes place over that single summer afternoon. As paranoia expands and the townsfolk panic, the two Jews slowly follow on foot the horse-drawn wagon carrying their goods into town, past the church overseen by a priest who turned a blind eye to Jewish suffering, past the preparations for the wedding, past a funeral cortege.
The film, shot in black and white and based on the short story The Homecoming by Gábor T. Szántó, is so thoughtfully constructed, so subtle and nuanced, that 1945 perhaps suffers in summary. It is like taking a single thread from one garment to judge the whole.
"This is a story about simple village people who collaborated in the guilt. Telling a story from this perspective was a taboo in [Eastern] Europe," said film director and co-writer Ferenc Török.
To his credit, Török doesn't wrap everything up in a neat bow: Why did the father and son come to this village? Why was Szentes's wife an addict Who do the villagers hate more, the Russian occupiers or the Jews?
These are just a few of the topics viewers will likely be discussing after leaving the cinema—and probably long afterward.
Curt Schleier, a freelance writer, teaches business writing to corporate executives.