Vegan at the Crossroads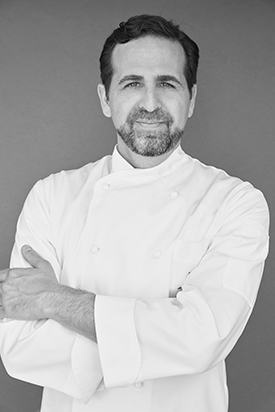 "Sorry, we're fully booked" weren't words I expected to hear on the other end of the line when the restaurant in question was vegan and had been open for five years. But that was the case when I tried to make a reservation at Crossroads, the vegan mecca in Los Angeles, on a recent Monday evening—typically the slowest shift in the business.
​So, I took my chances and walked into the hip Melrose Avenue spot sans reservation to find impossibly good-looking waiters (this was L.A., after all) floating through the sleek, dimly lit dining room. They were transporting beautiful food to tables filled with patrons who appeared to defy the expected vegan clichés. Diners were devouring craft cocktails, gorgeous salads filled with seasonal produce and ricotta cheese and plates of butternut squash-stuffed ravioli drizzled with butter. After curiously perusing the menu, I ordered a grilled mushroom and baby artichokes starter, Moroccan cigars—more on them later—and artichoke purée with crispy oyster mushrooms, yellow tomato béarnaise and a caviar stand-in made with kelp.
​"Vegan eating is part of the mainstream now," chef/owner Tal Ronnen, 42, said by phone a few days later. He is on a mission to elevate plant-based cuisine from its stereotyped beginnings—think tofu, fake steak patties and lots and lots of lentils—into a delicious, socially responsible lifestyle. Veganism prescribes a diet completely free of animal-based products, from meat and fish to eggs, dairy and even honey, which is verboten since it's made by bees. "I am interested in helping anyone who is on a journey to veganism do it with really good-tasting food."
Ronnen is not alone. The number of high-end vegan restaurants is on the rise across the country. At Millennium in Oakland, Calif., Little Gem lettuce is dressed with poppy seed and roasted buttermilk ranch with crisped capers and smoked tofu. The brunch at Seattle's Plum Bistro offers Southern-inflected dishes such as biscuits and gravy and tofu benedict with avocado Hollandaise. Vedge in Philadelphia serves a popular starter of rutabaga fondue. And New York City's Candle 79 as well as its two sister cafés remain progressive beacons of plant-based fine dining.​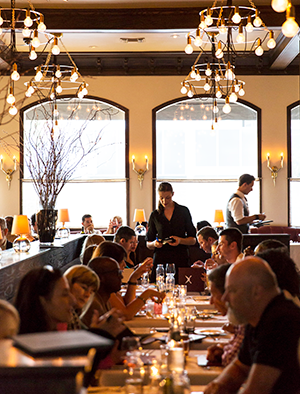 At Crossroads, Ronnen punctuates his dishes with personal touches—preserved lemon, za'atar, sumac—that reflect his childhood in Israel. "I am very familiar with those flavors because of the way I was raised," said Ronnen, who moved with his family to New York at age 8. Both of his parents worked full time, so virtually all his meals were cooked by his Moroccan Jewish nanny.
​"When I think of the best food I ever had in my life, Moroccan or otherwise, I think of her," said Ronnen, who vividly recalls her couscous, falafel, chraimeh (spicy Moroccan fish)—even homemade mayonnaise. The Moroccan-style cigars at Crossroads reflect that early influence. A crisp pastry shell is wrapped around a spicy, highly seasoned filling made with plant-based ground beef from the Impossible Foods brand that tasted just like the real thing.
Though not certified kosher, Crossroads draws a steady observant clientele. "Kosher people who know what we're all about understand that since no animal products come anywhere near Crossroads, it's pretty safe for them," explained Ronnen.
​The chef's evolution from becoming a vegetarian as a teen to veganism in his 20s was gradual, a combination of ethical concerns surrounding the consumption of animals and animal products and an awareness of the toll meat production can take on both the body and the environment.
​"I know 12 people who are fighting heart disease, cancer, strokes, all sorts of things attributed to their diet," said Ronnen. "Meat used to be an accent on the plate or was a way to flavor food. It wasn't the prime vehicle for protein. It is just so hard on your body."
​In his early 20s, he enrolled at Manhattan's Natural Gourmet Institute, which wasn't strictly vegetarian but had a seasonal, produce-centric eating focus. He switched to an all-vegan diet after graduating. "Not only did vegan eating satisfy my lifestyle choice, but I liked the challenge of cooking that way," he said.
​He cooked in kitchens across the country, eventually co-opening a Mediterranean-inspired vegan restaurant, VegiTerranean, in Akron, Ohio, with Pretenders' lead singer Chrissie Hinde; that restaurant closed in 2011. With the backing of investors like progressive businessman and political activist Steve Bing, Ronnen followed up with Crossroads in 2013.
​The Los Angeles eatery has touched upon a growing zeitgeist. A 2017 GlobalData study found that 6 percent of Americans now identify as vegan, up from 1 percent in 2014. The plant-based, packaged-foods market has exploded in tandem, to nearly $5 billion in 2016, according to ExpoEast, a natural products trade group. Ronnen has jumped on the trend, with a stake in Gardein, a company that makes a pea-based protein that has found a foothold in both supermarkets and the food-service industry. He is also a co-founder of Kite Hill, whose almond milk cheeses appear on the menu at Crossroads.
​Ronnen's Crossroads
 cookbook reflects his vision for a world gone deliciously vegan. These produce-centric recipes, perfect for celebrating Tu B'Shevat, are a boon to any dinner table: fresh, colorful and appealing to any eater—vegan or not.
Adeena Sussman is a cookbook author and recipe developer based in New York City and Tel Aviv. Her latest cookbook is Short Stack's Tahini.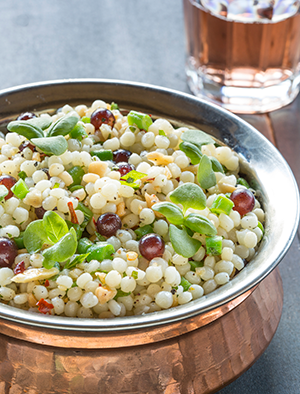 Israeli Couscous with Champagne Grapes, Haricots Verts and Marcona Almonds
Serves 4
1 cup Israeli couscous
1 cup filtered water
3 tablespoons extra-virgin olive oil
1/2 pound haricots verts (thin French green beans), cut into 1/8-inch pieces
1/2 cup champagne grapes or quartered red seedless grapes
4 fresh flat-leaf parsley sprigs, leaves stripped from the stems and minced (about 2 tablespoons)
4 fresh mint springs, leaves stripped from the stems and minced (about 2 tablespoons)
Juice of 1 lemon
Kosher salt and freshly ground black pepper
Pinch of red pepper flakes
1/4 cup toasted Marcona almonds, smashed with a mallet or heavy pan
1/4 cup micro basil or regular basil leaves, minced
1. Put a small saucepan over medium-low heat, add the couscous, and toast, stirring frequently, until it smells nutty and is golden brown, about 5 minutes. Pour in the water, cover and simmer until the couscous is just tender, 10 to 12 minutes; drain if necessary. Set the couscous aside to cool.
2. Toss the couscous with 1 tablespoon of the oil to prevent the grains from sticking together. (The couscous can be prepared up to a day in advance, covered and refrigerated.)
3. When ready to serve, combine the cooled couscous, green beans, grapes, parsley and mint in a large mixing bowl. Drizzle the lemon juice and then the remaining 2 tablespoons oil over the couscous and season with salt, black pepper, and the red pepper flakes. Toss gently with your hands to coat and distribute the ingredients evenly.
4. Mound the couscous salad on a platter or individual plates. Sprinkle the almonds over the top and garnish with the basil.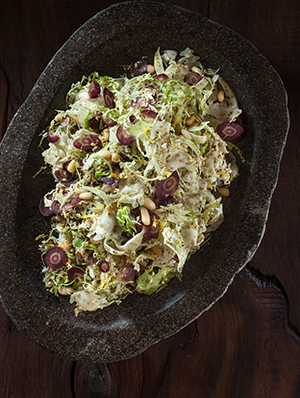 Shaved Brussels Sprouts with Za'atar, Lemon and Pine Nuts
Serves 4
1 pound Brussels sprouts (about 30), tough outer leaves discarded and stem ends trimmed
4 baby rainbow carrots
Finely grated zest and juice of 2 lemons
1 tablespoon za'atar
3 tablespoons extra-virgin olive oil
Kosher salt and freshly ground black pepper
1/4 cup pine nuts, toasted
1. Prepare an ice bath by filling a large bowl halfway with water and adding a tray of ice cubes.
2. Using a mandoline or a very sharp knife, slice the Brussels sprouts and carrots as thin as possible. Put them in the ice bath for 5 minutes to crisp them up.
3. Drain the sprouts and carrots and dry well in a salad spinner, or drain in a colander and pat dry. Transfer to a mixing bowl. Add the lemon zest and juice, za'atar and oil; season with salt and pepper, and toss with your hands to coat. Sprinkle in the pine nuts and toss again to combine.
4. If you have time, allow the salad to stand for 15 minutes. Serve the salad on a platter or divide among four individual plates.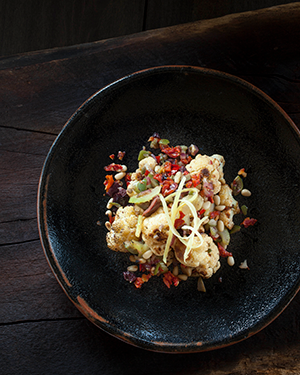 Cauliflower with Olives and Sun-dried Tomatoes
Serves 4
2 heads cauliflower (1 1/2 pounds each), stems and cores removed, florets chopped into 1-inch pieces
4 tablespoons extra-virgin olive oil
Kosher salt and freshly ground black pepper
1/2 red onion, finely diced
2 celery stalks, thinly sliced on a diagonal
1 cup mixed Niçoise and Castelvetrano olives, pitted and coarsely chopped
8 sun-dried tomatoes in oil, drained and coarsely chopped (about 1/2 cup)
3 jarred Calabrese peppers packed in oil, stemmed, halved lengthwise, seeded, and chopped
3 garlic cloves, minced
3 tablespoons white balsamic vinegar
1/2 cup fresh flat-leaf parsley leaves, coarsely chopped
1/4 cup pine nuts, toasted
Zest of 1 lemon
1. Preheat the oven to 450°. Put the cauliflower in a large mixing bowl. Drizzle with 3 tablespoons of the oil, season with salt and pepper, and toss to coat evenly. Spread the cauliflower out in a single layer on a large baking sheet and roast for 30 to 35 minutes, shaking the pan from time to time, until tender and slightly charred. Set aside. (The roasted cauliflower can be prepared a couple of hours in advance, covered and held at room temperature.)
2. Put a large sauté pan over medium heat and coat with the remaining tablespoon of oil. When the oil is hot, add the onion and celery and cook, stirring, until soft, about 2 minutes. Add the olives, sun-dried tomatoes, peppers and garlic, and cook, stirring, until tender, about 2 minutes. Add the roasted cauliflower, along with the vinegar, tossing to combine, and heat through, about 1 minute. Season with salt and pepper.
3. Transfer the cauliflower to a serving bowl or individual plates and scatter the parsley, pine nuts and lemon zest on top. Serve warm.
Recipes and images excerpted from Crossroads
Tal Ronnen (Artisan Books). Copyright © 2015. Photographs by Lisa Romerein.